Quotes: Everything Xavier Johnson said at Huber's Winery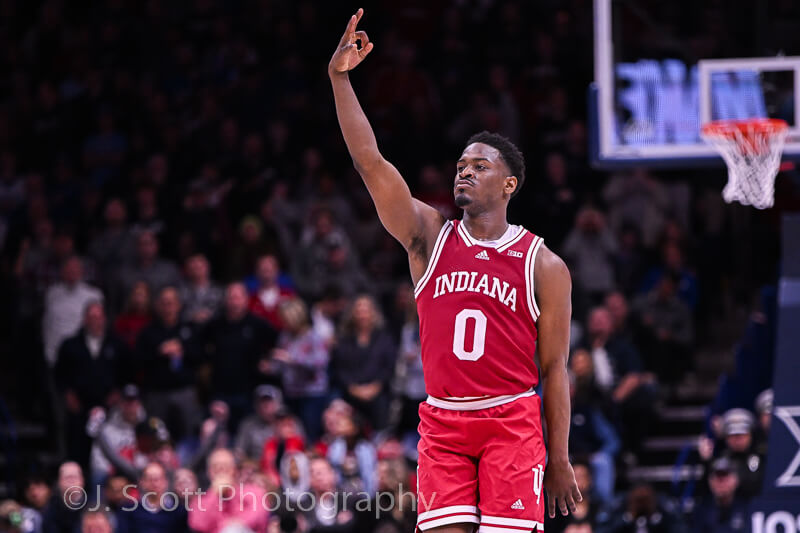 BORDEN, Ind. – Indiana redshirt senior Xavier Johnson spoke to the media for the first time since the season ended on Wednesday night.
Johnson was at Huber's Winery for a Hoosiers For Good NIL event and addressed his injury, receiving a medical hardship waiver, next season's team, the role he hopes to take in his sixth season and much more.
You can watch the full availability with Johnson here, but a complete transcript is available below:
On deciding to shut things down last season and the waiver process:
"It's been a long process honestly, but I had to see it all through. Talking to my coach and my family, the best option was to come back to school just for the benefit of my health. I would say I thought I was gonna come back in February, late February but I think it was best for the team just to keep competing without me. And I'd just be there to support."
On Indiana's team next season and how it will look different:
"My thoughts, I mean, I haven't seen all of 'em yet in person, but, I would say from my watch, I think we have a pretty, a pretty unique, unique team. We'll be more athletic than last year, last year's team. It's hard to, hard to compete with Trayce's athletic ability, but I think Kel'el (Ware) is up there because he's seven foot and he can actually jump out of the gym as well and he can spread the floor out and shoot as well. (Mackenzie) Mgbako, he can shoot, he can score at all three levels. I mean, I can go down a list, but I ain't gonna name all of 'em, but I think we have some pretty solid pieces coming in."
On how close he was to playing last season and the waiting through the waiver process:
"I mean, I didn't know I probably wasn't gonna come back until probably the Iowa game. I know I came out and warmed up (laughs). I gave the fans a little something, but just said I was doing better. But I mean, it was a long process getting my waiver as well. Once I got it, my weight was off my shoulder. Coach (Woodson) had called me. He told me, he asked me if I wanted to transfer. I was like, what do you mean do I want to transfer? Did I not get my waiver? And he was like, yeah, you got your waiver, you wanna come back and play for me? I was like, yeah."
On if he had any indication that he'd get the waiver throughout the process:
"I really just had to wait. Honestly, I mean, there's nothing really to the process but waiting."
On his participation in recruiting on social media:
"Yeah. I mean I was probably one of the first people that coach actually asked about players."
On if Woodson asked him which guys he was interested in playing with:
"Yeah, he asked me who I was interested in and I told him and we got a couple of the guys that I actually liked. We built a solid, solid team coming in for next week."
On what he looked for in potential guys that would be a good fit:
"Like Kel'el can run the floor, athletic, just set screens, get off the ball and Mgbako can shoot. You know, Trey's developed his three-point shot as well. I mean, he'll be another combo guard to me. We got all the freshmen coming in as well. I just think we have a really good team."
On his health right now:
"I'm a hundred (percent healthy)."
On what he wants to work on this summer with his game:
"Just being consistent. I would think I have to step my scoring ability up this year. I would say say I have to score the ball for my team when needed because I think I would have to be one of the top scorers on my team. Even though I had to play pass a lot, too, I have to get my teammates involved. That's my best attribute, too. So I would just say scoring on a consistent basis."
On playing with a big like Kel'el Ware who has a pick-and-pop aspect to his game:
"I haven't played anybody I would say that's more consistent than him at it. I've played with a big his size, but not a big that can jump and stretch the floor as well. So, I mean, it'll be different. It'd be different. Well, I actually played with Hunter (Dickinson) that was different then. I don't think nobody wanna see me and Hunter together (laughs)."
On Jakai Newton and Gabe Cupps and the leadership/mentorship role he'll take with them:
"I mean, being a sixth-year old guy (laughs), it's crazy to say. I would say I would have to be big bro. I'm not there to be their dad or anything cause I probably could be their dad (laughs). I would say I'm accepting it being big bro and getting them through the freshman year of college because I know how hard it is being a freshman coming in. I can't wait to see them both next week. I think Jakai is already here. I can't wait to see both of them."
Filed to: Xavier Johnson