An unanswered transfer portal or NBA draft decision question for each Big Ten team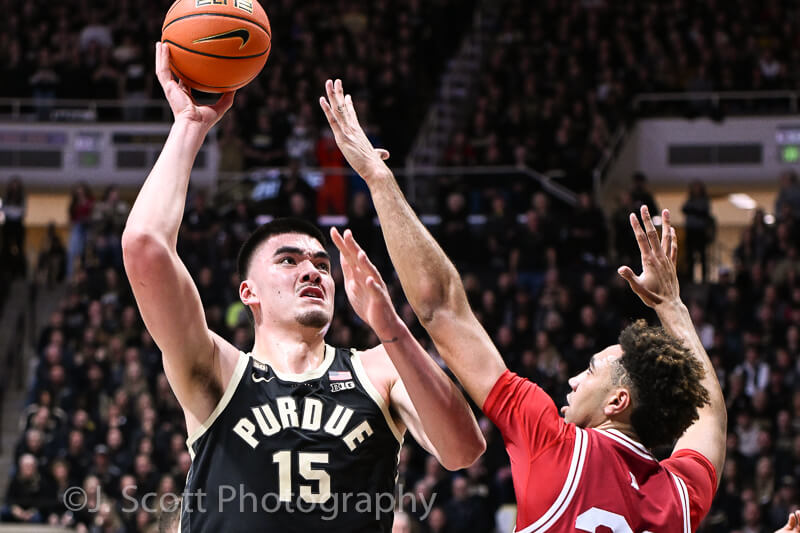 The transfer portal closes for graduate transfers on May 1 and underclassmen on May 11. And the deadline to withdraw from the NBA draft is midnight on May 31.
We've been tracking Big Ten rosters for next season for the last month, but plenty of questions still need to be answered around the league.
Here's an unanswered transfer portal or NBA draft decision question for each Big Ten team:
ILLINOIS
Will Coleman Hawkins return to school?
The Illinois roster will look much different next winter. Matthew Mayer, Terrence Shannon Jr., Jayden Epps and RJ Melendez are all gone. Hawkins's NBA draft status is the outstanding roster decision for the Illini that could significantly impact next season. He's currently in the NBA draft, but has left the option open to return to school.
INDIANA
How will Indiana fill out its three open roster spots?
Indiana has three scholarships open, assuming Xavier Johnson receives a medical hardship waiver to compete next winter. The Hoosiers already have two portal pick-ups in Kel'el Ware and Payton Sparks, but need help on the wing and in the backcourt. After missing out on several key targets recently, things have been quiet regarding IU's portal pursuits.
IOWA
Do the Hawkeyes need more portal help to compete next season?
It's hard to get excited by Iowa's roster for next season. Kris Murray is off to the NBA, Filip Rebraca and Connor McCaffery graduated and Ahron Ulis entered the transfer portal. On paper, Iowa has 12 scholarship players for next season, but this roster needs more juice to compete in the Big Ten next season.
MARYLAND
Will the Terrapins be a factor for Hunter Dickinson?
It's been a mostly successful spring so far for Kevin Willard and the Terps, with Jahmir Young and Donta Scott both opting to return to College Park next season. Maryland hired Dickinson's high school coach at DeMatha – Mike Jones – and adding the Michigan transfer could take this roster to another level next season.
MICHIGAN
Can Caleb Love carry the offensive load in Ann Arbor?
The Wolverines missed the NCAA tournament and then lost Jett Howard, Kobe Bufkin and Dickinson. Thus far, Juwan Howard has added three transfer portal players, with Love being the most recognizable name. After a poor season at North Carolina, Michigan is betting on a bounce back from the former Tar Heel in order to compete in the conference race next season.
MICHIGAN STATE
Is Jaden Akins coming back to East Lansing?
The Michigan State roster is well stocked for next season, and many of the preseason top 25s have Tom Izzo's group in the top 10 nationally. The one outstanding question is the status of Akins and whether he'll return to school next season. If he does, this roster might be the most talented in the league.
MINNESOTA
Can the transfer portal save Ben Johnson's downward trajectory?
Johnson is entering his third season in the Big Ten and his second season was a significant step backward. For Johnson to avoid hot-seat talk next season, he'll need to show improvement in year three. Right now, the roster is not set up for improvement. The next few weeks are critical for Minnesota to add talent.
NEBRASKA
Will Keisei Tominaga be on next season's roster?
The Japanese guard is currently testing the NBA draft waters and went through senior night festivities in Lincoln. Fred Hoiberg has done well in the portal this spring by adding Rienk Mast from Bradley and Brice Williams from Charlotte, but getting Tominaga back would be a major boost to a program that showed improvement last winter.
NORTHWESTERN
Are Boo Buie and Chase Audige returning to school?
It's hard to imagine an NBA market for either player, but Buie and Audige are currently testing the pre-draft process. If both players return, Northwestern should be set up for another NCAA tournament appearance next season.
OHIO STATE
Is Brice Sensabaugh staying in the NBA draft?
An outstanding freshman season has Sensabaugh in the first round of many NBA mock drafts, but he hasn't fully committed to leaving school. He'll no doubt receive an NBA draft combine invite, so this could be a decision that stretches into late May even though the assumption is that Sensabaugh won't be in Columbus next season.
PENN STATE
Can Mike Rhoades fill out the Penn State roster with capable Big Ten players?
Micah Shrewsberry left State College for Notre Dame and now Mike Rhoades, who came over from VCU, must fill out the roster for next season. Currently, Penn State has six scholarship players for next season. With quality players dwindling in the portal, Rhoades has work to do to make Penn State competitive.
Purdue
Will Zach Edey stay in the NBA draft?
This is one of the biggest questions in all of college basketball this off-season. Edey could return to school as the reining national player of the year and if he does, Purdue will be in the mix for the preseason favorite in the Big Ten.
Rutgers
Will Cliff Omoruyi receive an NBA draft combine invite?
Both Omoruyi and Paul Mulcahy are testing the NBA draft, but the only question here is whether the Rutgers big man will get a shot at the combine. If he doesn't, then he should return to school.
Wisconsin
Is the AJ Storr addition enough for Wisconsin to compete at the top of the Big Ten?
The Badgers had two players committed in the transfer portal in Storr or Noah Reynolds from Wyoming. Reynolds has since de-committed, leaving Storr as the major roster addition for the Badgers next winter. With Chucky Hepburn, Tyler Wahl, Steven Crowl, Connor Essegian and Max Klesmit all currently slated to return, is the addition of Storr enough to put Greg Gard back in the mix for a Big Ten title?
Filed to: 2023-24 Big Ten preview