Explosive effort too little, too late for Indiana in Big Ten tournament semifinal loss against Penn State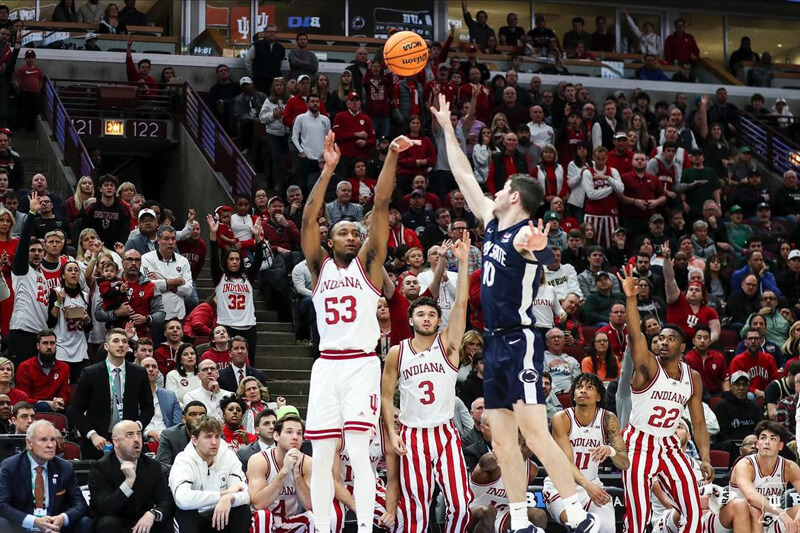 CHICAGO – Indiana and Penn State players gathered on the floor of the United Center, getting in position for tipoff. Poised and ready to go, they were silhouetted by championship banners hanging in the rafters. Behind Penn State, they belonged to the Chicago Blackhawks. Behind Indiana, the Chicago Bulls.
The Hoosiers entered the season with one primary goal: hang banners back in Simon Skjodt Assembly Hall. But Saturday afternoon, they lost their chance to compete for one of those banners.
In ways that would give even the calmest viewer heart palpitations, the Hoosiers' 77-73 loss was characterized by energy swings.
Indiana came out fast and hard, similar to its approach against Maryland less than 24 hours prior. But while Indiana was able to bounce back and regain control in Friday's quarterfinal, such was not the case against Penn State.
"We had to fight to get back in it, and at the end we made a mad rush at it but just didn't have enough to close it," Mike Woodson said postgame.
Indiana seemed to explode with two minutes left in the game, forcing turnovers and setting up Trayce Jackson-Davis for his signature slam dunks. By scoring 10 straight points in 55 seconds, the Hoosiers narrowed the Nittany Lions' lead to seven with 59 seconds to go. With 33 seconds to go, the Hoosiers trailed just by one.
The United Center was rocking, and something that seemed impossible just five minutes before was now tangible. Woodson, with no timeouts remaining, pulled Jalen Hood-Schifino aside to put together a play with Penn State at the foul line.
It was the same shot Hood-Schifino hit against Maryland the day before, at a crucial moment to lock in Indiana's victory. It would have had the same impact Saturday — but the shot didn't fall.
"I thought he had a good look — hell, he hit the same shot the other night," Woodson said. "He just didn't make it."
But the game can't be narrowed down to one play, or one player. The Hoosiers feed off of each other, and can quickly fall into a rut when no one can find enough intensity. Indiana didn't have enough sustained energy.
And when a team lacks energy, they begin to make silly mistakes. And as much as Penn State's eight 3-pointers felt like daggers to the hearts of the Hoosiers, self-inflicted mistakes and miscommunication had much more to do with the final score.
"I think we played lackadaisical in stretches throughout the game," Jackson-Davis said. "And we can't play scared. I thought overall we just played kind of tentative. We weren't shooting the ball when we should have been."
Indiana's hesitancy impacted play on both ends of the court, resulting in questionable shot selection from the Hoosiers and wide-open shots for Penn State.
Indiana shot 31-for-66 from the floor, and only made two 3-pointers on 14 attempts. Easy shots rolled the wrong way off of the rim, and too often players opted for tough shots as opposed to more reliable ones.
On the other end of the floor, Indiana's defense was at times just as low-energy. Players got lost while switching and trying to keep up with Penn State, who took advantage and found open lanes for easy buckets.
Each time a mistake was made, Indiana's confidence was sapped.
Malik Reneau and Race Thompson both caught the ire of Jackson-Davis and Woodson for losing their man on defense. Miller Kopp and Trey Galloway passed the ball back and forth one too many times and committed a shot clock violation. Woodson's piercing gaze fixated on almost everyone who stepped on the court at least once after an error was made.
It was somewhat of a miracle Indiana was able to make the final score what it was. With under 10 minutes to go, the Hoosiers all had defeated looks on their faces. Woodson, who normally stands for the entirety of the game, was seated on the bench.
Of course, he rose to his feet as Indiana came alive in those final two minutes. So too did the Hoosier fans at the United Center, joining the Indiana bench in trying to will the team to victory.
But intensity doesn't come just because you will it to. Neither does a solid 40-minute basketball game.
"We've got to be more intense on the ball," Jackson-Davis said. "I thought that late in the second half we had that, and if we would have had that during the whole game, I think it would have been a different outcome."
(Photo credit: IU Athletics)
Filed to: 2023 Big Ten tournament, Penn State Nittany Lions