What to Expect: Indiana at Purdue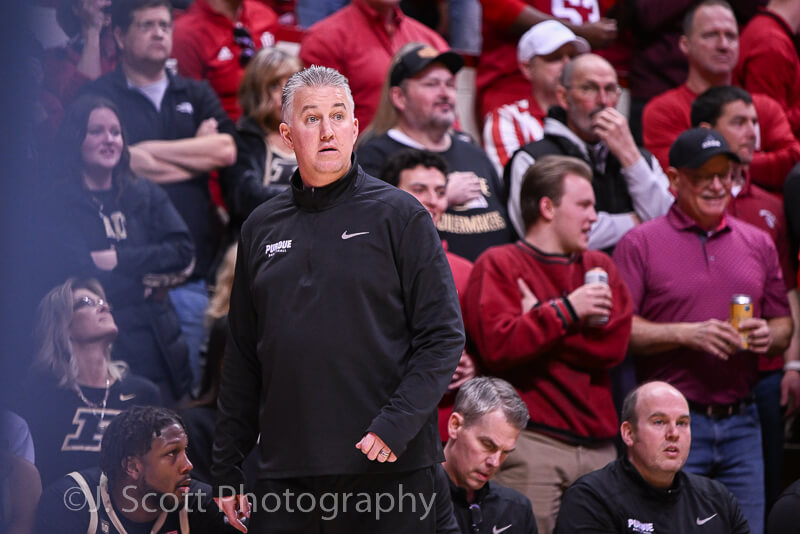 Indiana's final road game of the season is Saturday in West Lafayette. The Hoosiers will take on Purdue in primetime at Mackey Arena.
Saturday's game is set for a 7:30 p.m. ET tip on FOX:
Purdue will look it avenge its 79-74 loss in Bloomington when it hosts Indiana on Saturday night. In addition, with Northwestern's loss on Thursday at Illinois, Purdue can clinch a share of the Big Ten regular season title with a victory against the Hoosiers.
Neither team has played particularly well as of late.
Indiana has dropped two of its last three while Purdue has lost three of its last five games. The Boilermakers, however, have been dominant at home in conference play. Purdue is 7-1 at Mackey Arena in Big Ten games with an average margin of victory of 12.9 points. Purdue's lone home loss this season came against Rutgers by one on January 2.
THE FIRST MEETING
Indiana played a dominant first half against Purdue in Bloomington and then held off a second-half run from the then No. 1 Boilermakers.
The Hoosiers shot 62.1 percent in the first half and scored 50 points. Trayce Jackson-Davis had 18 points in the opening half and every IU player who entered the game scored.
Turnovers were a major problem for Purdue. The Boilermakers turned it over 16 times, leading to 20 points for Indiana. Eleven of those Purdue miscues came in the first half, which helped Indiana build a double-digit lead. While Zach Edey finished with 33 points and 18 rebounds, Indiana was able to force him to turn it over five times.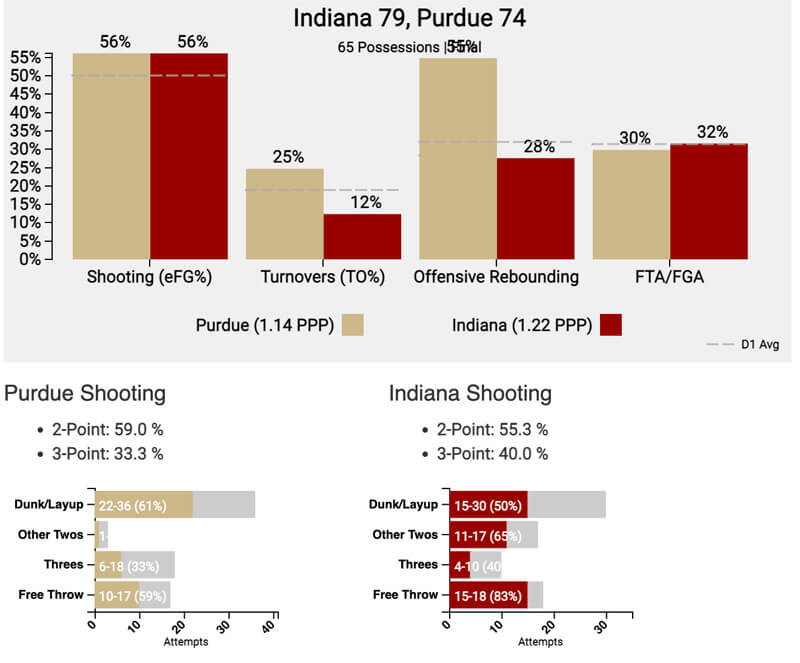 The free throw line was also a significant factor. Indiana outscored Purdue by five from the line and the Boilermakers shot just 10-for-17 from the stripe. Entering the game, Purdue had been averaging 10.5 more free throw attempts than its opponents. Indiana shot 15-for-18 from the line in the upset win.
Individually, Jackson-Davis finished with 25 points, seven rebounds and five blocked shots while Jalen Hood-Schifino scored 12 of his 16 points in the second half. Contributions from role players was equally important for Indiana. Trey Galloway had 11 points in 34 minutes while Malik Reneau, Tamar Bates and Kaleb Banks combined for 15 bench points. That production will be hard to replicate on the road from the bench, which has been unable to find its footing away from Assembly Hall.
Lackluster play from its role players was crushing for Purdue. Braden Smith was just 1-for-8 from the field, Fletcher Loyer was just 4-for-12, including just 1-for-6 on 3s. And Mason Gillis, who was coming off a 29-point game against Penn State, was just 1-for-5 from the field and committed three turnovers in 15 minutes.
Purdue dominated on the offense glass, collecting 17 boards for an offensive rebounding percentage of 54.8 percent. However, those 17 offensive rebounds turned into only 12 second-chance points.
TEMPO-FREE PREVIEW
All stats are conference-only and are updated through Thursday's games.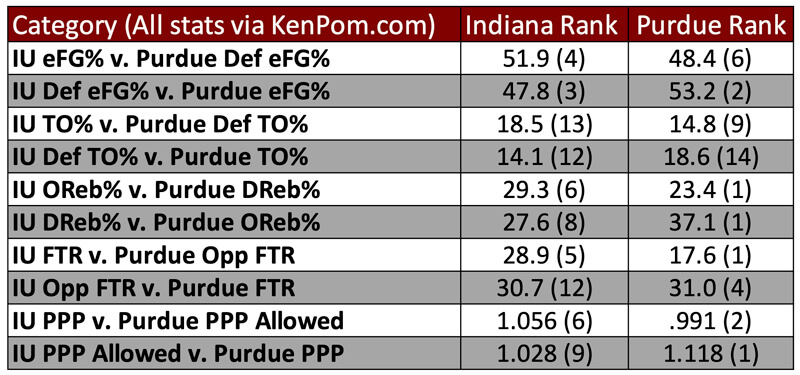 Purdue owns the Big Ten's best offense and the league's second-best defense with three conference games remaining. While the Boilermakers haven't been at their top form recently, this group is still the Big Ten's best team by a wide margin.
Edey is the best offensive rebounder in the country (22.2 OR%) for a second straight season and is a major reason Purdue is grabbing 37.1 percent of its missed shots in league play. Both teams struggle with turnovers, ranking 13th and 14th in league in turnover percentage.
The free throw line will be pivotal for Indiana. Purdue has the league's fourth-best free throw rate (FTA/FGA) and the lowest opponent free throw rate.
WHAT IT COMES DOWN TO
The KenPom projection is Purdue by eight with a 23 percent chance of a Hoosier victory. The Sagarin ratings favor the Boilermakers by 6.5 points.
While Indiana has found some success on the road this season with wins against Xavier, Illinois, Minnesota and Michigan, the Hoosiers are a different team away from Assembly Hall.
Against Michigan State, Indiana had a solid start defensively and then fell apart in a 15-point loss. Prior to that, the Hoosiers didn't come out ready to play at Northwestern and a furious second half comeback fell just short. At Purdue, arguably the most raucous road environment in the league, there's simply no margin for error.
"I wish I knew what the formula was to get us feeling good about the road," Mike Woodson said Thursday. "It's not just our team. There are a lot of teams in the Big Ten that struggle on the road and the environment that you play in."
Indiana's had success against Purdue under Woodson with a 2-1 record and a narrow two-point loss last season in West Lafayette. A win Saturday, however, would be a surprise given how good this Purdue team has been at home.
Filed to: Purdue Boilermakers