What to Expect: Indiana at Northwestern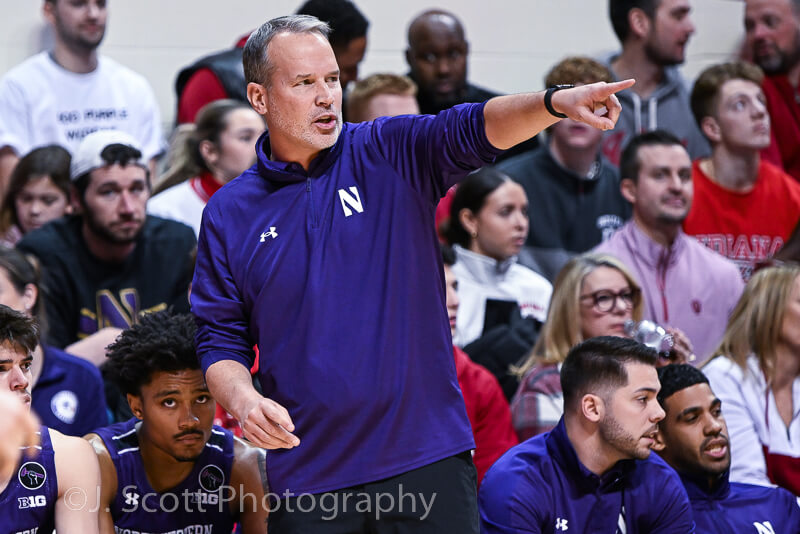 Indiana returns to action Wednesday night when it travels to Evanston to take on Northwestern at Welsh-Ryan Arena. The Wildcats are 18-7 overall and 9-5 in Big Ten play. 
Wednesday's game is set for a 9 p.m. ET tip on BTN:
Indiana and Northwestern will both enter Wednesday's game riding high.
The Hoosiers have won eight of their last nine and three straight games with victories over Purdue, Rutgers and Michigan.
The Wildcats joined Indiana in second place of the league standings with a win over No. 1 Purdue on Sunday in Evanston. Northwestern has won three straight games and six of its last eight contests.
THE FIRST MEETING
While it looked like a horrible loss at the time, Northwestern has proven to be a more than formidable Big Ten team this season. The Wildcats came to Bloomington on Sunday, Jan. 8 and stunned the Hoosiers, 84-83.
Defense was a major problem for Indiana against the Wildcats in Assembly Hall. Northwestern entered the first matchup with the nation's 187th-best offense, according to KenPom, and hung 84 points and 1.14 points per possession on Indiana. The loss dropped Indiana to 1-3 in the Big Ten.
The defensive problems began on the perimeter as Indiana's guards allowed Northwestern to initiate offense with little ball pressure. Chase Audige, Ty Berry and Boo Buie each took advantage with straight-line drives to the basket, which allowed the Wildcats to build a 17-point lead less than 12 minutes into the game. At one point, Mike Woodson switched to a zone to keep Northwestern's guards from driving into the lane. Buie finished with a team-high 26 points and went to the line six times while Audige added 19 points and attempted 10 free throws.
"They got tremendous guard play with Boo and Chase," Woodson said Monday. "I thought they hurt us here. Our focus has just got to be, we got to go in with a defensive mentality."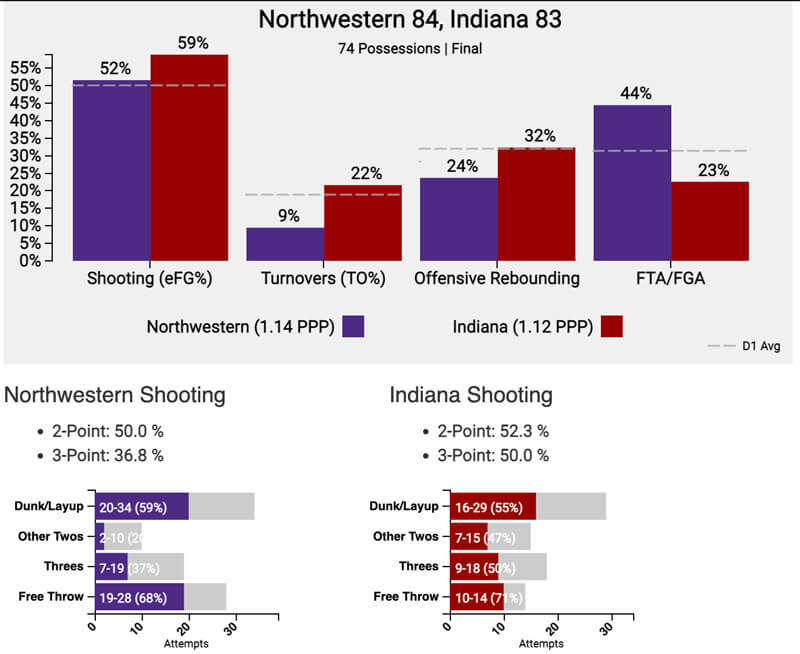 Northwestern took advantage of Indiana's inability to defend without fouling. The Wildcats doubled Indiana's free throw attempts (28 to 14) and outscored the Hoosiers by nine points from the line.
Turnovers were also a major issue. Indiana committed 16 turnovers, leading to 25 points for the Wildcats. Conversely, Northwestern committed only seven turnovers which Indiana turned into seven points.
From an individual perspective, Trayce Jackson-Davis and Jalen Hood-Schifino both had dominant performances in the first meeting. Jackson-Davis went for 18 points, 24 rebounds, eight assists and four blocked shots in 40 minutes. At the time, he was battling a sore back and it was just his second game back after missing contests against Elon and Kennesaw State in December.
Hood-Schifino scored a season-high 33 points and was 7-for-10 on 2s, 5-for-7 on 3s and 4-for-6 from the free throw line. The 33 points by Hood-Schifino were the most by an IU freshman since Eric Gordon also scored 33 against Chattanooga on November 12, 2007.
TEMPO-FREE PREVIEW
All stats are conference-only and are updated through Monday's games.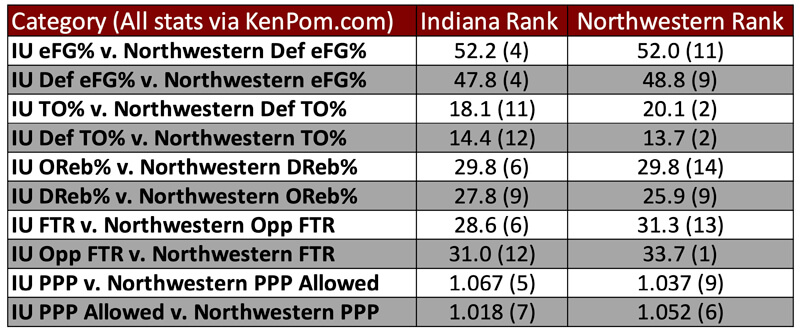 Free throws and turnovers will again loom large for Indiana against the Wildcats.
The standout numbers on the Northwestern statistical profile are clear: turnover percentage, defensive turnover percentage and free throw rate (FTA/FGA).
In Big Ten play, Northwestern is turning over its opponents on 20.1 percent of possessions and is committing turnovers on only 13.7 percent of its own possessions. The Wildcats committed only 125 turnovers in 14 Big Ten games (8.9 per game) compared to 182 (13 per game) for its league opponents.
The free throw line is also pivotal for Northwestern, although the Wildcats do struggle to defend without fouling. Northwestern is averaging 18.7 free throw attempts in Big Ten play compared to 16.7 for its opponents.
The holes for Northwestern's defense are on the interior. Big Ten opponents are grabbing 29.8 percent of their missed shots and are making 50.3 percent of their 2s.
WHAT IT COMES DOWN TO
The KenPom projection is Indiana by one with a 51 percent chance of a Hoosier victory. The Sagarin ratings like Indiana by just under a point.
After Sunday's win against No. 1 Purdue and sole possession of second place in the Big Ten standings on the line, Welsh-Ryan Arena should be full of energy. Picked to finish 13th in the Big Ten in the preseason, Northwestern has far exceeded expectations and should be back in the NCAA tournament for the first time in six years and just the second time in program history.
Indiana's guard play has been shaky on the road and the duo of Buie and Audige is one of the best in the league. Audige is arguably the best perimeter defender in the conference and Buie does an excellent job getting to the rim off the dribble.
"When you go out on the road, it's just a different mentality," Woodson explained. "Somehow I got to get them to understand and help them be better, to put us in a better position to win."
The flip side, of course, is that Northwestern has to account for Jackson-Davis. He's playing at a national player of the year level. Northwestern did a good job against Zach Edey on Sunday and forced him into six turnovers with aggressive double teams in the post. Jackson-Davis will need to handle that pressure without turning it over and Indiana's shooters will need to convert open looks.
"It's going to be a dogfight. They playing in front of their crowd, their fan base," Woodson said. "I'm just anxious to see what we made of when we get there."
Filed to: Northwestern Wildcats