What to Expect: Rutgers at Indiana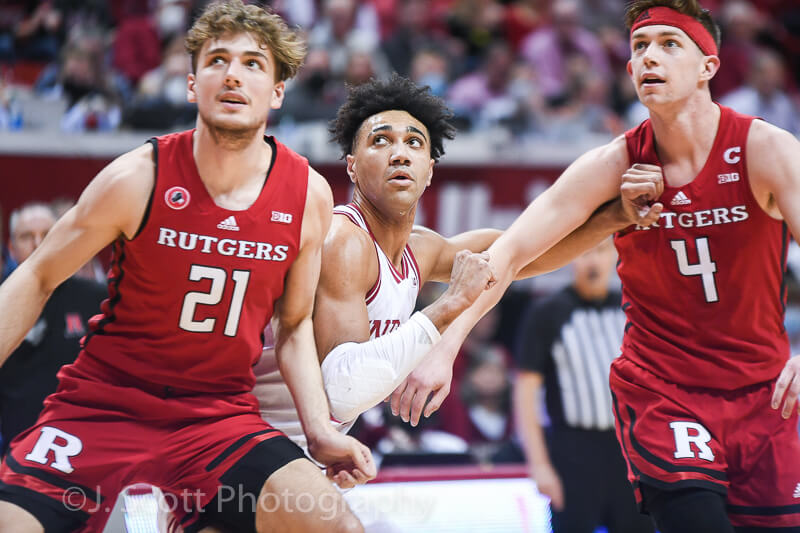 Indiana returns to action Tuesday night when it hosts Rutgers at Assembly Hall in Bloomington. The Scarlet Knights 16-7 overall and 8-4 in Big Ten play.
Tuesday's game is set for a 6:30 p.m. ET tip on BTN:
Indiana's celebration on Saturday didn't last long. In fact, according to Mike Woodson, the Hoosiers only got an hour to enjoy a 79-74 win over rival No. 1 Purdue.
That's because Rutgers, the Big Ten's second-place team, comes to town this week. The Scarlet Knights already whipped Indiana in Piscataway in early December and have won six straight against the Hoosiers. Rutgers is the only Big Ten opponent who is unbeaten against Trayce Jackson-Davis.
"It means a lot (the win against Purdue), but it don't mean anything unless you can validate it," Mike Woodson said Saturday. "Our next game is against Rutgers, a team that we've struggled against that's kind of had their way. You know, we've got to start preparing and preparing for them now."
THE FIRST MEETING
Rutgers beat Indiana 63-48 on Dec. 3, the first loss of the season for the Hoosiers.
"We just got out-toughed tonight," Woodson said after the loss. "From the beginning to the end. We couldn't rebound the basketball. I thought that was the difference in the ball game."
Rutgers grabbed 41.5 percent of its missed shots and scored 17 second-chance points.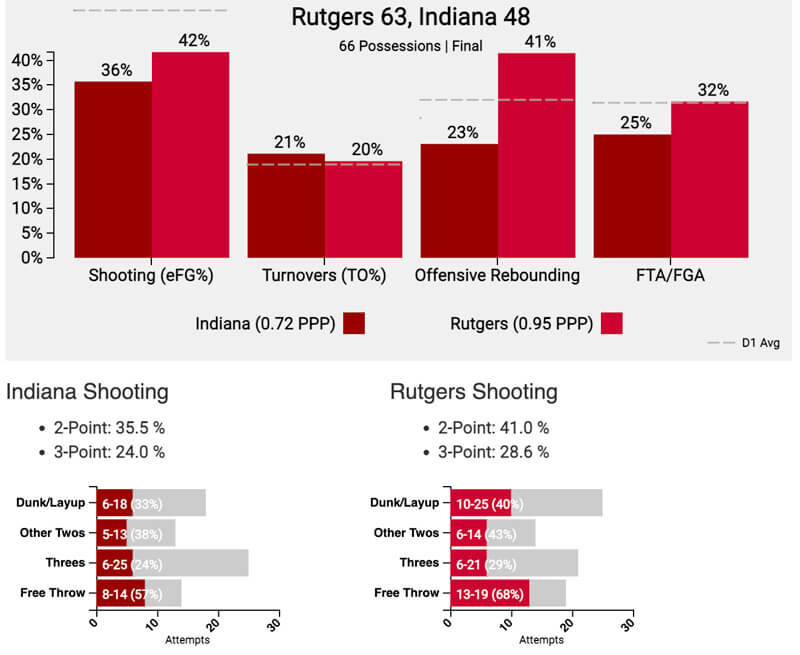 What was most problematic, though, was Indiana's anemic offense. Jalen Hood-Schifino missed the first matchup due to tightness in his back and Xavier Johnson had one of his worst performances of the season.
The Hoosiers shot a dismal 35.5 percent on 2s and 24 percent on 3s. Miller Kopp went 5-for-9 from distance, but the rest of the roster went 1-for-16. In the first half, Indiana scored only four points in the paint.
Rather than allowing Jackson-Davis any space to operate, Rutgers chose to swarm him on the catch and force him to give up the ball. Nobody else on the roster was able to make plays besides Kopp and the end result was a 48-point performance.
The rosters in the rematch will look a little bit different.
Johnson (foot) remains out for Indiana and Jordan Geronimo has now missed three straight games with a calf strain. Hood-Schifino, who didn't play in the first meeting in New Jersey, had 16 points in IU's win over Purdue and has been dominant at times at home.
Rutgers will likely be without starting forward Mawot Mag. He left the Michigan State game at Madison Square Garden on Saturday with a knee injury and did not return. On Sunday, Steve Pikiell said Mag will be "out for a bit." Mag averages 7.8 points and 5.3 rebounds in 24.8 minutes per game.
Regardless of who is on the floor, Indiana will need to play with far more grit and toughness than it has in the past against the Scarlet Knights.
TEMPO-FREE PREVIEW
All stats are conference-only and are updated through Sunday's games.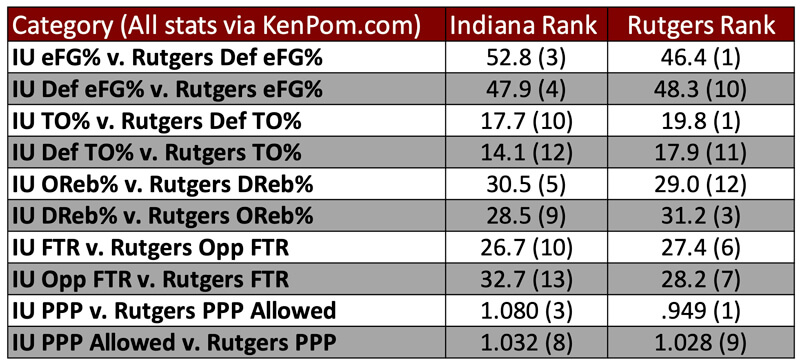 Rutgers has an elite defense and that's the major reason the Scarlet Knights are in the thick of the conference race again this season.
The Scarlet Knights lead the Big Ten in 2-point field goal percentage defense (43 percent) and are allowing just .949 points per possession through 12 conference games. Defensively, Rutgers is turning its Big Ten foes on 19.8 percent of its possessions. A major key for Indiana is Hood-Schifino and Trey Galloway handling the pressure from Caleb McConnell, Paul Mulcahy and Cam Spencer. Spencer has a team-high 54 steals and McConnell, who has missed five games, isn't far behind with 42.
Indiana will also have to do a much better job cleaning up the defensive glass. Purdue rebounded 54.8 percent of its misses against the Hoosiers, which would have been difficult to overcome had Indiana not hung 50 first-half points on the Boilermakers. The Hoosiers have been below average on the defensive glass all season and Rutgers will look to exploit that weakness with Cliff Omoruyi, who averages more than three offensive rebounds per game.
WHAT IT COMES DOWN TO
The Pomeroy projection is Indiana by two with a 58 percent chance of a Hoosier victory. The Sagarin ratings favor Indiana by close to three points.
This is a pivotal game for both programs. Rutgers is trying to hold on to second place in the Big Ten standings. The Scarlet Knights are currently a game ahead of Indiana, Maryland, Illinois, Iowa, Michigan and Northwestern.
Indiana, meanwhile, could create a major logjam for second place in the standings with a win on Tuesday. More importantly, this is an opportunity for the Hoosiers to end a major losing streak to a conference opponent that has owned the series over the last three-plus seasons.
After its loss to Northwestern in early January, Indiana has now won four in a row in Bloomington with wins over Wisconsin, Michigan State, Ohio State and Purdue by an average of 13 points.
To prevail on Tuesday, Indiana needs a strong performance from Jackson-Davis and must take care of the ball and compete much harder on the glass than it did in the first meeting.
Filed to: Rutgers Scarlet Knights