Five takeaways from Indiana's win against Purdue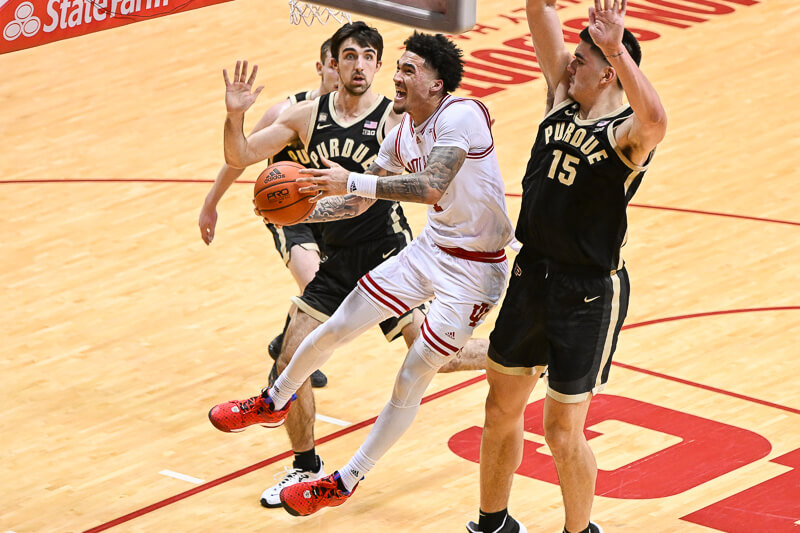 Indiana improved to 16-7 overall and 7-5 in Big Ten play with a 79-74 win against Purdue on Saturday at Assembly Hall.
Here are five takeaways from the win against the Boilermakers:
Indiana's offense sets the tone with a monster first half
Indiana played arguably its best offensive half of the season on Saturday afternoon.
The Hoosiers shot a sizzling 18-for-29 from the field (62.1 percent), hit 10 of 12 free throws and only committed five turnovers on their way to 50 points.
The contributions came from across the roster.
Trayce Jackson-Davis led the way with 18 first half points, but all eight Hoosiers who played scored in the opening 20 minutes.
Trey Galloway hit several floaters in the lane. Tamar Bates knocked in a 3-pointer. Miller Kopp knocked in two triples. Kaleb Banks had a pair of buckets, including the final score to give Indiana a 15-point lead. Race Thompson, Malik Reneau and Jalen Hood-Schifino each had four points.
By halftime, Indiana's 1.41 points per possession were well above the .969 points per trip Purdue's Big Ten opponents were averaging entering the rivalry matchup.
The Trayce Jackson-Davis versus Zach Edey matchup lived up to the billing
Entering Saturday's game, Zach Edey and Trayce Jackson-Davis had separated themselves as the two best players in the Big Ten.
Their performances on Saturday only solidified that.
Edey was unstoppable and unflappable, finishing with game-highs of 33 points and 18 rebounds. When he caught the ball deep in the post in the second half, Indiana had no answer.
But Jackson-Davis more than held his own against the frontrunner for national player of the year. He finished with 25 points, seven rebounds and five blocked shots and played nearly 39 minutes.
"(Zach) Edey and Trayce Jackson-Davis are two of the top players in the country," Mike Woodson said postgame. "I think they showed that tonight."
Points off of turnovers heavily favored Indiana
A major reason Indiana built a double-figure lead in the first half was its ability to force Purdue turnovers.
The Boilermakers turned it over 11 times in the first half, leading to 12 Indiana points.
"I just thought our pressure early put us in a different place defensively," Woodson said postgame. "Their team, they rarely turn the ball over. But I just thought our pressure allowed them to make mistakes, and we doubled Edey some early; that helped us, I thought."
While Purdue was much sharper with the ball in the second half, the Boilermakers finished with 16 turnovers, which led to 20 points for Indiana.
The Hoosiers, meanwhile, committed just eight turnovers which led to only eight points for Purdue.
"When you have eleven turnovers in the first half, and the game before you had seven for the whole game, that just hurts you," Purdue coach Matt Painter said. "Our guys were resilient and they battled back, but not good enough-not making our free throws, turning the basketball over."
Jalen Hood-Schifino comes up with big plays late
Jalen Hood-Schfino struggled in Tuesday's loss to Maryland, shooting just 1-for-14 from the floor. And he played just 11 minutes of the first half on Saturday due to foul trouble.
But when the game was in the balance late in the second half, Hood-Schifino came up big for the Hoosiers.
No play by Hood-Schifino was bigger than his layup with just over 25 seconds that put Indiana ahead 75-70. Out of a timeout, Hood-Schifino went right at Edey for the bucket.
"He lives for these big moments," Jackson-Davis said of Hood-Schifino. "In the first half, I was kind of carrying the load a little bit and then the second half he was carrying the load and that's something that we can do.
"We've got a lot of pieces on our team that are just interchangeable and they can do big things. He's a great player and I love it when he gets to that many because it's really unguardable."
Hood-Schifino was Indiana's leading scorer in the second half, scoring 12 points in 20 minutes. He was 6-for-12 from the floor in the second half and didn't commit a turnover.
Indiana outscores Purdue from the free throw line
Purdue's advantage at the free throw line entering Saturday's game was staggering.
The Boilermakers averaged 10.5 more free throw attempts than their opponents through their first 23 games.
Indiana had been struggling to keep its opponents off the line and was 13th in opponent free throw rate (FTA/FGA) in Big Ten play.
But the Hoosiers flipped the script on Saturday. Indiana went 15-for-18 from the line and Purdue went just 10-for-17.
It was a major reversal from Tuesday's loss at Maryland when the Hoosiers were outscored by 15 at the free throw line in a 66-55 loss to the Terrapins.
Filed to: Jalen Hood-Schifino, Purdue Boilermakers, Trayce Jackson-Davis