What to Expect: Wisconsin at Indiana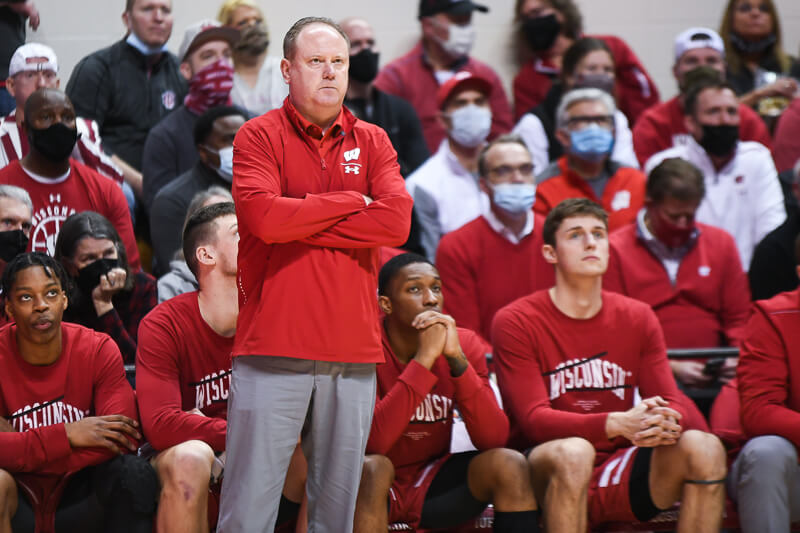 Indiana, currently tied for last place in the Big Ten with Minnesota, returns to action on Saturday at Assembly Hall. The Hoosiers will host Wisconsin, which is 11-4 overall and 3-2 in conference play.
Saturday's game is set for a 1 p.m. ET tip on CBS:
Indiana and Wisconsin will try to end losing streaks on Saturday afternoon in Bloomington. The Hoosiers have dropped three straight and the Badgers have fallen in their last two contests.
Injuries have been a factor for both teams, but Wisconsin may be on the verge of its best player returning to the floor. Tyler Wahl, who missed the last two games with a sprained ankle, could be nearing a return.
Indiana, on the other hand, has yet to adjust to life without Race Thompson and Xavier Johnson. The Hoosiers were crushed 85-66 on Wednesday at Penn State and are 13th in the league in points per possession allowed. Indiana hasn't beaten a team in the top 75 of the KenPom ratings since North Carolina on Nov. 30.
MEET THE BADGERS
Greg Gard hasn't reached the heights Bo Ryan did in Madison, but he's been a more than adequate replacement. Now in his eighth season as the head coach at Wisconsin, Gard has won a pair of Big Ten regular season titles and has twice been named the league's coach of the year.
Expectations were tempered for this season's team with the departure of Johnny Davis to the NBA and Brad Davison to graduation. Still, Wisconsin is in the thick of the conference race.
Wisconsin's three best players all started on last season's team that finished 25-8 and advanced to the round of 32 in the NCAA tournament.
The leading scorer is Wahl, a 6-foot-9 senior who has struggled with his efficiency this season in a much larger role. Wahl's 13.2 points lead the Badgers and he's using 31.1 percent of the team's possession, the 18th-highest rate in the country. Wahl's offensive rating of 88.7 is the lowest on the roster among rotation regulars. He's shooting 21 percent on 3s and just 45 percent on 2s. He's also committed 35 turnovers compared to just 24 assists. His status for Saturday is unclear as he did not practice on Thursday.
Sophomore Chucky Hepburn is the Badger point guard, but he's also a capable scorer. Hepburn's 3.4 assists per game lead the team and he's second in scoring at 13 points per game. While Hepburn struggles to finish at the rim and inside the arc, he's connecting at a 48.5 percent clip on 3-pointers. Hepburn also has a team-high 31 steals.
Junior 7-footer Steven Crowl is one of the Big Ten's best passers out of the post. Wisconsin has a long history of developing its bigs to be fundamentally sound and Crowl is no exception. He's third on the roster in scoring at 12.9 points per game, leads the team in rebounding (6.6 per game) and is second in assists (3.1 per game).
Max Klesmit and Jordan Davis have started all 15 games, but are low-usage offensive players. The 6-foot-3 Klesmit transferred from Wofford and is shooting 37.8 percent on 3s and making just over one triple per game. His 24 steals are second on the team. Davis, the twin brother of Johnny, is shooting just 41.6 percent from the field and averages 6.6 points per game.
Indiana native and freshman Connor Essegian is fourth on the team in scoring at 10.3 points per game. He's come off the bench in every game and provides excellent perimeter shooting. The 6-foot-4 guard is shooting 45.6 percent from distance and making just over two 3s per game. A product of Central Noble, Essegian was ranked 226th in the 247 rankings for the 2022 class.
Junior Carter Gilmore has started in Wahl's absence, but has scored just nine points and grabbed eight rebounds in 59 minutes as a starter. The Badgers had won six straight games before Wahl was injured, so getting him is pivotal.
TEMPO-FREE PREVIEW
All numbers are now for conference games only.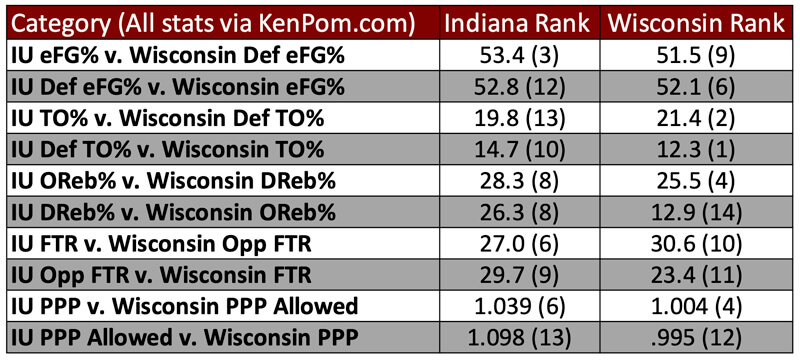 This Wisconsin team follows a similar formula to past seasons. The Badgers don't crash the offensive glass, take care of the ball and want to play a half-court game.
In Big Ten games, Wisconsin is +31 in turnovers. The Badgers have committed just 42 turnovers compared to 73 for their opponents in five games. That's a massive gap and a major concern for an Indiana team turning it over on 19.8 percent of its possession in league play.
Fouling has been a problem for the Badgers in league play. Wisconsin is being outscored by over four points per game at the free throw line in conference games. The Badgers have also struggled when getting to the line. Wisconsin is shooting just 61.2 percent from the stripe in conference play.
WHAT IT COMES DOWN TO
The KenPom projection is Indiana by five with a 67 percent chance of a Hoosier victory. The Sagarin ratings like Indiana by 4.5. Both numbers seem ambitious given the recent play by Indiana.
Wisconsin has dominated this series dating back to the 2007-08 season. The Badgers are 24-3 against Indiana over that time frame.
The availability of Wahl is a key factor, but regardless of his status, Indiana has major work to do defensively if it is going to get back into the winning column.
Wisconsin is a disciplined team that doesn't make many mistakes and plays a gritty style. It takes a high level of focus and attention to detail to beat Wisconsin. Indiana has been incapable of putting together a solid 40 minutes of basketball for a good chunk of this season.
With no timetable for a return of Johnson or Thompson, Indiana needs to quickly shore up its defense or sole possession of last place in the Big Ten standings will come to fruition.
Filed to: Wisconsin Badgers