What to Expect: Indiana at Penn State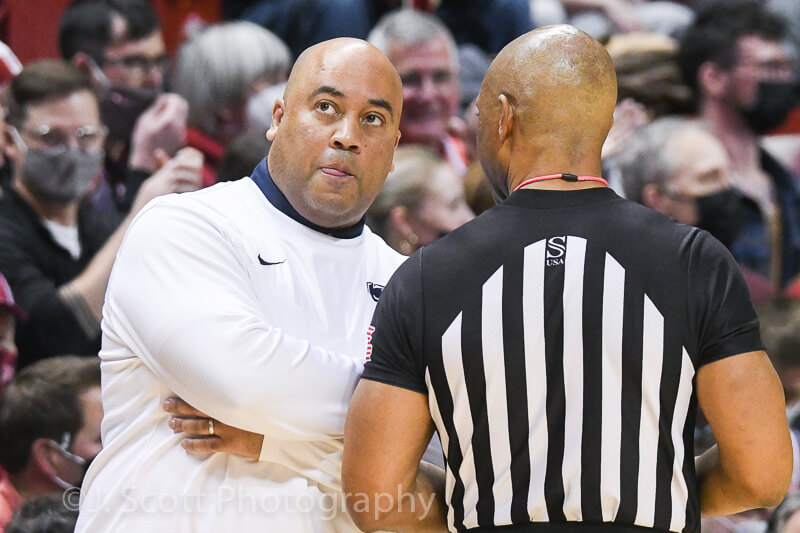 Indiana will try to avoid an 0-3 start in Big Ten road games when it travels to University Park, Pennsylvania, to take on Penn State Wednesday night. The Nittany Lions are 11-5 overall and 2-3 in conference games.
Wednesday's game is set for a 7 p.m. ET tip on BTN:
After two tough losses to Iowa and Northwestern last week, Indiana is staring at a three-game conference losing streak if it can't figure things out defensively.
The Hoosiers, one of the Big Ten favorites in the preseason, are down two starters and fell out of the Associated Press top 25 poll this week for the first time this season.
Indiana is 7-2 over its last nine games against Penn State but fell to the Nittany Lions last season at the Bryce Jordan Center. At No. 54 in the KenPom ratings as of Tuesday morning, Penn State appears to be headed in the right direction under second-year coach Micah Shrewsberry.
MEET THE NITTANY LIONS
Penn State guard Jalen Pickett is among the best lead guards in the country and controls the game from the backcourt. This is Pickett's second season playing for the Nittany Lions after transferring in from Siena prior to last season.
He leads the team in all three major categories at 17.9 points, 7.6 rebounds and 7.3 assists per game. His 35.1 minutes per game also lead the Nittany Lions. At 6-foot-4, Pickett has the size to take smaller defenders into the paint and score over them. He's shooting 54.2 percent on 2s and 34 percent on 3s. When scoring opportunities aren't there, he's one of the best facilitators in the country. Pickett is third in the country in assist rate (44.2 percent). Pickett wasn't a household name in college basketball before the season, but he's currently the best point guard in the conference.
Senior wing Seth Lundy is second on the team in scoring at 13.7 points per game and has morphed into an efficient offensive player. The 6-foot-6 Lundy is shooting 57.9 on 2s (mostly all in the paint) and 40.2 percent on 3s. He's also taken a team-high 50 free throws and is connecting at an 82 percent clip. Lundy is also one of the league's better wing defenders.
Drexel transfer Camren Wynter gives Shrewsberry a second capable ball handler in the backcourt. His 9.3 points per game are fourth on the team and he's connecting at a 37.5 clip from distance. Wynter had been starting all season, but came off the bench in the last game against Purdue.
Another transfer, Andrew Funk, is an elite 3-point shooter who benefits from playing with an elite playmaker in Pickett. The 6-foot-5 guard, who arrived this offseason from Bucknell, is making 2.9 3-pointers per game and shooting 40.4 percent from distance. Funk's 33.5 minutes per game are second on the team.
Senior Myles Dread provides quality depth off the Penn State bench and is strictly a 3-point shooter on offense. Dread has started occasionally this season, including in Sunday's game against Purdue. The 6-foot-4, 235-pound forward is making 43.8 percent of his triples. Of his 84 field goal attempts this season, only four have come from inside the 3-point line.
Freshman big man Kebba Njie is the only player on the roster taller than 6-foot-8 who plays regular minutes. At 6-foot-10 and 237 pounds, Shrewsberry will look to develop Njie for the long term, but he's currently not ready to play much more than 15 minutes per game. Penn State will have plenty of smaller lineups with Lundy and Dread together at the four and five.
Freshman forward Evan Mahaffey is 6-foot-6 and 200 pounds, but has the length to be disruptive defensively and logs most of his minutes at the four. The Cincinnati native averages 3.2 points in 10.6 minutes per game.
TEMPO-FREE PREVIEW
All stats are current through Monday's games.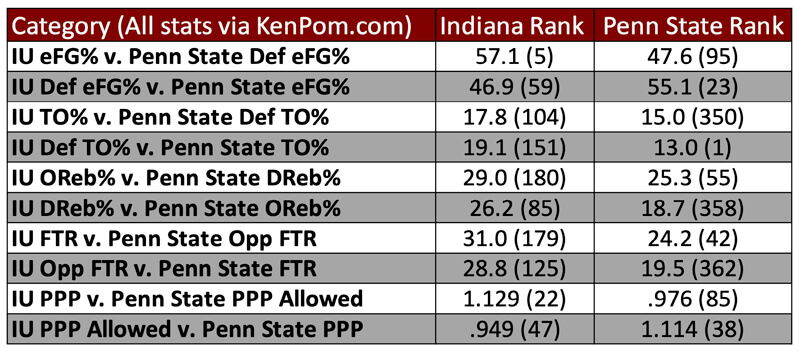 The Penn State offensive attack is spearheaded by Pickett, who picks defenses apart with his scoring and playmaking ability. The Nittany Lions don't turn the ball over and take and make a ton of 3-pointers. It's also worth mentioning that Penn State has the most experienced team in the country according to KenPom's experience ratings.
Close to 43 percent of Penn State's points come from 3-pointers, which ranks 4th in the country. This is a high volume, high percentage perimeter shooting group. The Nittany Lions are 19th in the country in 3-point shooting at 38.3 percent. When Pickett isn't picking apart defenders and scoring himself, he's finding open shooters on the perimeter. If Indiana comes out with the defensive intensity and focus it showed against Northwestern, Penn State will quickly take advantage.
Defensively, Penn State doesn't foul much, hits the boards as a unit, and will likely aggressively send help at Trayce Jackson-Davis in the post. The Nittany Lions don't turn their opponents over much at all, but Indiana beat itself on Sunday against Northwestern with lackadaisical decision-making that led to turnovers.
WHAT IT COMES DOWN TO
The KenPom projection is Penn State by 1 with a 49 percent chance of an Indiana victory. The Sagarin ratings like Indiana by one.
Offensively, Penn State and Indiana couldn't be more different. The Hoosiers pound the ball in the post relentlessly and take a low volume of 3s despite shooting a good percentage as a team. The Nittany Lions are a high-volume 3-point shooting team and are making more than 10 triples per game. Penn State has made 171 3s this season and Indiana has made 109.
Indiana played well in an early season win at Xavier, but has been shaky otherwise. The Hoosiers were beaten soundly at Rutgers and Kansas and then collapsed last week at Iowa. As Indiana's coach, Mike Woodson is 3-9 in road conference games. Down two starters, Indiana is going to need a much more focused and disciplined effort than what it's produced recently to win a road game against a solid team.
Filed to: Penn State Nittany Lions