The Minute After: Arizona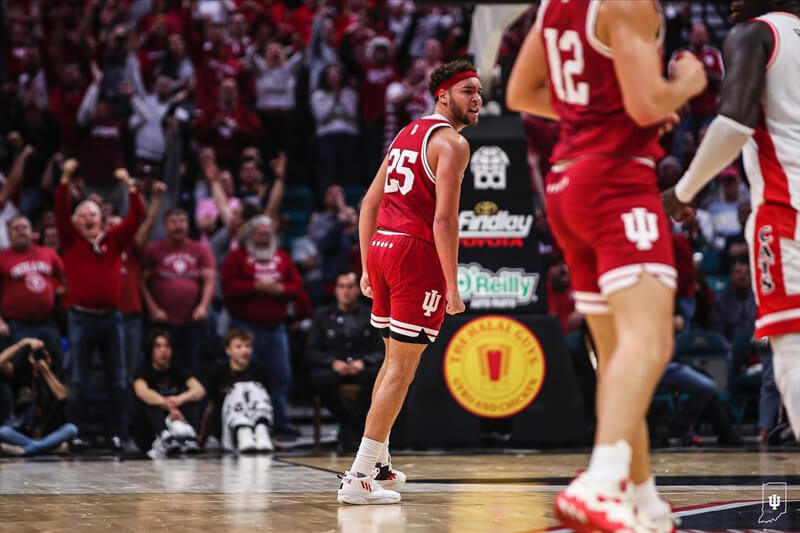 Thoughts on an 89-75 loss to the Wildcats:
Arizona punched Indiana in the mouth.
Its 17-0 run on the Hoosiers early in the first half was a strong start. The Wildcats looked more athletic and tough. They played loose and free. Indiana, meanwhile, looked shaken and seemed like a team that didn't belong in this type of marquee matchup.
Yet, despite an eventual 14-point loss, Indiana got back into this one, showing a ton of grit and fight — even if it wasn't always pretty. After trailing by 19 points at 27-8 with 11:13 remaining in the first half, the Hoosiers were within three points (59-56) at the 12:44 mark of the second half. And with 5:11 to go in the contest, Indiana trailed by just five.
"We got down early, but I thought we fought," Mike Woodson said in his post-game remarks.
Indiana lost this game because Arizona dominated offensively. The 1.28 points per possession Indiana allowed tonight were the worst of the Mike Woodson era. The previous worst for the Hoosiers? The 1.21 points per possession St. Mary's hung on them in last season's NCAA Tournament. Like most opponents this year, Indiana had no answers for Arizona's twin towers down low in either the half-court or transition.
Azuolas Tubelis scored a game-high 21 points on 9-of-16 shooting. Oumar Ballo pumped in 15 of his own on 6-of-9 from the field. They were bigger and stronger than Race Thompson and Trayce Jackson-Davis and it showed. Once they established their position and received the ball, it felt like everything was going in. Arizona dominated the points in the paint battle (42-22).
But Arizona also had a hot night shooting from deep after going 8-of-48 (16.6 percent) in its last two games. Kerr Kriisa (4-of-10) hit some serious daggers. Adama Bal hit all three of his 3-pointers. The Wildcats shot 40 percent (10-of-25) on the night.
Arizona entered the game with the No. 2 offense in the country in the Pomeroy ratings. It's now up to No. 1 after the win. Indiana's defense fell several spots and now sits at No. 20.
Indiana held its own offensively (1.08 points per possession) in this one. After making just 1-of-10 from deep to start the contest, Indiana caught fire to keep up in the 3-point shootout, as the Hoosiers also hit 10-of-25 this evening. Miller Kopp drained 4-of-8. Race Thompson shot with confidence and knocked down 4-of-7. Tamar Bates hit 1-of-3. Arizona sent a lot of attention to Jackson-Davis and his teammates delivered around him.
With Jalen Hood-Schifino sidelined again due to his back injury, Bates had a great game with minutes available. He played with swagger, hitting some key shots as Indiana looked to keep pace in the second half. He finished an efficient 6-of-10 from the floor and scored 13 points.
But it just wasn't enough. Arizona imposed its elite offense on Indiana for 40 minutes, and the Hoosiers failed to slow it down.
Indiana can learn and grow from this one. It wasn't all bad. But with Kansas looming in a week, there's no rest for the weary.
(Photo credit: IU Athletics)
Filed to: Arizona Wildcats