What to Expect: Indiana vs. Nebraska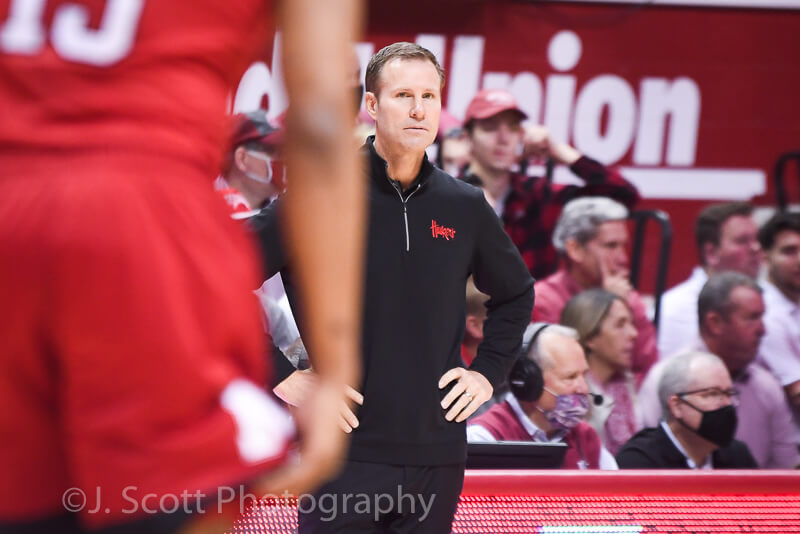 Indiana will try to rebound from its first loss when it hosts Nebraska tonight in Bloomington. The Cornhuskers are 6-3 and coming off a win at then-No. 7 Creighton. 
Tonight's game will tip at 8:30 p.m. ET on BTN:
Indiana, in Mike Woodson's words, was "out-toughed" in Saturday's loss at Rutgers. The Hoosiers will attempt to put that loss behind them tonight at Assembly Hall against Nebraska.
The Huskers have won three straight games, all against high-major competition. Nebraska beat Florida State by 17 in Orlando before crushing Boston College by 21 in Lincoln. Most recently, the Huskers won by 10 against rival Creighton in Omaha.
MEET THE CORNHUSKERS
The transfer portal was again heavily utilized by Fred Hoiberg in the offseason as Nebraska's roster had a significant turnover. Three of Nebraska's starters this season are new to the program via the portal.
In its win at Creighton over the weekend, Nebraska played a seven-man rotation with four starters logging 34 or more minutes. Nebraska has five players averaging in double figures with a sixth not far behind at 9.4 points per game.
The leading scorer for the Huskers is senior forward Derrick Walker, who is in his fifth season of college basketball. Walker began his career at Tennessee, but this is his third year in Lincoln. He's shooting 75 percent on 2s and averaging 16.8 points and 9.5 rebounds per game. Walker's 22 points in 23 minutes led the Huskers at Creighton. Walker isn't explosive in the paint, but does a good job of using his body and his strength to create scoring opportunities.
North Dakota State transfer Sam Griesel is averaging a team-high 32 minutes per game and the 6-foot-7 guard is shooting 50.7 percent from the field. Griesel's 11.3 points per game are second on the team. He leads the Huskers in assists with 44 and his assist rate of 27.8 percent ranks in the top 150 nationally. An All-Summit League player at North Dakota State and a Lincoln native, Griesel has tremendous size for a guard.
Alabama transfer Juwan Gary had 12 points and nine rebounds in the upset win at Creighton and is fourth on the team in scoring at 10.3 points per game. The 6-foot-6 Gary plays the four for Nebraska and makes one 3-pointer per game, but is connecting at just a 28.1 percent clip. He's also second on the team in rebounding at 6.4 per game and has a team-high 15 steals.
SMU transfer Emmanuel Bandoumel and CJ Wilcher, who started his career at Xavier before transferring to Nebraska before last season, round out the starting five for Hoiberg.
The 6-foot-4 Bandoumel shoots just 37.3 percent from the field and averages 9.4 points per game. Wilcher is 17-for-47 on 3s and is the team's best threat from distance.
Off the bench, guard Keisei Tominaga is 15-for-36 on 3s and is the team's third-leading scorer at 10.7 points per game. Two frontcourt players to keep an eye on are Wilhelm Breidenbach and Blaise Keita. Breidenbach is a former top 150 recruit who is 6-foot-10 and was billed as a pretty good shooter out of high school. Keita is 6-foot-11 and provides legitimate size for Hoiberg to deploy against Big Ten foes.
TEMPO-FREE PREVIEW
All stats are valid through Tuesday's games.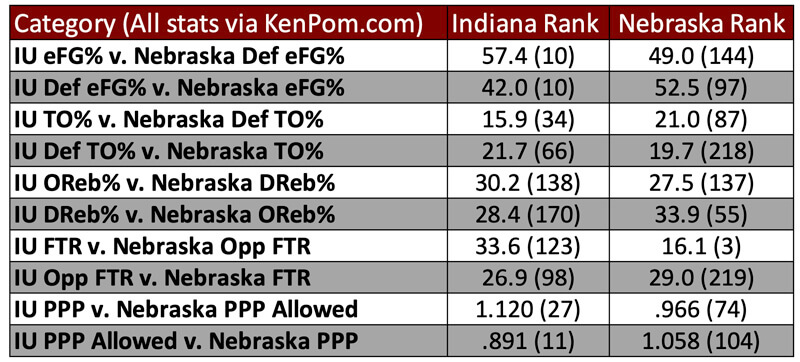 After playing the 19th fastest pace in the country last season, Hoiberg has abandoned the up-tempo pace and is playing a much more deliberate style this season. Nebraska currently ranks just 291th in KenPom's adjusted tempo metric. The average offensive possession for the Huskers is 18 seconds compared to 15.7 last season.
Offensively, Nebraska's profile is a mixed bag. The Huskers are a very good 2-point shooting team at 55 percent, but are below average from distance and putrid from the foul line. Nebraska ranks 233rd nationally in 3-point shooting percentage and 337th in free throw percentage. Nebraska is an excellent offensive-rebounding team, which should have Indiana concerned after Saturday's performance on the glass at Rutgers.
Defensively, Nebraska avoids fouling at all costs. The Huskers are third in the country in opponent free throw rate (FTA/FGA) at just 16.1 percent. Nebraska doesn't block many shots, ranking just 334th in the country in block percentage through its first nine games.
WHAT IT COMES DOWN TO
The KenPom projection is Indiana by 12 with an 87 percent chance of victory for the Hoosiers. The Sagarin numbers favor Indiana by 11.5.
At the various sportsbooks, Indiana is a 13.5-point favorite at FanDuel, 13-point favorite at Caesars, 13.5-point favorite at BetMGM and a 13-point favorite at DraftKings.
Indiana is 18-7 against Nebraska and has won six straight in the series.
After Saturday's 48-point performance against Rutgers, the blueprint has been established for how to stifle Indiana offensively. The Scarlet Knights sent aggressive double teams at Trayce Jackson-Davis and dared the Hoosiers to make perimeter shots.
"If somebody is posting the ball and he's getting double-teamed, if he's double-teamed down low, if he's double-teamed out top, the ball has got to move around and it's going to fall in somebody's hands, and they've got to make a shot," Woodson said Tuesday. "It's just that simple. It's not scientific, guys. It's not.
"There's nothing magical about it. You can be double-teamed down low; you can be double-teamed out top, on the side, which we were double-teamed out top. We were double-teamed down low. Guys got to make shots."
The question for Indiana, of course, is do they have the guys to make shots? Miller Kopp stepped forward against Rutgers, but no one else did. The Hoosiers need more from veterans like Xavier Johnson and Race Thompson and if Jalen Hood-Schifino remains sidelined, more from Tamar Bates and Trey Galloway, who provided very little in Piscataway.
Filed to: Nebraska Cornhuskers