The Minute After: Nebraska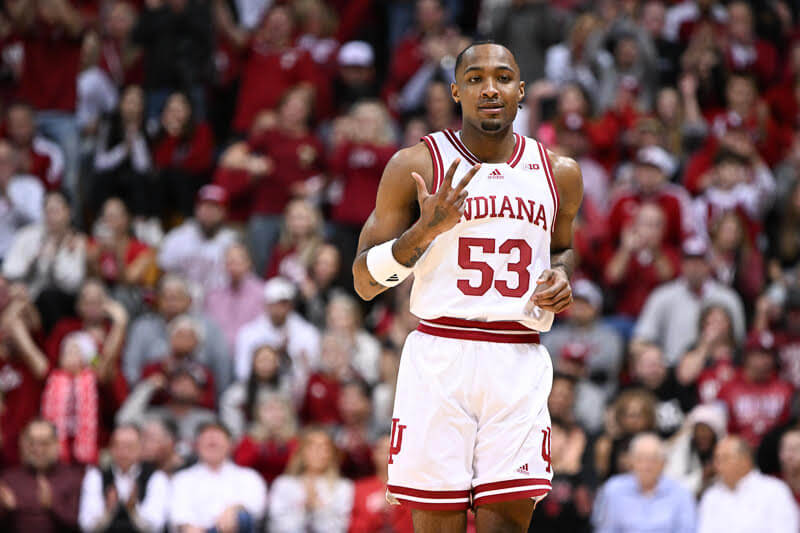 Thoughts on an 81-65 win against the Cornhuskers:
After Indiana's loss to Rutgers over the weekend, it was fair to wonder if Nebraska could replicate the formula.
The Cornhuskers tried. They threw some early zone at Indiana to try and keep the Hoosiers to the perimeter. They double-teamed Trayce Jackson-Davis. But unlike the Scarlet Knights, Nebraska's defense is not elite and the Hoosiers had more breathing room. But Indiana also flipped the script shooting-wise, as Trey Galloway and Race Thompson hit 3-pointers within the first four minutes of the game.
It was a trend that continued the whole way. Indiana hit 11-of-25 (44 percent) from deep on the evening.
"My teammates made shots and it was a real good response from the Rutgers game," Trayce Jackson-Davis told Stephen Bardo of the Big Ten Network directly after the contest. "I'm proud of the way they played."
Miller Kopp has been Indiana's most reliable threat from deep, but he finished just 1-of-5 tonight. That meant others stepped up in a big way. Tamar Bates led that charge, banging home 5-of-8. Trey Galloway made 4-of-6. Thompson finished 1-of-2.
While Kopp didn't have it from 3-point range tonight, Nebraska's strong attention to him meant he could fake and go by them for scores in the mid-range and the paint. So he was still an efficient 6-of-11 from the floor and scored in double-digits (13 points). Galloway had his best offensive game as a Hoosier with a career-high 20 points on 7-of-10 shooting. With Jalen Hood-Schifino still sidelined with a back injury, Galloway also did a nice job of handling the ball and settling the offense in tonight's contest. Bates' hot night from deep helped him to 19 points.
And then there was Jackson-Davis.
On a night he wasn't IU's leading scorer, Jackson-Davis still managed to steal the show as he recorded Indiana basketball's third-ever triple-double. It looked like he'd be stuck at eight assists when he hit the bench with Indiana up 18 and 6:33 left in the contest. That lead increased to 21 after a Bates 3-pointer. But after Nebraska went on a run to cut the lead to 14, Woodson brought Jackson-Davis back in.
He found Bates for a 3-pointer with 2:29 to go for assist No. 9. After Galloway missed a lay-in for what would have been Jackson-Davis' 10th assist, the Hoosiers reset and TJD found Galloway once more in the paint. This time he didn't miss and the triple-double was achieved (12 points, 11 rebounds, 10 assists).
Xavier Johnson had a rough go of it tonight, turning the ball over seven times and shooting just 2-of-8 from the floor. Johnson's miscues were the main culprit in a more sloppy night than usual for the Hoosiers, as they turned it over on 20.9 percent of their possessions. Only in the Rutgers game (21.1) have they been worse in that category this season. Still, Indiana mustered 1.13 points per possession thanks to its strong shooting performance.
This was a nice bounceback effort from IU tonight. With Arizona looming, we'll see if Indiana can keep the momentum going on Saturday in Las Vegas.
Filed to: Nebraska Cornhuskers