The unconditional friendship of Miller Kopp and Pete Nance is a story of growth and normalcy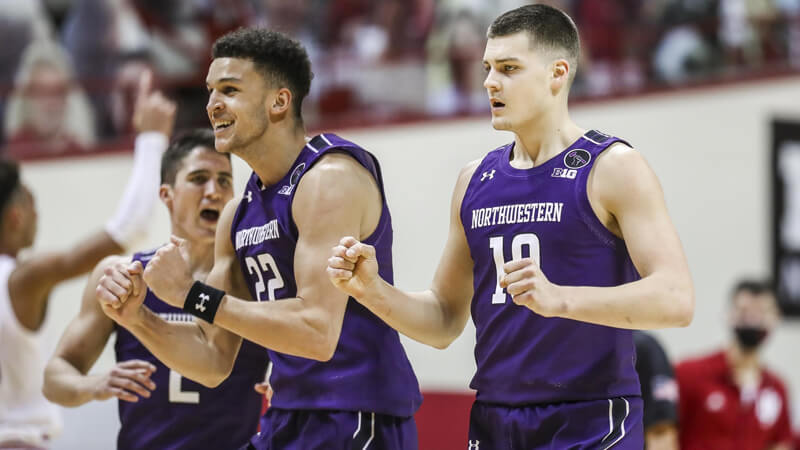 Miller Kopp and Pete Nance can read each other's minds.
And no, not in the superpower way. Maybe it's from guarding each other in practice at Northwestern, playing Fortnite in their college dorm room or maybe it's simply the best-friend connection they've had since the second they met.
"Our relationship is so strong, it's one of those where we could look at each other and not say a word and know exactly what each other is thinking," Kopp told Inside the Hall recently.
Former Northwestern teammate Ryan Greer would agree.
"Miller and Pete, they feed off each other, they could tell you what one of them's thinking. They just know each other so well," Greer told Inside the Hall.
The normalcy of Kopp's and Nance's relationship may be surprising to some. When you think of college basketball players you may think of the attention, popularity and how fun college must be for them. But for these two, a lot of it was eating at the same restaurants, spending time at the gym and just simply talking.
"The story of our career off the court is we were just boring," Kopp said. "We never went out, we ate at the same restaurants, got the same order every time. So we would just stay in, watch movies, watch TV shows, just chill and talk. We're the type of guys where we can literally stay in the house and not have anything to do but still have a good time."
Kopp and Nance, who now start for premier college basketball programs in Indiana and North Carolina, started their friendship in a dorm room playing Fortnite way back in the summer of 2018.
Kopp and Nance were typically joined by their fellow Northwestern classmates Greer and Ryan Young.
"I'm not a big video game guy, but they would always play and I would watch them and hype them up," Kopp said. "At the time…Fortnite was the biggest one, Fortnite was super popular. So we would always play Fortnite, then I'd hop in one game and lose like instantly so I never played again."
Kopp and Nance have been inseparable since.
"The way they just interacted was hilarious," Greer explained. "They actually brought out personalities in Ryan Young and I because we were the quieter of the four."
The freshman year of college is challenging for everyone. You're away from home for the first time in a new environment and meeting new people. But for that Northwestern class, all they had was each other.
"In moments where it could have been tough freshman year, that's where their personalities, both of them, were really kinda important to the freshman class," Greer said. "Because they were able to, not only be serious and work hard but they could also relax and be the class clown."
These "transformative years" as Kopp would put it, develop you into what kind of person you are becoming. And for college basketball players, there's so much going on it can be hard to slow down. Kopp and Nance slowed down using each other as safety nets.
So who are Miller Kopp and Pete Nance?
Greer described Kopp this way: "He's been so hard on himself at certain times… he could be in the gym for 24 hours a day if he could… when it's time to relax or focus on something off the court, he's really benefitted from that. He even did a press conference earlier, after one of the games and that just showed you how he's come along where he talked about golf and tanning and that's just his personality. But it also speaks to how he's been able to separate the two and enjoy both aspects of it."
And Kopp had this to say of Nance: "It's my best friend so I'm gonna say funny because he's a funny guy. He is hard-headed but in a good way. He's a competitor, he's a worker and he wants to win. He's a guy who holds people accountable because he knows what's right and doesn't like when there are things going on that aren't the way they should be."
The years at Northwestern went by in a flash. Jokes, ordering food, Fortnite and movies were at the forefront but eventually, it got to the point where decisions about their futures needed to be made. Kopp ended up transferring to Indiana and the rest seemed to follow in his footsteps.
"They knew that I was on the fence a little bit, whether it was kind of spoken or not… they just wanted me to be happy," Kopp explained. "When it came for me to decide to transfer… I just let them know and said — 'hey guys this is what I'm doing, I love you guys.'"
Kopp experienced a winning record for the first time in his career while in Bloomington last season. A year after Kopp left the Wildcats program, Nance did the same.
"We've been through some high highs, and some low lows, but all for an experience I wouldn't trade for the world," Nance said after he announced his decision to transfer to UNC. "To my coaches, support staff and teammates, thank you all for supporting and encouraging me throughout my career, and making memories that will last a lifetime."
Those "low lows" were far too often for a Northwestern program that was 30-57 in the three years Nance, Kopp, Greer and Young were there. Nance and Kopp were two of the top three highest-rated recruits Northwestern has ever had according to 247Sports. It just didn't work out.
Greer opted out of his COVID-19 year and decided to start coaching his coaching career. He's now at Notre Dame as the development and recruiting coordinator. Young transferred to Duke and is averaging 21 minutes and 8.3 points a game for the Blue Devils.
While the four all ended their time at Northwestern and are onto different things, they all retain their relationships.
"We talk every single day," Kopp said about him and Nance. "It's talking about basketball, his season, his transition about being a transfer because I was a transfer last season… random stuff like that from how his family is doing, or how my family is doing.
"It's all day every day pretty much."
Now, the two fifth-year seniors play each other on Wednesday. In a full-circle moment, the two will take the floor against each other, at completely different schools.
The thought of Kopp and Nance playing against each other was brought up early on in Nance's decision process.
According to Kopp, Nance was down to Kansas and North Carolina for his transfer decision. Indiana plays both schools this season. So no matter where Nance ended up, they would reunite. Maybe it was just meant to be for them to be on the same court.
On Wednesday it might look competitive and feisty but off the court, not much will change.
"Off the court, it's going to be the same… at the end of the day it's just one game and it's gonna be something we remember forever. So, I'm just gonna cherish it and definitely talk my talk during the game. I know how to push his buttons," Kopp said.
After the game, the two may adhere to the boringness of their relationship. But that's what draws them closer. Kopp and Nance won't go out on Kirkwood and they won't do anything crazy. Kopp said the perfect night would be having Nance over to his apartment, spending time with his dog and talking.
"I'm an emotional guy, I like to wear my heart on my sleeve and be myself and let my natural emotions take over," Kopp said. "As a college freshman, as a college student coming in from high school, moving away from home and just being dropped in a new environment where it's not only a new city but there's new expectations, there's new challenges…being with those guys through those transformative years was huge for my development as a player but really as a person.
"We're definitely brothers for life…we're still connected forever. That's the one good thing about us today is that we're staying tight no matter what."
(Photo credit: Northwestern Athletics)
Filed to: Miller Kopp