Five takeaways from Indiana's win against Miami (OH)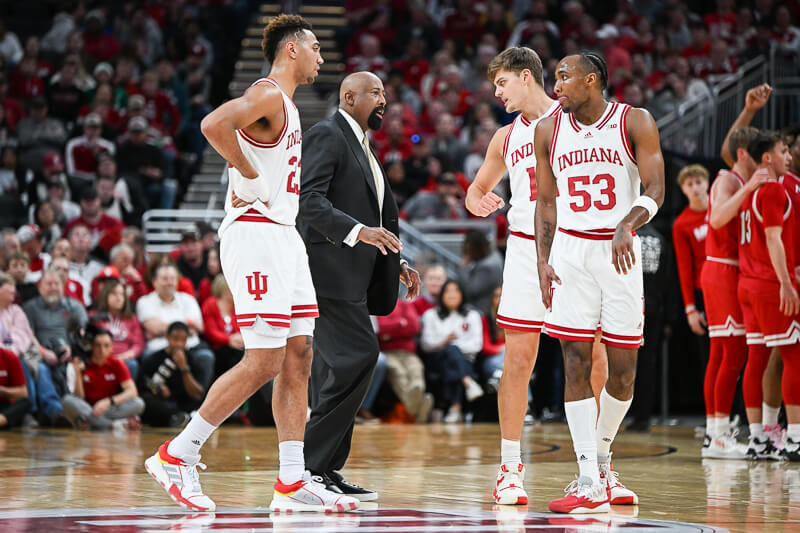 INDIANAPOLIS – Indiana improved to 4-0 with an 86-56 win against Miami (OH) on Sunday at Gainbridge Fieldhouse.
Here are five takeaways from the win against the RedHawks:
Trayce Jackson-Davis dominates (again)
Through four games, Trayce Jackson-Davis is living up to his preseason All-American billing.
After Sunday's 17 points and 16 rebounds in 25 minutes against Miami (OH), Jackson-Davis is sitting at fifth in Ken Pomeroy's national player of the year rankings.
Jackson-Davis has been hyper-efficient this season. He's shooting 75.6 percent from the field and 71.4 percent from the free throw line. He's averaging 20.8 points and 8.8 rebounds despite logging only 26.3 minutes on average through four games.
We still haven't seen Jackson-Davis step out to the perimeter, and likely won't, but his improved free throw shooting is a key development.
Last season, Jackson-Davis led the Big Ten in free throw rate (FTA/FGA), but shot only 66.1 percent from the line in league play. If he can keep up the improvement as the season continues, it could be the difference in a close game.
Miller Kopp continues to knock down 3s
Indiana isn't taking a high volume of 3-pointers, but the Hoosiers are knocking down 36.8 percent from distance through four games.
Fifth-year senior Miller Kopp continued his hot shooting on Sunday, knocking down two of his five attempts in IU's 30-point win.
The 6-foot-7 senior doesn't have a high usage rate – just 15.4 percent so far – but he's making the most of the shots he's taking. Kopp has connected on nine 3s this season, six more than anyone else on the roster.
It's unrealistic to think Kopp can continue to shoot 52.9 percent on 3s. But if he can continue to provide floor spacing and knock down timely shots, he'll remain a key figure in Indiana's rotation all season.
Malik Reneau makes the most of his minutes
The freshman forward has come off the bench in all four games to start the season but is making a major impact.
Reneau is Indiana's second-leading scorer at 11.5 points per game in just 17.5 minutes per game. He's shooting 73.1 percent on 2s and has the highest usage rate on the team among regulars at 28.7 percent, per KenPom.
His performance against Miami (OH) drew strong praise from coach Travis Steele.
"Listen, Malik probably doesn't get enough play, like I'm saying as far as meaning how good he is," Steele explained. "He's phenomenal. He's really, really good."
The addition of Reneau has given Indiana legitimate depth behind Jackson-Davis and Race Thompson, which the Hoosiers didn't have last season.
Indiana handles a quick turnaround following Friday's win
It probably shouldn't have been a surprise Indiana started slow on Sunday night.
The Hoosiers had to battle for a full 40-minutes to grind out a win at the Cintas Center against Xavier less than 48 hours earlier.
In a turnaround similar to what it will see come NCAA tournament time, Indiana overcame a slow start and ultimately wore down an overmatched Miami (OH) team.
"I thought it was a great job on our part in handling the short days to get prepared for this game," Mike Woodson said. "The way the schedule is set up is set up like playing in the tournament, which I think is good for us.
"Every two, three days we're playing a ball game. We'll get a break here and there, but, hey, that's what the schedule is, man. I've just got to get these guys up and ready to play each and every time we step out on that floor."
Hood-Schifino delivers his best game of young season
Jalen Hood-Schifino looked like a freshman in Friday's win over Xavier.
The Montverde product scored only three points on 1-for-9 shooting against the Musketeers.
Hood-Schifino bounced back with the best game of his young career at Gainbridge Fieldhouse. The 6-foot-6 guard scored 12 points on 5-for-12 shooting and added five rebounds, two assists and committed only one turnover in 20 minutes.
While his overall shooting numbers aren't strong through four games, Indiana has to hope Hood-Schifino can build on Sunday's performance.
"He puts the work in," Miller Kopp said of his teammate. "It's one of those things where it may not — we've all been through it as players, but, you know, you put the work in, and sometimes it doesn't show right when you want it to.
"It's like marinating chicken. You know, you need to let it sit maybe six, eight hours in the fridge maybe and then put it on the grill. It tastes a lot better like that. It's going to come, and the dude works his butt off, so I'm not worried about that."
While unrelated to the performance by Hood-Schifino, Kopp's use of the word "chicken" was explained over on TikTok:
Filed to: Jalen Hood-Schifino, Malik Reneau, Miami Ohio Redhawks, Miller Kopp, Trayce Jackson-Davis