What to Expect: Indiana at Xavier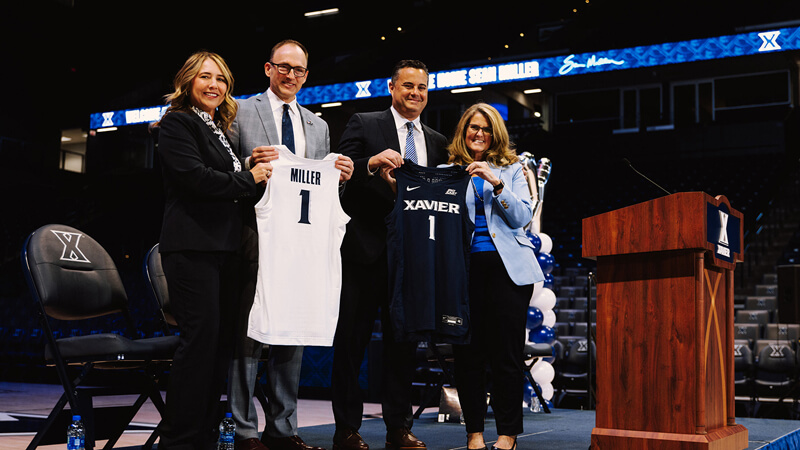 Indiana will face its first major test of the season on Friday. The No. 12 Hoosiers are set to battle Xavier in the Gavitt Tipoff Games at the Cintas Center.
Friday's game is set for a 6 p.m. ET tip on FS1:
The first of Indiana's four marquee non-conference matchups is here.
Big East foe Xavier, which is 3-0 and coached by Sean Miller, presents a significant challenge for Indiana. The Musketeers are a projected NCAA tournament team and return many key contributors from last year's group that won the NIT championship.
Miller, the older brother of former IU coach Archie Miller, began his head coaching career at Xavier. The 54-year-old coached at Xavier from 2004 through 2009 before accepting the Arizona job. Miller enjoyed high-level success in Tucson before his dismissal in April of 2021 which was tied to the 2017 corruption scandal involving the FBI.
After sitting out last season and working on the Field of 68 podcast, Miller is back on the sidelines at a program he took to the Elite Eight in 2008.
MEET THE MUSKETEERS
In its most recent win, a 78-65 victory over Fairfield, Xavier played a tight rotation with only seven players logging double-figure minutes. The rotation was small, in part, due to the absence of junior guard Colby Jones. The 6-foot-6 guard sat out Tuesday with an ankle injury he suffered in Monday's practice.
A preseason all-Big East first-team selection, Jones is averaging 13.5 points through the first two games. He's also averaging seven assists, four rebounds, 1.5 steals and 1.5 blocks in 27 minutes per game. The availability of Jones is a major storyline entering the game. If he's unable to play or is limited, that is a major setback for the Xavier backcourt.
The rest of the Xavier backcourt is comprised of three seniors in KyKy Tandy, Souley Boum and Adam Kunkel and freshmen Desmond Claude and Kam Craft.
The 6-foot-3 Boum, is in his fifth season of college basketball and began his career at San Francisco before spending three seasons at UTEP. He transferred to Xavier to use his final year of eligibility. Boum is a career 35 percent 3-point shooter and is off to a hot start from the perimeter this season. Through three games, the Oakland native is 5-of-9 on 3s. He's also shooting it well inside the arc (8-of-13) and from the free-throw line (10-of-11). Boum's 13.7 points per game rank third on the roster.
Tandy is a native of Hopkinsville, Kentucky who missed most of last season after requiring surgery for a stress fracture in his leg. Through three games, the 6-foot-2 guard is averaging six points, 2.3 rebounds, 2.3 assists, and 1.3 steals in 22.3 minutes per game.
Kunkel, another Kentucky native, began his career at Belmont before arriving at Xavier before the 2019-20 season. He missed time in the preseason with an ankle injury but has played in all three regular-season games. With Jones out on Tuesday, Kunkel started and scored 21 points on 8-of-13 shooting from the field, including a 4-of-8 performance from distance. He's a career 34.6 percent 3-point shooter.
Claude is the program's point guard of the future. The Putnam Science Academy (Conn.) product was the No. 90 player in the final RSCI rankings for the class of 2022. Through three games, Claude is logging 19.7 minutes off the bench and averaging five points, two assists, 1.3 steals, and a rebound.
Craft, an Illinois native, was the No. 51 prospect in the 2022 class according to the RSCI rankings. Known as a prolific scorer and shooter in high school, Craft is averaging 3.3 points in 13 minutes through three games.
In the frontcourt, Xavier's strength lies with the duo of seniors Zach Freemantle and Jack Nunge.
The 6-foot-9 Freemantle is coming off of a triple-double in Tuesday's win over Fairfield. Through three games, he's averaging 15.7 points, 7.7 rebounds, 5.7 assists, 1.7 blocks, and 1.3 steals in 31.7 minutes per game.
Nunge, an Indiana native who played at Iowa before arriving at Xavier prior to last season, has blossomed in the Big East. The 7-footer averaged 13.4 points and 7.4 rebounds last season and has picked up where he left off a season ago through three games. Nunge's 18 points per game lead the team and he is also shooting 62.5 percent on 3s.
Indiana transfer Jerome Hunter averaged 15.3 minutes and started 17 of the team's 35 games last season. His role has diminished this year as he's logging only 11 minutes per contest. Hunter is averaging 3.7 points and four rebounds thus far.
Junior Dieonte Miles could see spot minutes at the five if the Xavier frontcourt encounters foul trouble. The 7-footer gives Miller a big body to deploy in the post for depth.
THOUGHTS ON XAVIER AND THE MATCHUP
It's only been three games against sub-200 KenPom competition, but Xavier has a top-30 offense nationally.
The Muskeeteers aren't taking a lot of 3s but are connecting at a 45.5 percent clip. Xavier's point distribution from 3s ranks just 336th nationally as of Thursday, per KenPom.
What's fueling Xavier's offense right now is offensive rebounding and getting to the foul line. The Musketeers are 19th in the country in offensive rebounding percentage and 36th in free throw rate (FTA/FGA), per KenPom.
Turnovers have been an issue as Xavier has a turnover percentage of 20.9 through three games. That, however, has been negated by the fact that Xavier has turned over its opponents on 21.9 percent of their possessions so far.
It won't be surprising to see Xavier try to pack it in and force Indiana to make some perimeter shots to win the game. The Hoosiers have knocked down shots at home through two games but will have to capitalize some from the perimeter on Friday evening. Given that Jalen Hood-Schifino hasn't made a 3-pointer this season and Xavier Johnson can be streaky from distance, it won't be surprising to see either player with some clean looks.
As good as Xavier's frontcourt is, Indiana's is better. The Hoosiers have more depth and the best player on the floor in Trayce Jackson-Davis. They will also be able to defend more aggressively with Jordan Geronimo, Malik Reneau and Logan Duncomb all available off the bench.
WHAT IT COMES DOWN TO
The KenPom projection is Indiana by two with a 59 percent chance of victory for the Hoosiers. The Sagarin ratings like Indiana by close to four.
At the various sportsbooks, Indiana is a 2.5-point favorite at FanDuel, 3-point favorite at Caesars, 3.5-point favorite at BetMGM and a 3-point favorite at DraftKings.
This is the first of four difficult non-conference tests for the Hoosiers. The slate also includes a home game against North Carolina, a matchup against Arizona in Las Vegas, and a road game against Kansas. Of the four games, Friday is the second-best chance for an IU victory, per KenPom.
For Indiana, it is an opportunity to show that last season's road woes are a thing of the past. And as Zach Osterman of The Indy Star pointed out, it would be a rare non-conference road win for the program. The last time Indiana won a non-conference road game against a top 40 KenPom team? The 2002-03 season.
(Photo credit: Xavier Athletics)
Filed to: Gavitt Tipoff Games, Xavier Musketeers