Q & A: Class of 2024 wing Caleb Williams and his mom, Alison, recap official visit to Indiana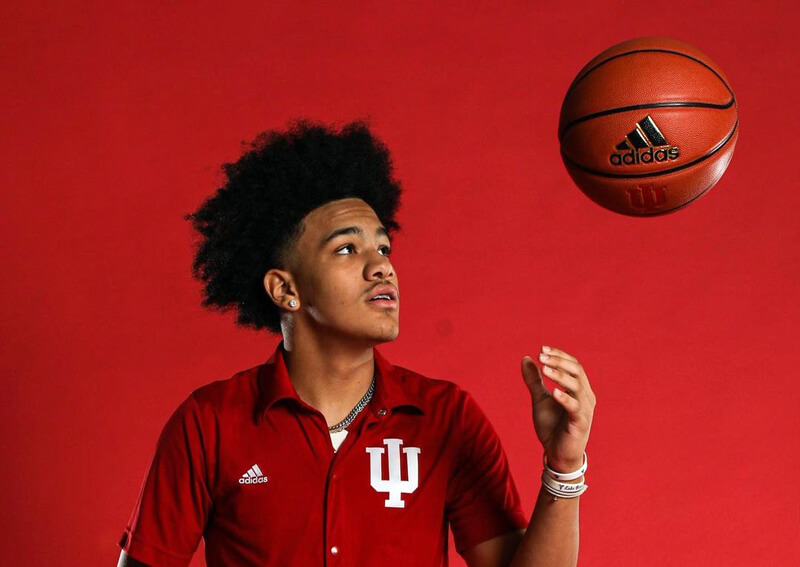 Class of 2024 Sidwell Friends School (D.C.) and Team Takeover wing Caleb Williams was on campus in Bloomington over the weekend for a junior year official visit.
Williams earned a scholarship offer from the Hoosiers in late July. This was his first trip to Indiana to see the campus and experience Hoosier Hysteria.
Inside the Hall spoke with the junior to get his thoughts on the trip, the upcoming high school season and more. In addition, we also spoke with Caleb's mother, Alison, to get her thoughts on the trip.
Our full Q & As are available below:
What did you learn from the visit and getting a chance to spend some time with the coaches face-to-face?
Caleb Williams: "I definitely got to learn more about coach (Mike) Woodson and more about him as a player. Obviously, I know him as a coach being in the pros for that long. I learned about him and the rest of the (coaching) staff and the players on the team. Something that definitely stood out was their culture. It felt like everybody was a tandem, everybody is like family to each other. It made me feel like the relationships were definitely genuine. It says a lot about how big of a family guy coach Woodson is and how he's doing everything for the players. He's gotten everything he's wanted out of the sport but his main focus is on the guys and making them feel like a part of his family. It definitely seemed like it was real genuine."
What did you think of the environment they were able to generate for Hoosier Hysteria? Were you surprised at all with the crowd?
Caleb Williams: "I know that Indiana has a great history basketball wise. I got to see a little more about how Bloomington and how the people of Bloomington love Indiana men's basketball and Indiana women's basketball. I knew that it was going to be a good amount of people and I'm excited to see what it's going to look like during the season. It seems like they're starting to build something toward how Indiana used to be with what coach Woodson is doing. He sort of took a jump his first year and going into this season, trying to make even more of a jump."
Did you get a chance to see where the players live and what campus life is like?
Caleb Williams: "The apartments that they live in first year … it's great. It's definitely a little different, my mom said, from when she was in college. They live in a great area. Even just riding around the golf cart on campus, everybody is all about Indiana basketball. It definitely felt like there's a lot of love out there."
What's it been like to manage your recruitment to this point as the interest and offers continue to grow?
Caleb Williams: "It's been going on since June, so I'm getting into the swing of things. I'm definitely still embracing it, definitely still grateful. I'm enjoying the process. It means a lot to have this many coaches reaching out when they do. It's also becoming a little bit easier to navigate even with guys like you who are writing about it. People are flexible and understand what I've got going on and if I miss a call, they're not really like too worried because I try my best to get back to everyone. I just make sure it's at a time where it's best for me because my schedule gets pretty packed. Everyone is definitely real flexible when it comes to things like that and I'm just grateful for that to be the case."
For your upcoming high school season, what are your goals this season and what are you looking forward to the most?
Caleb Williams: "We start practice in a few weeks. I'm excited. We lost three seniors and are probably going to bring some people up from JV. We're adding two transfers this year. In the open gym and morning workouts we've been doing, the team is looking like we're going to be really good again this year. I'm excited for that. I think we have a shot to be one of the better teams in our area … winning our conference, winning the state. I'm real excited. I feel like we're going to have a great year."
What's your relationship like with the rest of the coaching staff. In the summer you mentioned Kenya (Hunter) was maybe the first coach to reach out. What do you enjoy most about your conversations with the staff?
Caleb Williams: "Prior to the visit, I had talked to coach Woodson maybe once or twice. I talked to coach Kenya Hunter a lot more. Meeting all of the coaches and everyone sort of reaches out. It definitely feels like they're invested in me. I got to build relationships with some more coaches on the staff, the grad assistants, the mangers. Everyone is looking out and trying to make sure I was doing OK (on the visit) and how I'm enjoying it. It's definitely an ongoing relationship with the program in general because I talk to a lot of the coaches on the staff, a lot of the graduate assistants, the managers. They're real good people. I think that relationship is going to be ongoing for a while."
—
How has it been so far with Caleb going through the recruiting process? I know you have two older sons who have gone through the process. How has it been for him since June with all of the scholarship offers and attention?
Alison Williams: "He seems to be adjusting really well, in my opinion, just from watching his brothers go through it. I think he does a really good job of trying to create some boundaries so that when is talking to coaches or whomever, he can be fully present or not tired or exhausted from a long workout or whatever the case may be. He's doing really well. He's enjoying it. He seems to be managing it really well. I'm just kind of rolling with him."
What did you think of the Indiana visit?
Alison Williams: "Oh wow, it was really great. It was a great visit. The coaches were incredible. They're so personable. You just got this real sense of genuine care from them and genuine interest in him and not just like filling a role on a team but in him as a person. I think one of the things that I told Woody before we left is that I just really enjoyed these random moments where he just shifts into teaching mode and he's just dropping these nuggets. I think even when we watched a practice and then when we were at breakfast with them he was just dropping some little nuggets with Caleb. That was really big. He really enjoyed it. The energy was great. I think we enjoyed it on every level."
The environment on campus and where the players live, what were your impressions of that and the resources the players have available to them?
Alison Williams: "I was really happy to see that now only is it fairly new facilities and clean and they have lots of amenities right at their fingertips of whatever they would need, but it's also super secure. Having to have the key fob to get into the building and needing it to get into different parts of it. We went and saw where the freshman players are staying, so that was great. The building itself is just gorgeous. It's nothing like what I had when I went to school. Just the fact that they have all of the different study areas and all of the areas to hang out socially. It was great. They all their own washer and dryer. Mom was very happy to see that (laughs). It was great."
Hoosier Hysteria, what did you think of the atmosphere they were able to produce and were you surprised at the number of people who showed up?
Alison Williams: "It really spoke volumes the number of folks that actually came just for a kickoff to the season. The energy was great. The biggest thing that stood out to me was that before, during and after the event, the families of the players and the families of the coaches … everyone being super genuine. I was watching Caleb and his energy. He was having a great time. He really liked G Herbo, who I had never heard of. He loved it. It was great. We had a really good time."
Filed to: Caleb Williams