A look at where each Big Ten team stands in Bart Torvik's projections for the 2022-23 season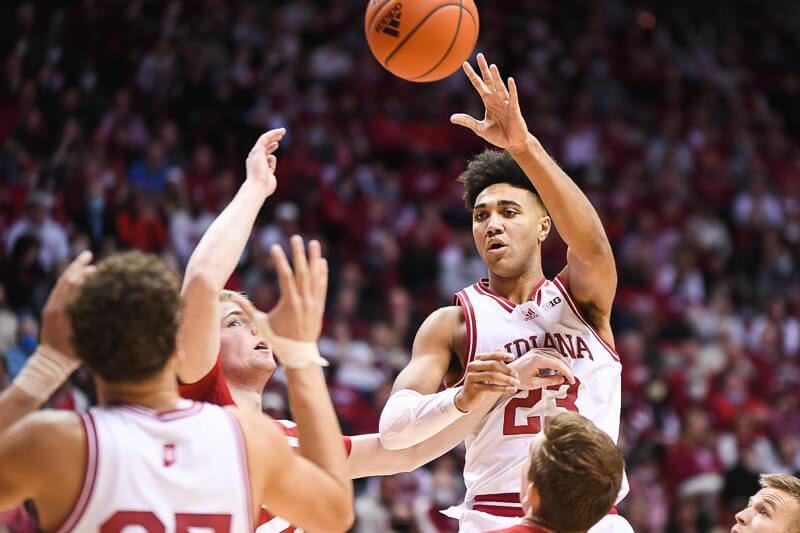 Bart Torvik's T-Rank, along with KenPom, are two of our favorite college basketball ranking systems.
While Pomeroy's initial rankings typically don't come out until early October, Torvik has been constantly updating his projections for the 2022-23 season since last spring.
Currently, Torvik's preseason top five teams for next season are Gonzaga, Baylor, Tennessee, North Carolina and Duke. The highest ranked Big Ten team is Indiana at No. 11. The methodology for Torvik's rankings are explained here.
Several of Indiana's non-conference opponents are highly regarded in Torvik's preseason rankings. In addition to the No. 4 Tar Heels, Indiana will also play Kansas (No. 10), Arizona (No. 13) and Xavier (No. 19) before league play gets underway.
In the latest CBS Sports Bracketology, Jerry Palm projected eight teams from the Big Ten to make the NCAA tournament next spring.
Here's where each Big Ten team currently sits in the "T-Rank" projections for the 2022-23 season along with each team's current roster:
Indiana (No. 11)
Returning: Trayce Jackson-Davis, Xavier Johnson, Race Thompson, Anthony Leal, Miller Kopp, Jordan Geronimo, Trey Galloway, Logan Duncomb, Tamar Bates
Transfer portal: Michael Durr (to UCF), Khristian Lander (to Western Kentucky), Rob Phinisee (to Cincinnati), Parker Stewart (to UT-Martin)
Arriving: Jalen Hood-Schifino (247Composite top 25), Malik Reneau (247Composite top 50), Kaleb Banks (247Composite top 75), CJ Gunn
Illinois (No. 14)
Returning: Coleman Hawkins, RJ Melendez, Luke Goode, Brandon Lieb
Eligibility exhausted: Trent Frazier, Alfonso Plummer, Da'Monte Williams, Austin Hutcherson
NBA draft/professional route: Kofi Cockburn, Austin Hutcherson
Transfer portal: Andre Curbelo (to St. John's), Omar Payne (to Jacksonville), Brandin Podziemski (to Santa Clara), Benjamin Bosmans-Verdonk (to South Carolina), Jacob Grandison (to Duke)
Arriving: Skyy Clark (247Composite top 50), Ty Rodgers (247Composite top 75), Jayden Epps (247Composite top 75), Sencire Harris, Dain Dainja (from Baylor), Terrence Shannon Jr. (from Texas Tech), Matthew Mayer (from Baylor), Zacharie Perrin
Michigan State (No. 22)
Returning: Pierre Brooks, Tyson Walker, Jaden Akins, A.J. Hoggard, Malik Hall, Mady Sissoko, Joey Hauser
NBA draft/professional route: Max Christie (Los Angeles Lakers), Marcus Bingham Jr., Gabe Brown
Transfer portal: Julius Marble II (to Texas A&M)
Arriving: Jaxon Kohler (247Composite top 75), Tre Holloman (247Composite top 75), Carson Cooper
Purdue (No. 28)
Returning: Zach Edey, Mason Gillis, Caleb Furst, Ethan Morton, Trey Kaufman-Renn, Brandon Newman, Brian Waddell
Eligibility exhausted: Sasha Stefanovic
NBA draft/professional route: Jaden Ivey (Detroit Pistons), Trevion Williams
Transfer portal: Isaiah Thompson (to Florida Gulf Coast), Eric Hunter Jr. (to Butler)
Arriving: Fletcher Loyer (247Composite top 100), Camden Heide, Braden Smith, David Jenkins Jr. (from Utah)
Michigan (No. 36)
Returning: Hunter Dickinson, Terrance Williams II, Kobe Bufkin, Isaiah Barnes, Jace Howard, Will Tschetter
Eligibility exhausted: Eli Brooks
NBA draft/professional route: DeVante' Jones, Moussa Diabate (Los Angeles Clippers), Caleb Houstan (Orlando Magic)
Transfer portal: Zeb Jackson (to VCU), Brandon Johns Jr. (to VCU), Frankie Collins (to Arizona State)
Arriving: Tarris Reed (247Composite top 50), Jett Howard (247Composite top 50), Dug McDaniel (247Composite top 75), Gregg Glenn, Jaelin Llewellyn (from Princeton), Joey Baker (from Duke), Youssef Khayat
Iowa (No. 37)
Returning: Kris Murray, Patrick McCaffery, Filip Rebraca, Tony Perkins, Ahron Ulis, Payton Sandfort, Riley Mulvey, Carter Kingsbury, Connor McCaffery, Josh Ogundele
Eligibility exhausted: Jordan Bohannon
NBA draft/professional route: Keegan Murray (Sacramento Kings)
Transfer portal: Joe Toussaint (to West Virginia)
Arriving: Dasonte Bowen, Josh Dix
Maryland (No. 51)
Returning: Julian Reese, Donta Scott, Hakim Hart, Pavlo Dziuba, Ian Martinez, Ike Cornish, Arnaud Revaz
Eligibility exhausted: Fatts Russell, Xavier Green
NBA draft/professional route: Eric Ayala
Transfer portal: Marcus Dockery (to Howard), Qudus Wahab (to Georgetown)
Arriving: Noah Batchelor, Jahmir Young (from Charlotte), Donald Carey (from Georgetown), Jahari Long (from Seton Hall), Patrick Emilien (from St. Francis Brooklyn), Caelum Swanton-Rodger
Rutgers (No. 56)
Returning: Caleb McConnell, Paul Mulcahy, Cliff Omoruyi, Aundre Hyatt, Mawot Mag, Dean Reiber, Jalen Miller, Oskar Palmquist
Eligibility exhausted: Geo Baker
NBA draft/professional route: Ron Harper Jr., Jaden Jones
Transfer portal: None
Arriving: Derek Simpson, Antwon Woolfolk, Cam Spencer (from Loyola-Maryland)
Ohio State (No. 63)
Returning: Justice Sueing, Zed Key, Eugene Brown III, Seth Towns, Kalen Etzler
Eligibility exhausted: Kyle Young, Jamari Wheeler, Cedric Russell, Jimmy Sotos, Joey Brunk
NBA draft/professional route: E.J. Liddell (New Orleans Pelicans), Malaki Branham (San Antonio Spurs)
Transfer portal: Justin Ahrens (to Loyola Marymount), Meechie Johnson Jr. (to South Carolina)
Arriving: Felix Okpara (247Composite top 50), Bruce Thornton (247Composite top 50), Roddy Gayle Jr. (247Composite (top 75), Brice Sensabaugh (247Composite top 75), Bowen Hardman, Tanner Holden (from Wright State), Sean McNeil (from West Virginia), Isaac Likekele (from Oklahoma State)
Wisconsin (No. 66)
Returning: Jordan Davis, Tyler Wahl, Steven Crowl, Chucky Hepburn, Marcus Iver, Jahcobi Neath, Chris Hodges, Isaac Lindsey
Eligibility exhausted: Brad Davison, Chris Vogt
NBA draft/professional route: Johnny Davis (Washington Wizards)
Transfer portal: Lorne Bowman II (to Oakland), Ben Carlson (to Utah), Matthew Mors (to South Dakota State)
Arriving: Connor Essegian, Kamari McGee (from Green Bay), Max Klesmit (from Wofford)
Penn State (No. 83)
Returning: Seth Lundy, Myles Dread, Caleb Dorsey, Jalen Pickett, Dallion Johnson
Eligibility exhausted: John Harrar, Greg Lee, Jaheam Cornwall, Jalanni White
Transfer portal: Sam Sessoms (to Coppin State)
Arriving: Kebba Njie (247Composite top 100), Jameel Brown, Evan Mahaffey, Kanye Clary, Demetrius Lilley, Camren Wynter (from Drexel), Andrew Funk (from Bucknell), Michael Henn (from Denver)
Nebraska (No. 93)
Returning: C.J. Wilcher, Quaran McPherson, Lat Mayen, Derrick Walker, Keisei Tominaga, Wilheim Breidenbach, Oleg Kojenets
Eligibility exhausted: Lat Mayen, Kobe Webster, Alonzo Verge Jr.
NBA draft/professional route: Bryce McGowens (Charlotte Hornets), Trey McGowens
Transfer portal: Eduardo Andre (to Fresno State), Keon Edwards (to Milwaukee), Trevor Lakes (to Southern Indiana)
Arriving: Ramel Llloyd Jr. (247Composite top 100), Denim Dawson, Blaise Keita, Jamarques Lawrence, Sam Greisel (from North Dakota State), Juwan Gary (from Alabama), Emmanuel Bandoumel (from SMU)
Northwestern (No. 95)
Returning: Boo Buie, Chase Audige, Ty Berry, Robbie Beran, Julian Roper II, Brooks Barnhizer, Matthew Nicholson
Eligibility exhausted: Ryan Greer, Elyjah Williams
Transfer portal: Ryan Young (to Duke), Pete Nance (to North Carolina), Casey Simmons
Arriving: Luke Hunger, Nick Martinelli, Tydus Verhoeven (from UTEP)
Minnesota (No. 121)
Returning: Jamison Battle, Parker Fox, Isaiah Ihnen, Treyton Thompson
Eligibility exhausted: Payton Willis, E.J. Stephens, Luke Loewe, Eric Curry, Sean Sutherlin
Transfer portal: Abdoulaye Thiam (to High Point)
Arriving: Pharrel Payne, Josh Ola-Joseph, Braeden Carrington, Jaden Henley, Dawson Garcia (from North Carolina), Ta'Lon Cooper (from Morehead State), Taurus Samuels (from Dartmouth), Kadyn Betts
Filed to: 2022-23 Big Ten rosters