Hoosier Basketball Fan Fest features 3-point competition, dunk contest and scrimmage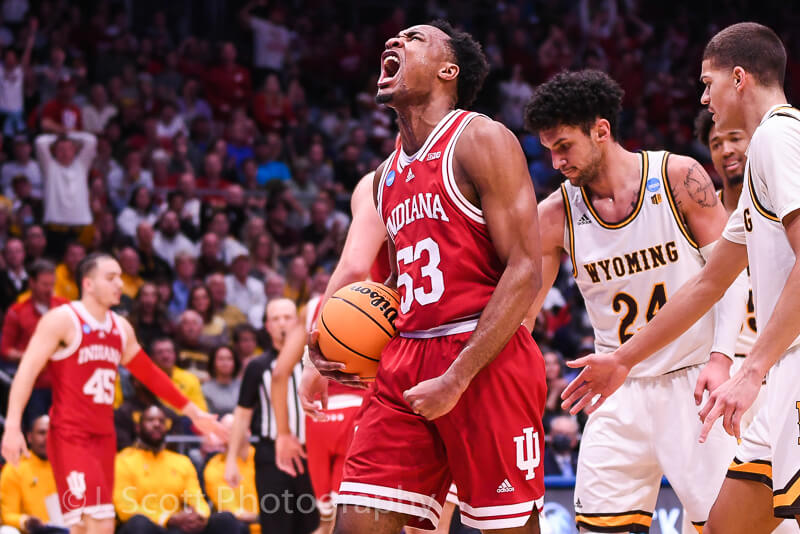 The lines for autographs from Indiana stars Trayce Jackson-Davis and Race Thompson wrapped around Assembly Hall's concourse before Saturday's Hoosier Basketball Fan Fest. Shortly after, Hoosiers players and coaches were on the court in front of fans for the first time since March.
The event gave Indiana fans a chance to see players battle in competitions like a 3-point competition, dunk contest, half court competitions and a scrimmage.
The 3-point competition featured Miller Kopp, Tamar Bates, Xavier Johnson and freshman Jalen Hood-Schifino. Each player was given 45 seconds to knock down as many 3-pointers as possible from a spot of their choosing. Johnson fared the worst in the opening round only knocking down seven 3-pointers from the top of the key. Hood-Schifino had a strong opening round with 13 makes, but it wasn't enough to qualify for the second and championship rounds as Kopp and Bates stole the show.
Kopp, shooting from the right corner, made 16 in the first round and Bates, from the left wing, made 18 and then made a competition-high 19 3-pointers to edge Kopp by two in the championship. Bates made an impressive 37 shots from beyond the arc in 90 seconds.
Tamar Bates with 18(!!) 3-pointers in 45 seconds. #iubb pic.twitter.com/4SKHEUZp7E

— Amanda Foster (@amandafoster_15) August 20, 2022
The dunk contest featured forwards Trayce Jackson-Davis, Jordan Geronimo and Kaleb Banks as well as freshman CJ Gunn. Each player was given 30 seconds to make a dunk and were then scored by four guest judges. Geronimo had the most memorable dunk of the evening, leaping over two men in the second round. After that, it was pretty safe to say the contest was all but his. Gunn and Jackson-Davis failing to make a dunk in the final round sealed the deal. Gunn did show off some hops in the first round as he bounced the ball off the floor to himself, finishing with a right-handed windmill for the jam.
The relaxed scrimmage capped off the night as seniors Trayce Jackson-Davis (red jerseys) and Race Thompson (white jerseys) picked teams. Thompson's team (white) prevailed 31-25.
Point totals for each player participating…
White Team: 31                        Red Team: 25
Race Thompson- 2                     Trayce Jackson-Davis- 14
Logan Duncomb- 6                    Malik Reneau- 4
Jalen Hood-Schifino- 7               Kaleb Banks- 4
Tamar Bates- 6                           Xavier Johnson- 3
Anthony Leal- 6                          Miller Kopp- 0
Jordan Geronimo- 4                   CJ Gunn- 0
Trey Galloway sat out the scrimmage, likely due to surgery he had in June.
Most fans might be pleased to read that Trayce Jackson-Davis made two 3-pointers in three attempts in the scrimmage. And while the scrimmage was far from being on the same intensity level as a regular season game, TJD still had the same amount of attempts from beyond the arc in the scrimmage as he did all of last season.
Jalen Hood-Schifino was running the point for Thompson's team and looked in control. Hood-Schifino knocked down a pull-up 3-pointer for his team's first points and had a nifty no-look bounce pass in transition to split the defenders which ended in an Anthony Leal layup. The freshman guard also showed his athleticism rising up for a one-handed jam off a backdoor cut.
After all, not many large conclusions can be made from Saturday's Fan Fest competitions. But, basketball was played in front of fans at Assembly Hall for the first time since March and the players were able to experience a unique NIL opportunity.
Filed to: