Hoosiers for Good using the "Hoosier way" to pave the way for NIL models across the country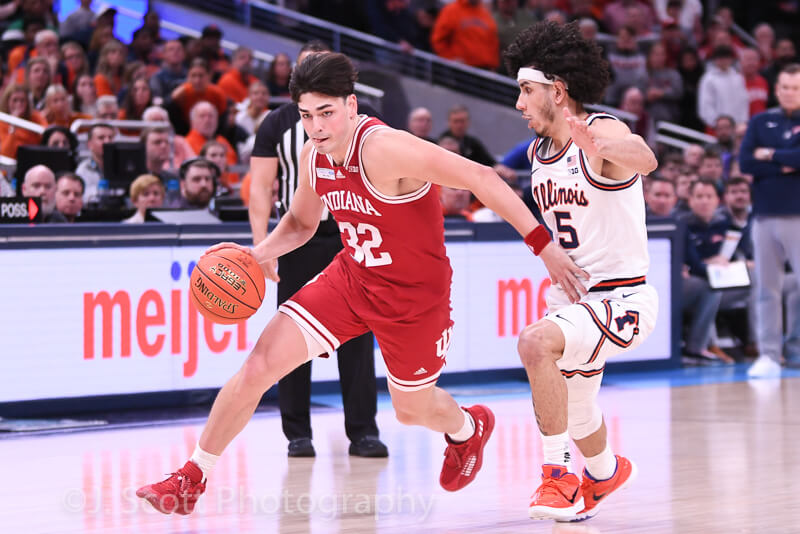 The "Hoosier way" can be subjective. But, Tyler Harris, former Indiana Assistant Athletic Director and now Hoosiers for Good Executive Director, thinks of it as a circular process of development for IU athletes.
"The way I define the 'Hoosier way of doing things' is: we're going to compete at a high level…but we're going to do it the right way," Harris told Inside the Hall. "And in the process we're going to expose young people and develop them into better people, so when they leave IU we've got great citizens going out into the world."
The non-profit organization, Hoosiers for Good, hopes to spread the "Hoosier way" into Indiana communities through Indiana athletics.
Hoosiers for Good has partnered with Indiana athletics over the past few months to bring student-athletes an opportunity to make money by partnering and gaining valuable experiences with charities.
Most recently, 11 IU basketball players signed NIL deals to join the summer class. Indiana forwards Trayce Jackson-Davis and Race Thompson signed with the inaugural class of the program this past spring.
Meet the Hoosiers For Good Class of Summer '22 ??

We're excited to announce our surprise class of 11 IU basketball student athletes. Get to know the athletes: https://t.co/eOnQswOsYJ pic.twitter.com/WCrCeKsTH6

— Hoosiers For Good (@Hoosiers4Good) August 3, 2022
This not only partners Indiana student-athletes with good causes and valuable experiences but gives them a chance to earn money while doing so. The summer class, which was announced on Aug. 3, totaled $425,000 in compensation for the student-athletes.
Signing with Hoosiers for Good means each athlete must make five appearances throughout the year at their respective charities events. On top of this, the athlete must make 14 social media posts within the year in support and to spread awareness of their charities.
"They're different than every other NIL opportunity, they're not a one appearance thing where you show up for an hour and sign autographs, maybe post a tweet," Harris said. "We're going to make them work."
Hoosiers for Good, who currently partners with 20-22 charities, pairs the athlete with the charity based on the needs between the two. Whether it's an athlete who has been affected by a group personally in the past or a charity looking for social media exposure, all of those needs are taken into consideration when pairing.
Indiana guard Trey Galloway was one of the 11 who signed with Hoosiers for Good this past week. Galloway will be working with LittleStar ABA Therapy, a charity that works with autistic children, to spread awareness for the organization. This charity work is meaningful to Galloway as his older brother, Zachary, has high-functioning autism.
"LittleStar's work to serve people affected by autism is important to my family and I'm excited to support the cause," Galloway said in an announcement post on Aug. 3.
I'm partnering with @LittleStarOrg as part of the @Hoosiers4Good Summer '22 Class.

LittleStar's work to serve people affected by autism is important to my family and I'm excited to support the cause ?? pic.twitter.com/jhHHPJ3XW8

— Trey Galloway (@TreyGalloway32) August 3, 2022
So far, Indiana athlete's from the inaugural spring class have helped their respective charities a great deal.
As members of the spring class, Indiana women's basketball stars Mackenzie Holmes and Grace Berger partnered with Indiana Wish, an organization that gives children with life-threatening illnesses a chance to live out their dreams. On April 7, the same day the spring class was announced, the two Hoosiers posted and announced their partnership with the charity. Following this, Indiana Wish saw a 500 percent increase in their social media reach. This kind of reach and awareness is exactly what Hoosiers for Good was looking for.
Similarly, Race Thompson and Trayce Jackson-Davis promoted an event for Turnstone Center, a charity working with disabled individuals to help them become more self-sufficient, on social media. A group who saw the two's posts then started a fundraising page which ended up raising $3,000 for the event. On top of this, Turnstone gained 60 additional registrations to the event because of Thompson's and Jackson-Davis' posts.
Making Hoosiers for Good different than just any other NIL deal, was important to Harris and the other directors. In order for it to work both the student-athlete and the charity would need to benefit mutually, it's safe to say that that has been achieved so far.
The main reason behind the recent signing of 11 Hoosiers basketball players was maximizing outreach. Even incoming freshmen like Jalen Hood-Schifino and Malik Reneau, who haven't even started classes at IU yet, have 25,000+ Instagram followers.
When asked about whether or not something like this would be possible without the ability for the student-athletes to earn money through NIL, Harris said it could certainly still work. But, it wouldn't be as valuable.
"Student-athletes wouldn't do nearly as much as they're required to do," Harris said. "This is a year-long commitment to your charity that you're going to do all of these things for them. So, while you could have done it before I don't think it would add nearly as much value to charities, because of the commitment [student-athletes] have to make now."
Earning money is one thing, but being able to gain a new "perception on life," as Tyler would call it, is another. Hoosiers for Good athletes get the opportunity to gain new and meaningful memories, expand and improve their outreach/brand as influencers.
"It's not just providing great opportunities financially, it's providing life-changing opportunities personally," Harris said.
Tyler Harris says he has heard from over 20 individuals who are looking to establish something similar at their respective schools and universities. He expects there to be similar models across the country in the next six months or so. While he doesn't plan on expanding the organization for now, he's focused on their goal of signing 40-45 Indiana student-athletes on board within the first year.
NIL was a sudden change to the college sports landscape and with many still questioning what the effect will be on student-athletes, a model like Hoosiers for Good is such a palatable way to do it because of what it brings to the community.
While it's just Indiana for now, it might not be over the next few months as Hoosiers for Good has created a blueprint for helping nearby communities and doing it "the right way."
"It really seems like the 'Hoosier way of doing things,' Harris said. "You know, we're going to engage in NIL and we're going to do it at a high level, but we're going to do it in a way that develops our young people and makes them great citizens. For when they leave IU, we're proud of who they became."
Filed to: