Q & A: Jamie Kaiser Sr., father of Jamie Kaiser Jr., recaps official visit to Indiana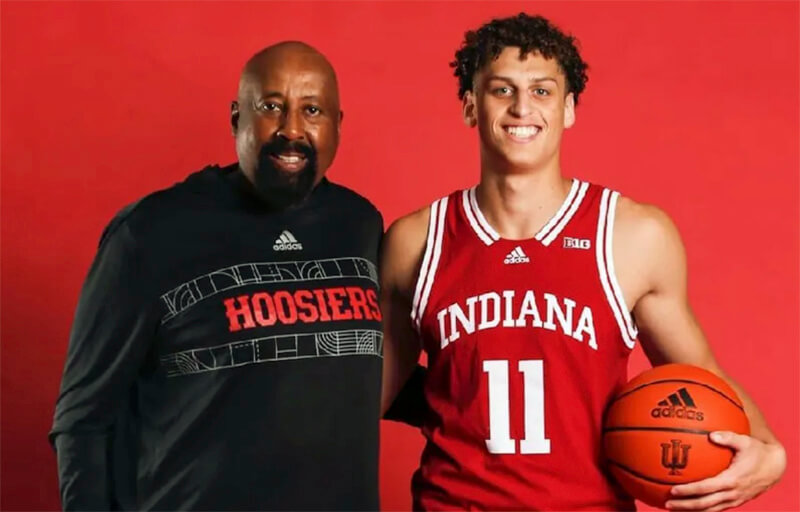 Class of 2023 wing Jamie Kaiser Jr. has finished an official visit to Indiana.
Kaiser Jr., listed at 6-foot-6 and 200 pounds, is ranked 101st nationally in the 2023 class, according to the 247Composite. Indiana offered Kaiser Jr. a scholarship in May 2022.
As a junior last season, the wing played for Bishop Ireton High School in Virginia. But as a senior, Kaiser will be at powerhouse IMG Academy in Bradenton, Florida.
Kaiser Jr. was accompanied by his father, Jamie Kaiser Sr., on the official visit to Indiana. Inside the Hall spoke with Kaiser Sr. about the visit.
Overall, what stood out to you about the visit?
Kaiser Sr.: "The location, as well as just the people… We're talking about the platform — is phenomenal. But what makes it phenomenal are the people there. It was great."
When you mention the location, what specifically about the location?
Kaiser Sr.: "Well, when you think about Pittsburgh, what do you think about? What sporting team do you think about when you think about Pittsburgh? I'm asking you."
ITH: "The Steelers."
Kaiser Sr.: "There you go. When you think about IU, what do you think about?"
ITH: "Basketball."
Kaiser Sr.: "There you go. Location… We're born and raised in Erie, Pennsylvania — Pittsburgh fans. It's the same type of atmosphere. I mean, I know IU has a football team, but you would never know that when you're there about basketball. That's how intense it was. And it was very refreshing."
When you were there, what gave you that impression?
Kaiser Sr.: "There were fans out in the (Assembly Hall) parking lot. And we didn't know what the hell was going on. But they were just normal people welcoming us to our visit. Not with the staff. Not brought up. Just normal people… walking through the campus. So it reminds me of Pittsburgh. That's how I was when I was growing up. You just knew who was in town. You knew the people that they were gonna draft… Some people would think it's a little intense. But he (Jamie Jr.) embraced it. He was like 'Dad this is the culture of the basketball.' So, it was pretty neat."
For someone that hasn't gone on a visit to IU, can you go through what that process is like? What are some of the things that you do?
Kaiser Sr.: "I mean, you're going through the academic piece, you're going through the basketball piece, you're going through what the expectations are, meeting the players, breaking bread, fellowshipping… All the visits are the same. They're letting you know what they have to offer and how you fit. So from IU to UVA to Wisconsin, it's a similar agenda, it's just how they present it. And if it's a good fit. So I think all of the schools do a great job putting their best foot forward. What's nice is you're able to have that dialogue during dinner or lunch or whatever. So I can't knock any of those."
When you talk about the way that IU presented it, how did they present it?
Kaiser Sr.: "For Jamie, speaking for him and myself, the opportunity to play was presented, but also the style of play. And so, you know, all of these things you're talking about are ancillary. But the number one thing is, you know, first a student-athlete is: academically do they have what you desire to study? Secondly, am I going to be able to contribute when I'm on campus? And style of play matters… There are two coaches that really stood out for me. Obviously, coach Woodson and (Brian) Walsh. Having Woodson's NBA knowledge of how to get these… young men ready… for the NBA and what they're looking for, from whether it's scout evaluation, general manager, what-not. And just Walsh's ability to connect with these players…That doesn't discount any of the other coaches. But those two coaches stood out to me, in regards to what was appealing of IU basketball."
Are there any moments during the official visit to IU that especially stood out to you?
Kaiser Sr.: "For me, it was getting to see and having conversations with coach Woodson just about understanding the history from 1977 when he started to present day and how all those players from before him and after him all were still connected… It was humbling to see that… Once an IU basketball player, always. So that was very self-evident. So it was pretty neat."
Did you guys have a favorite restaurant that you ate at while you were there?
Kaiser Sr.: "… Actually, you know what, we did. It was the — we just had a breakfast, it was right by the Graduate. It was a little place, little restaurant place by the Graduate. I don't know the name of it."
ITH: "Was it Bedräk (Cafe)?"
Kaiser Sr: "Yes… I'll tell you right now, like Indiana is high on Jamie's list because it checks so many boxes for so many different reasons. It was just a great campus, but more importantly, just great people."
Do you guys have a timetable in terms of making a decision?
Kaiser Sr.: "No… We made our decision as a family for him to go to IMG (Academy). So he'll be going there in August. So I think that's going to slow our process down. So we're just going to evaluate it. I think he has four more visits his senior year that he's going to take and I think he's gonna take them all."
What were the factors that led to deciding to attend IMG Academy?
Kaiser Sr.: "Only one: to get college ready."
Does Jamie Jr. have any more visits planned right now?
Kaiser Sr.: "Not to my knowledge. Actually, we'll have a conversation probably when we drive back to Pittsburgh tomorrow. But there's a couple of coaches that have been asking, but we haven't nailed anything down."
Filed to: Jamie Kaiser Jr.