2022 NCAA tournament First Four notebook: Jordan Geronimo expected to play as IU prepares for Wyoming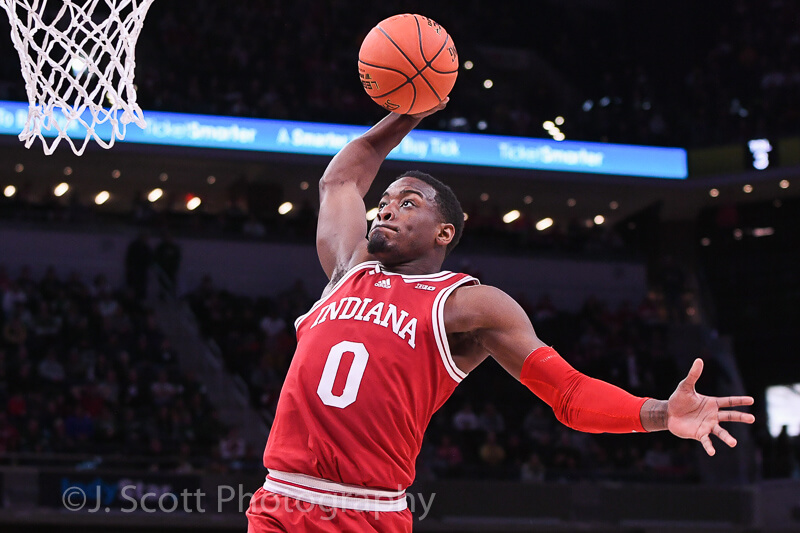 DAYTON, Ohio – Less than 24 hours after receiving its first NCAA tournament bid in six years, Indiana hopped on a bus to Dayton ahead of its First Four matchup with Wyoming on Tuesday at the University of Dayton Arena.
Mike Woodson and Trayce Jackson-Davis, Xavier Johnson and Race Thompson all spoke to the media. The press conferences were followed by the team's first open practice of the season. Here are some notes from the team's Monday press conferences:
Celebrating the first NCAA tournament appearance since 2016
While the video Indiana basketball released showed a pretty mixed player reaction to Indiana's draw on Sunday, Mike Woodson couldn't have been happier. He had accomplished what Archie Miller never did at Indiana — and he did it in his first try.
"I'm thrilled to death to be back in the Big Dance," Woodson said.
John Calipari and Larry Brown — two of his closest friends — called Woodson to wish him good luck. But he said he didn't need it.
The players echoed Woodson's excitement, especially Race Thompson who has been waiting the longest for this moment. He said it felt different with this team.
"We really just talked about locking in for a month and taking care of business," Thompson said. "And we ended up doing that. Now we're playing in the NCAA tournament. It's really exciting for us."
Jackson-Davis attributed the turn-around to Woodson. He said Woodson has given the program hope.
"Coach Woodson to me has just brought a light," Jackson-Davis said. "I feel like Indiana basketball has been in the darkness for so long now, a five or six-year drought. No tournament. Not even competing."
The players were clearly happy to be there — smiling as they talked into NCAA mics and practiced on the court with the huge March Madness logo. But it was clear they thought they deserved a better placement than Dayton after the team's Big Ten tournament run.
Shortly after the selection show, Xavier Johnson tweeted, "They'll pay for it."
He said Monday he wasn't disappointed since they made the tournament, but it's going to make them play with a chip on their shoulder.
"We came ready to play," Johnson said. "We're going to get the team ready to play as well."
Jordan Geronimo expect to play against Wyoming
Geronimo sat out during Indiana's loss to Iowa after suffering an injury the day before in the team's game against Illinois. Woodson wasn't able to elaborate on the severity of the injury at the Big Ten tournament.
But Geronimo tweeted out Saturday that he'd be "back 100% ready to go" for the team's first tournament game.
When asked about his status Monday, Woodson said that he "thinks" Geronimo is going to play against Wyoming.
Geronimo practiced with the team earlier in the day and then again during the Hoosiers' open practice session at UD Arena. While the practice wasn't anything grueling, he didn't look a step behind any of his teammates.
"I'll get a better feel when he wakes up in the morning, see where he is," Woodson said.
Hoosiers preview matchup with Cowboys
Woodson and the players spoke highly of Wyoming, especially regarding the Cowboys' size.
"They start a 6-foot-7 guard, that should tell you a lot," Woodson said.
It's not just Hunter Maldonado, though. Woodson emphasized how well-balanced the team is with Graham Ike on the inside and guards who can knock down shots around the perimeter.
The key for Indiana is to commit for all 40 minutes on both ends of the floor, Woodson said.
"You don't win 25 games not being well-balanced," Woodson said.
Jackson-Davis will get to match up with another lefty in Ike, but was well-aware Maldonado will try to back him down as well. That's why he stressed defense and communication on defense.
Woodson defined defense as the team's identity, but also acknowledged it was the team's downfall in its loss to Iowa last weekend.
"I think we have the best defense in the league, in the Big Ten, and one of the best in the country. We're just going to have to show it," Jackson-Davis said.
Fatigue isn't a concern
Woodson has shown he isn't worried about his players getting tired given their age, but the players chimed in on that topic on Monday as well.
Indiana's game against Wyoming will mark its fourth game in a six-day span. But Thompson said there are benefits to playing that many games close together, namely carrying that energy from the conference tournament into the Big Dance.
In fact, Jackson-Davis said the team's run last week got him ready to play.
"I was ready to go after the first game. I was ready to play the next one. After the next one, I was ready to play the next one. I think that's how all of our teammates were," Jackson-Davis said.
The lack of downtime in between games isn't a negative in the eyes of the Hoosiers. If anything, the momentum has pushed them to play at a higher level.
"I don't think fatigue is big for us when you're trying to win a championship," Jackson-Davis said.
Johnson also opened up about his biggest motivation regarding his level of play lately — his late grandfather.
He said the passing of his grandfather three weeks ago hit him a lot. He lost one of his biggest fans midseason. He was playing well before then, but the loss motivated him to take his play to another level.
"I know he's still watching," Johnson said. "And I dedicate my game to him."
Pick-and-roll offense a new wrinkle for IU
Pick-and-rolls have become a mainstay in the Indiana offense as of late. But it wasn't Woodson's idea.
Jackson-Davis and Johnson took advantage of Woodson's open-door policy and asked to use pick and roll more often against some of their bigger, slower opponents.
Woodson decided to give it a shot. He noted they tried to run a lot of pick-and-rolls earlier in the season but Johnson just wasn't there yet. Now down the stretch, he's got that connection with Jackson-Davis.
"X has grown so much that it's allowed me to play what I came here as a coach to play is some good pick-and-roll along with post-up," Woodson said.
When Woodson spoke on Johnson's growth, he explained that it's as simple as him knowing when he does and doesn't have the looks in a pick-and-roll situation. That's why Woodson has allowed Johnson and Jackson-Davis to show off that connection they've developed.
Filed to: 2022 NCAA tournament, Jordan Geronimo, Mike Woodson, Wyoming Cowboys, Xavier Johnson