The Minute After: Iowa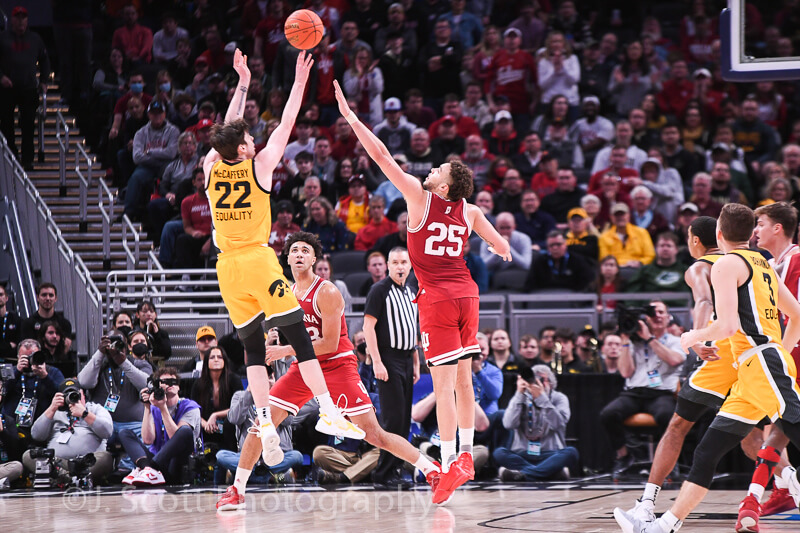 Thoughts on an 80-77 loss to the Hawkeyes:
Indiana held Iowa's high-powered offense in check for the first half, allowing just .90 points per possession. It was another strong defensive performance for this team in the Big Ten tournament.
As the second half unfolded, Indiana kept things in control, even amassing a nine-point lead with 5:29 to go on a Trayce Jackson-Davis breakaway dunk. But one thing seemed clear: Indiana was losing its legs as it played its third game in as many days. Iowa makes you work and move on defense with all their screens and movement on the perimeter. Indiana was starting to look a step slow against it. And more than perhaps any team in the country, Iowa can erase a lead in quick fashion with its 3-point shooting.
And so it went.
Keegan Murray splashed one home to cut that nine-point lead to six. After a three-point play from Tony Perkins cut it to three, Jordan Bohannon hit one to tie the game. Keegan Murray hit another to give Iowa a three-point lead at 74-71 with 1:51 to play. After a Jackson-Davis layup cut it to one, Bohannon hit another 3-pointer to push the Iowa lead out to four with 51 seconds left.
And then came the backbreaker.
After Indiana had tied the game on a Xavier Johnson bucket after a steal, the Hoosiers played good defense and Iowa wasn't able to get anything going. So Bohannon heaved up a deep 3-pointer from the edge of the half-court Big Ten logo that banked in.
80-77 Hawkeyes. Ball game.
Iowa made four straight 3-pointers over the final 2:27 of the game. It made 8-of-14 in the second half. It helped the Hawkeyes to 1.5 points per possession over the final 20 minutes, erasing the stout defense Indiana had played in the tourney up until this point. For the game, Iowa hit 43.8 percent (14-of-32) from deep.
While Indiana was never going to match Iowa's 3-point shooting, the Hoosiers got some great looks from deep that just didn't drop. Miller Kopp hit two 3-pointers down the stretch, but missed his other five attempts. Parker Stewart missed both of his. Iowa was fine to leave Trey Galloway open on the perimeter as it sent a lot of pressure at Jackson-Davis. He missed all three of his 3-point attempts. Xavier Johnson made just 2-of-6. The Hoosiers finished 5-of-19 (26.3 percent) from deep for the contest.
And yet, they led for most of the game because of another outstanding performance from Jackson-Davis. Indiana's junior scored 31 points on a hyper-efficient 15-of-21 from the field. Jackson-Davis again flashed confidence with a right-handed bucket and took a jumper from the free throw line, but this time the latter missed. Johnson set him up with lobs in ball screen action. He scored with his back to the basket. He even flashed some nice passing ability today (three assists), setting up Thompson down low for buckets. All his scoring helped the Hoosiers dominate inside today, as they outscored Iowa 50-24 in the paint.
Johnson scored 20 points thanks to a perfect 8-of-8 performance at the free throw line. Thompson added his steady 11. But outside Jackson-Davis, Johnson and Thompson, the rest of Indiana's lineup shot just 5-24 (20.8 percent) from the field.
"Like was said in locker room, I don't think anybody wants to see us right now," Jackson-Davis said after the game. " … It took a last-second 3 from the hottest team in the Big Ten to beat us … It stings but we have a lot of ball left."
Indiana really showed something in these three games in Indianapolis. For a team that was limping to the finish line of the season, the Hoosiers now look like a team with potential to make a little noise next week in the Big Dance.
And just a few days ago, who would have expected that?
Filed to: 2022 Big Ten tournament, Iowa Hawkeyes