Trayce Jackson-Davis didn't run away when times got tough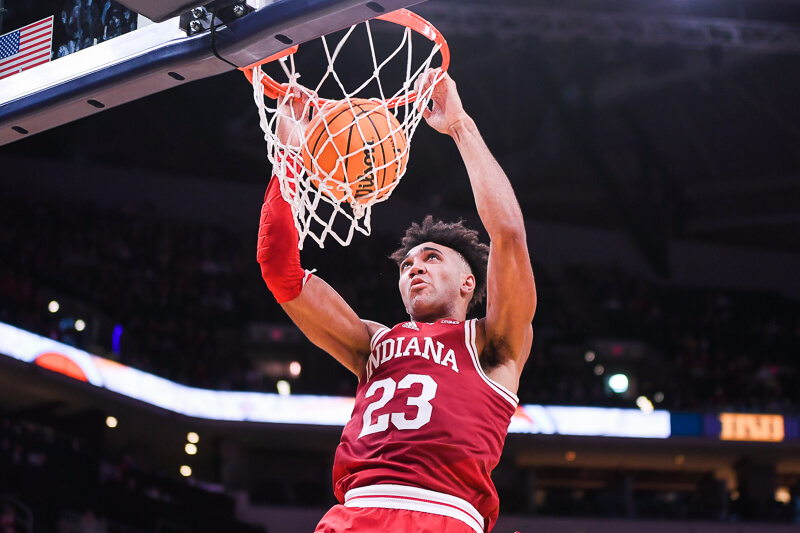 INDIANAPOLIS – There's a moment especially revealing about Trayce Jackson-Davis from last April. He'd just announced that he'd be returning to Indiana for his junior season, effectively putting his pursuit of professional basketball opportunities on hold for the moment. In April, there were a few simple yet powerful words worth noting.
"I don't want to be someone who ran away when it was tough," he said.
Running away when it gets tough. It's an interesting concept. Jackson-Davis endured a lot in his first two seasons at Indiana. He was a standout his freshman season, but the NCAA tournament was canceled due to COVID-19. He was a third-team All-American his sophomore season, but Indiana lost its last six games and missed the NCAA tournament. Archie Miller was fired as a result. Mike Woodson was hired. Jackson-Davis could've left, moved on to the next phase of his career. In all likelihood, few would've blamed him.
But Jackson-Davis stuck around. He wanted to be part of bringing Indiana basketball back — a program once at the top of the college basketball sphere that had sunk to the depths of not even making an NCAA tournament appearance since 2016. So Jackson-Davis stayed. But there have been more challenges since then. A season that seemed to be slipping away yet again. On Thursday, Jackson-Davis was dominated by Michigan's Hunter Dickinson in the first half. Indiana trailed by 17 to Michigan at one point in the second half, its NCAA tournament hopes seemingly evaporating with a loss.
But Jackson-Davis didn't run away. He finished with 24 points on 10-of-17 shooting, eight rebounds and four blocks as Indiana surged to a comeback. Indiana won 74-69, keeping its NCAA tournament hopes alive. At the risk of sounding hyperbolic, it felt like one of those career-defining performances from Jackson-Davis.
"I just really liked his fight today," Trey Galloway said of Jackson-Davis. "He could've easily given up. We all could have easily given up. He was right there with us, encouraging us, with us the whole time."
Jackson-Davis has displayed determination on more than one occasion throughout his career. Consider where Jackson-Davis was about eight years ago. As a seventh-grader, Jackson-Davis was tall but ran on his toes "like a baby giraffe," Bill Collins, his former AAU coach, told Inside the Hall. In his first tournament playing for Team Teague, Collins said Jackson-Davis couldn't catch passes and open layups were no guarantee. His teammates threw their arms in the air and complained to their coach.
"Trayce was absolutely the worst player on the team by far," Collins said.
But Jackson-Davis worked. Between his seventh and eighth grade years, he came to weekly workouts at the local high school. He did ball-handling. He listened to his coaches. Eventually, he was in better shape and started dunking. They ran a play, where he'd cut to the basket for a lob and dunk it. He was willing to do, Collins said, whatever it took to reach his goals.
"If he wanted to be a McDonald's All-American, there was nothing that anybody could do to stop him," Collins said.
And so Jackson-Davis did. He became an All-American at Center Grove High School. The kid that once had trouble catching passes was throwing down ferocious dunks and getting offers some from some of the top programs in the country. He won Indiana Mr. Basketball.
At Indiana, then came two consecutive years without an NCAA tournament. Miller was out. Woodson was in.
Jackson-Davis didn't run when things got tough.
There has been more adversity this season. After Indiana's loss to Penn State in January, Woodson publicly criticized Jackson-Davis' five-rebound performance. The following game? Jackson-Davis had 27 points and 12 rebounds in a win over Ohio State. Jackson-Davis caught criticism as the season wore on when he was largely dominated by the conference's premier big men like Kofi Cockburn and Hunter Dickinson. Indiana, once viewed as an NCAA tournament team, lost five games in a row. They blew leads and, along with it, perhaps their chance to make March Madness.
Thursday was a chance to keep those hopes alive. The game, however, started off in a dismal way for Indiana. Jackson-Davis had just five first-half points. Dickinson had 13 first-half points. Indiana was getting dominated. At halftime, Woodson let Jackson-Davis know about it. "It wasn't pretty, I'll tell you that," Woodson said.
"Coach Woody got on me," Jackson-Davis said. "He told me I wasn't playing up to my capabilities, but then he said at the same time, basketball's two halves."
Like he has many times in his career, Jackson-Davis responded. He scored 19 second-half points. Dickinson had just two points in those 20 minutes. It was an emphatic statement from Jackson-Davis. Indiana, who was getting drubbed midway through the second half, came storming back. There was energy in the building. It felt like Indiana basketball is supposed to feel. And there was Jackson-Davis after the buzzer sounded, pointing down to the court to cap off an incredible comeback.
"I think Trayce is a hell of a player, man," Woodson said. "He's one of the best players in the Big Ten and I didn't think he played that way the first half. Second half he stepped it up and played like we thought he could play."
Woodson called the game "probably the biggest win for our program in such a long, long time." Amid a season of ups and downs, it's much-needed validation for what Woodson is building in his first season at the helm. The victory doesn't guarantee a spot in the NCAA tournament, but it put the Hoosiers in a much more favorable position come the selection show, regardless of the result against Illinois on Friday.
Jackson-Davis is an embodiment of resilience. Not running away when times get tough. On Thursday, he helped Indiana take a step toward his proclaimed goal.
"My legacy — I want to get Indiana basketball back on track," Jackson-Davis said back in April. "That's my goal. That's why I came back because I believe in the tradition. I believe what we have here is something special. And I want to be one of the reasons why."
Filed to: 2022 Big Ten tournament, Trayce Jackson-Davis