What to expect: Rutgers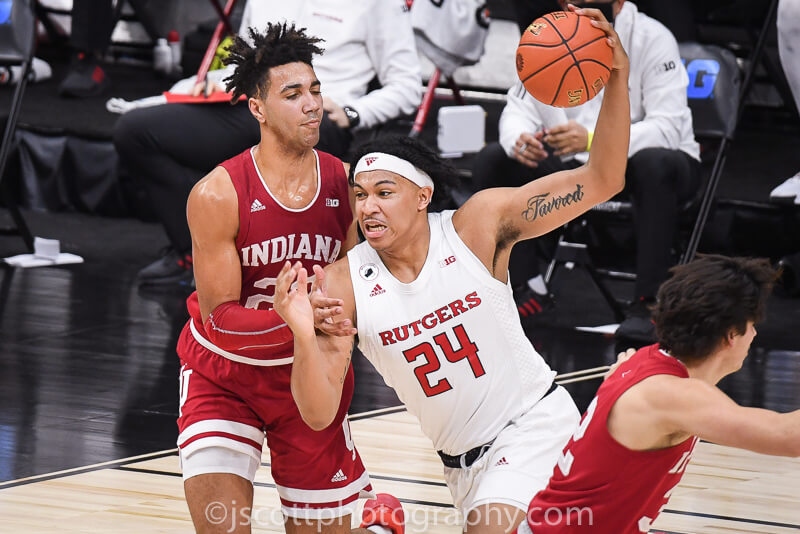 Indiana will look for its third straight win when it hosts Rutgers on Wednesday at Simon Skjodt Assembly Hall. The Scarlet Knights are 16-12 and are the first team out of the field in the latest bracketology projection from Andy Bottoms.
Wednesday's game will tip at 7 p.m. ET on BTN:
In a game that will have massive implications for the NCAA tournament hopes of both programs, Indiana hosts Rutgers on Wednesday to close out the 2021-22 home schedule.
Rutgers was hot to start out February and beat Michigan State, Ohio State, Wisconsin and Illinois successively but has dropped its last three games. The Scarlet Knights are just 3-9 in road games this season.
A season ago, Indiana became the first Big Ten team to lose to Rutgers three times in a season. The Scarlet Knights beat Indiana 61-50 in the Big Ten tournament in Archie Miller's last game as IU coach.
MEET THE SCARLET KNIGHTS
Rutgers returned five of its top eight players from a team that reached the NCAA tournament second round last season. The three players who departed all left via the transfer portal. Myles Johnson went to UCLA, Jacob Young transferred to Oregon and Montez Mathis left for St. John's.
Steve Pikiell, who is in his sixth season in Piscataway, plays a tight rotation and consistently rides his starters for heavy minutes. Three Rutgers players – Ron Harper Jr., Paul Mulcahy and Geo Baker – are in the top 24 of percentage of minutes played in the Big Ten.
Harper Jr. is the team's best and most consistent offensive contributor. His 15.6 points per game lead Rutgers. He's hitting 38.8 percent of his 3s and 80.9 percent from the free throw line. As his shot chart below shows, Harper Jr. is dangerous from everywhere on the perimeter and is scoring 1.17 points per possession off of spot-ups, according to Synergy Sports. That ranks in the 91st percentile nationally.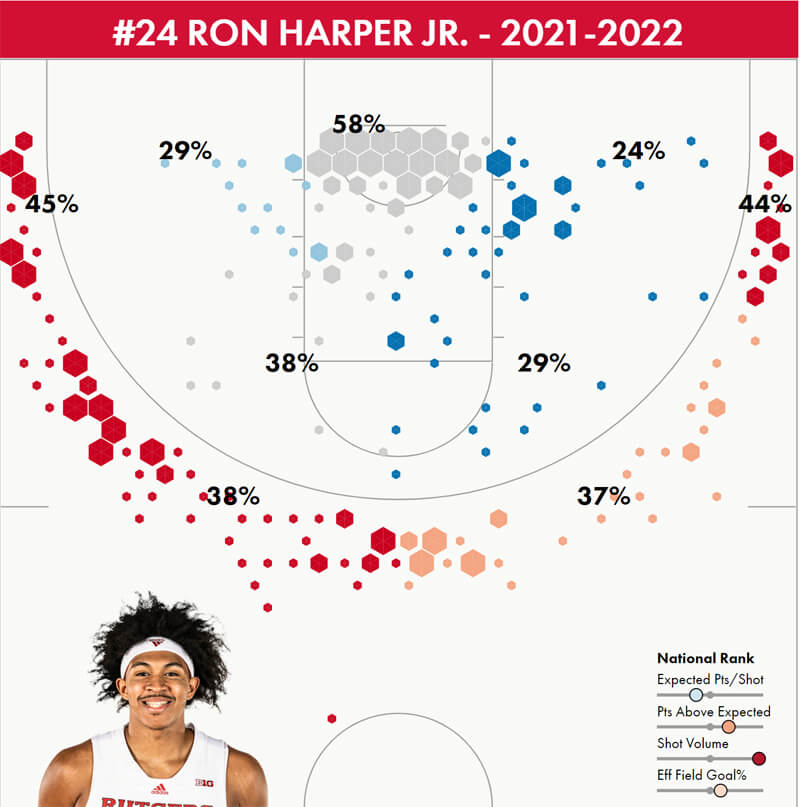 Harper Jr. plays the four, which means Race Thompson will likely draw the assignment defensively. Ideally, Indiana would be able to put Trey Galloway on Harper Jr., but he's missed the last three games with a groin injury and doesn't appear to be close to a return.
The Rutgers perimeter rotation is strong with Baker, Mulcahy and Caleb McConnell, the team's best defender, all capable of contributing in different ways.
Baker, who is in his fifth season, is a low-efficiency offensive player who is capable of getting hot and carrying Rutgers. Baker's 12.2 points per game are second on the team. He's a career 32.7 percent 3-point shooter and is making just 27.8 percent from distance this season in Big Ten play on 90 attempts.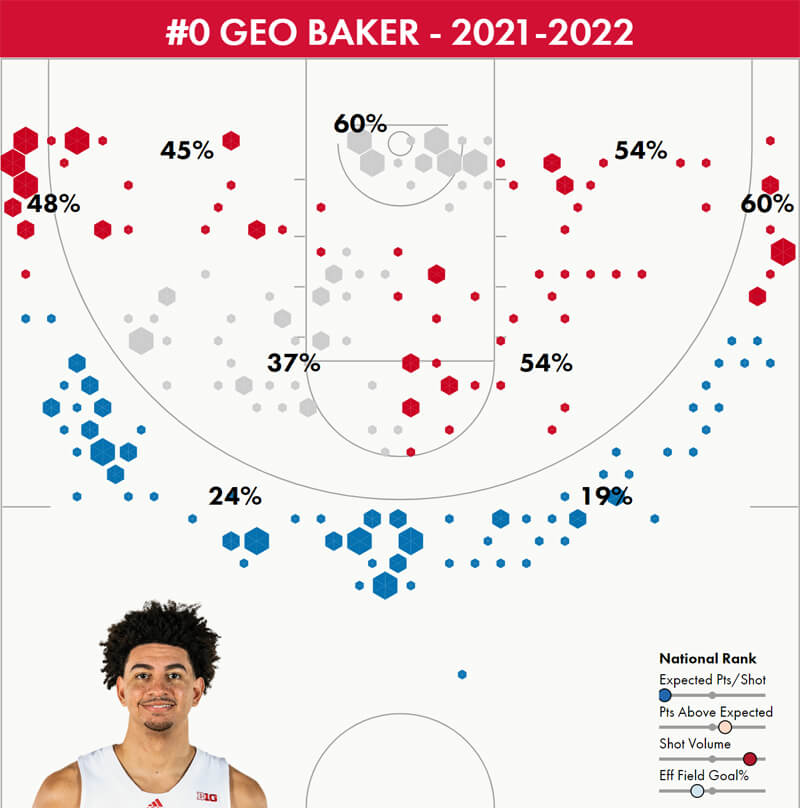 Mulcahy is the team's point guard and owns the fourth-highest assist rate in the conference at 36.1 percent. Mulcahy's 9.1 points per game are fourth on the team and he's making 36.6 percent of his 3s in conference play.
McConnell will likely find himself on the Big Ten all-defensive team at season's end. He leads the Big Ten in steal percentage (4.6). At 6-foot-7 and 200 pounds, McConnell is one of the league's most versatile defenders. It won't be a surprise to see him on Xavier Johnson on Wednesday. McConnell isn't much of a shooter, but he is making 36.7 percent from distance in conference play on 30 attempts. His 6.5 points per game are fifth on the team.
Jalen Miller, Aundre Hyatt and Mawot Mag could all see minutes off the bench for the Scarlet Knights. Statisically, Hyatt, a transfer from LSU, has been the most impactful player of the bunch. He's appeared in all 28 games and averages 4.5 points in 13.2 minutes.
Johnson's departure for UCLA opened up the five position for Clifford Omoruyi, a former top 50 recruit who is in his second season at Rutgers. Omoruyi is a very good athlete for his size – he's 6-foot-11 and 240 pounds – and is one of the best shot blockers and rebounders in the league. Omoruyi is fifth in the Big Ten in block percentage and is seventh in defensive rebounding percentage. He's making 62.3 percent of his 2s for the season and 60 percent in league play. His 11.7 points per game are third on the team and his 7.9 rebounds per contest lead the team.
Dean Reiber is the backup for Omoruyi. Reiber is making 53.8 percent of his 2s in Big Ten play and is 6-of-9 on 3s. He's 6-foot-10 but only 225 pounds and is a player IU should look to attack in the paint when Omoruyi is off the floor.
TEMPO-FREE PREVIEW
(Stats are for conference games only. Numbers are through Monday's games.)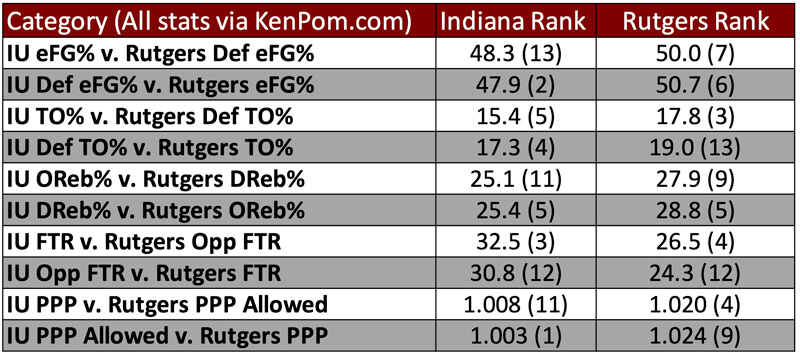 Rutgers has struggled from the perimeter over its last three games. The Scarlet Knights are just 11-of-44 (25 percent) from distance during their three-game losing streak.
Turnovers have been a problem for much of the season for Rutgers. The Scarlet Knights rank 13th in the conference with a turnover percentage of 19.
The free throw line could be a strength in this game if the game is called tight. Rutgers is one of the most physical teams in the league, but has the fourth-lowest opponent free throw rate (FTA/FGA) at just 26.5 percent. All four times a Rutgers opponent has produced a free throw rate over 50 percent this season, the game has been on the road for the Scarlet Knights.
Defensively, Rutgers forces its conference opponents into an average length of possession of 19.2 seconds. That's the longest average length of possession in the conference.
WHAT IT COMES DOWN TO
While not an elimination game for either team with a loss because of the Big Ten tournament, this game could go a long way in determining which program reaches the NCAA tournament. This is a Quad 3 game for Indiana and a Quad 3 opportunity for Rutgers.
The KenPom projection is Indiana by five with a 70 percent chance of victory. The Sagarin ratings favor the Hoosiers by 5.5.
Indiana enters the game with the Big Ten's best defense at 1.003 points per possession allowed in league play. If the Hoosiers are to emerge victoriously, slowing down Harper Jr. is a key along with another strong floor game for Xavier Johnson against a scrappy Rutgers backcourt.
Filed to: Rutgers Scarlet Knights