What to expect: Wisconsin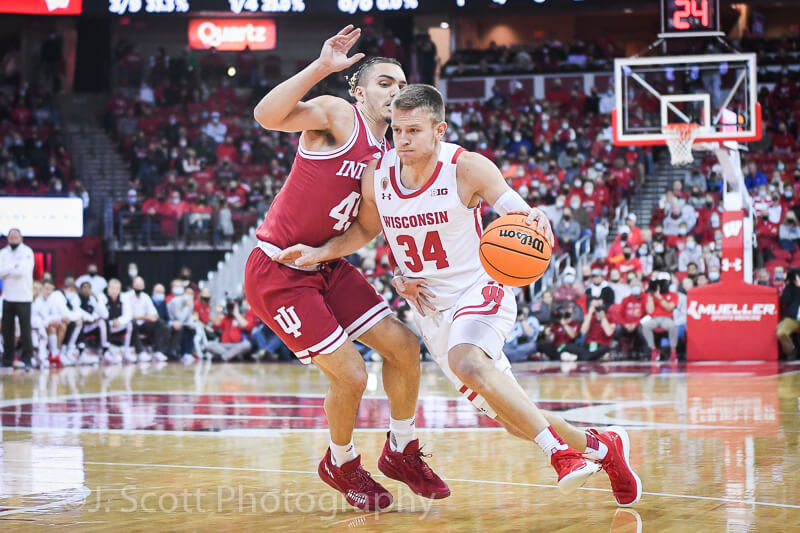 Indiana returns to Bloomington for a pivotal Tuesday night matchup with Wisconsin at Simon Skjodt Assembly Hall.
The Badgers are 19-5 overall and 10-4 in the Big Ten, but lost 73-65 on Saturday at the Kohl Center to Rutgers. Tuesday's game is scheduled for a 9 p.m. tip on ESPN2:
Indiana's once-promising season is at a crossroads. The Hoosiers have lost three straight games and the schedule doesn't let up this week as Wisconsin comes to Bloomington on Tuesday.
At 7-7 in conference play, Indiana needs at least split its remaining six conference games to feel good about its NCAA tournament chances.
The Hoosiers have three of those six games in Bloomington, but have now dropped two of their last three at Assembly Hall after starting the season 12-0 at home.
THE FIRST MEETING
Indiana's 64-59 loss to Wisconsin on Dec. 8 was easily its biggest collapse of the season. The Hoosiers went on a 26-4 run in the first half and led Wisconsin 42-20 with 1:17 to play before halftime.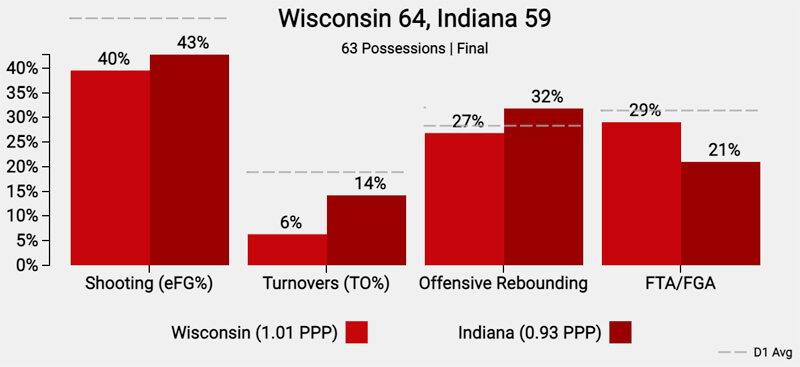 As well as Indiana played in the first half – and it played great – the second half was a performance full of numbers that remain difficult to process.
Indiana only managed 17 points after intermission and the Badgers ended the game on a 20-3 run. Wisconsin scored the game's final 11 points and Indiana made just one of its last 15 field goal attempts. The Hoosiers didn't score a point in the final 3:08.
As much criticism as Xavier Johnson took in the aftermath of the loss after shooting 1-of-10 from the field, he was the only Hoosier who tried to make anything happen offensively down the stretch. Trayce Jackson-Davis had a team-worst -22 in the second half in terms of plus/minus and scored only three points. Miller Kopp and Parker Stewart combined for 26 second-half minutes and only took four shots.

On the Wisconsin side of things, transfer Chris Vogt came off the bench and scored nine points in the second half. Those nine points are his high in a Big Ten game this season.
Johnny Davis, a Big Ten player of the year contender, led all scored with 23 points on 8-of-17 shooting and also grabbed nine rebounds.
TEMPO-FREE PREVIEW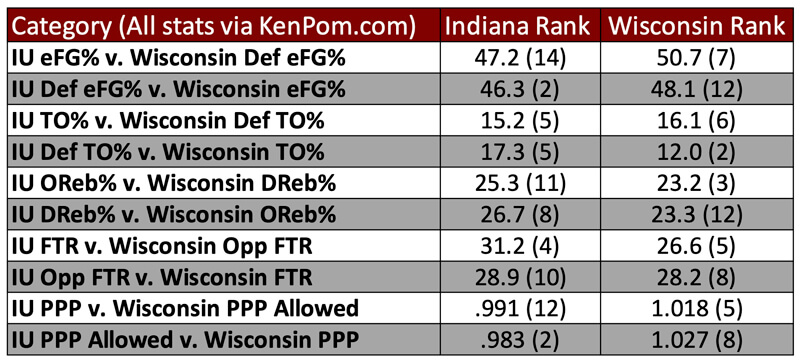 (Stats are now for conference games only. Numbers are through Sunday's games.)
Tuesday's matchup brings together two of the three worst shooting teams in the Big Ten. Indiana now ranks last in the league in effective field goal percentage and Wisconsin isn't far behind at 12th. The Badgers are last in the Big Ten in 3-point shooting at 30.8 percent and Indiana is 13th at 31.5 percent.
In addition to its poor 3-point shooting, Indiana's 2-point field goal percentage is trending downward. Over its last three games, Indiana is 48-of-119 on 2s, which is 40.3 percent. A big part of that is the struggles of Jackson-Davis. Jackson-Davis is now making just 51.3 percent of his 2s in league play after shooting 12-of-34 over the last three contests.
Wisconsin's strengths are taking care of the ball, defending without fouling and defensive rebounding. The Badgers are second in the Big Ten in turnover percentage (12), third in opponent offensive rebounding percentage (23.2) and fifth in opponent free throw rate (26.6 percent).
WHAT IT COMES DOWN TO
Despite its 19-5 record, the predictive metrics still doubt Wisconsin. The Badgers are just a game out of first in the loss column in the league standings, but are just the seventh highest-ranked Big Ten team in the KenPom ratings.
The Pomeroy projection is Indiana by three with a 59 percent chance of victory for the Hoosiers. The Sagarin ratings like Indiana by two.
The Badgers are 6-2 in true road games this season with wins against Georgia Tech, Purdue, Maryland, Northwestern, Nebraska and Michigan State and losses at Ohio State and Illinois.
This game is critical for both teams. For Indiana, it would snap a three-game losing streak and add a Quad 1 to the NCAA tournament resume. For Wisconsin, it would keep the Badgers just a game behind Illinois in the loss column in the race for the regular-season conference crown.
As well as Indiana as played at home this season, the Hoosiers are going to need a much more efficient performance out of Jackson-Davis on Tuesday to record their eighth conference win.
Filed to: Wisconsin Badgers