What to expect: Purdue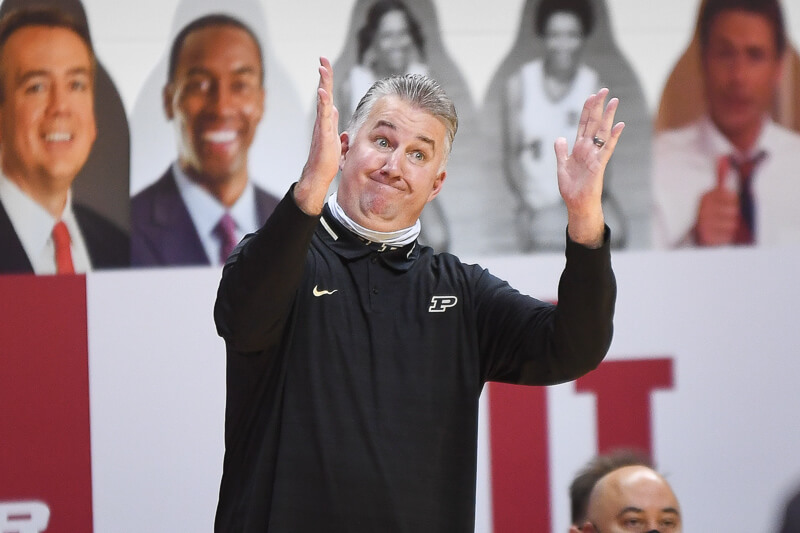 Indiana will try to avoid a 10th straight loss to Purdue when the Boilermakers visit Assembly Hall on Thursday night.
The Boilermakers, No. 4 in the latest Associated Press top 25 poll, have won three straight games and are 15-2 overall.
Thursday's game is scheduled for a 7 p.m. ET tip on FS1 with Kevin Burkhardt and Jim Jackson on the call:
Indiana broke the ice on the road with a 78-71 win at Nebraska on Monday night. Now it will attempt to break Purdue's streak of domination in the series between rivals dating back to the 2016-17 season.
Indiana's last win against the Boilermakers came on Feb. 20, 2016 in Bloomington. Since then, Purdue has won nine straight in the series by an average of nine points. Five of those nine losses have come on Branch McCracken Court.
Purdue vaulted back into the Big Ten title race on Monday with a double-overtime win at Illinois. Indiana, meanwhile, has a chance to solidify its position in the top half of the league standings with three straight home games over seven days. The Hoosiers are a perfect 11-0 at home, but will face their biggest test yet on Thursday.
MEET THE BOILERMAKERS
Purdue rose to No. 1 in the AP poll in early December for the first time in program history, but the ranking was short-lived after the Boilermakers fell at Rutgers 70-68 on Dec. 9.
The Boilermakers are 4-2 overall in the Big Ten with the aforementioned loss at Rutgers and a home loss to Wisconsin on Jan. 3. Purdue also needed overtime to beat North Carolina State at the Barclays Center on Dec. 12. In both of its losses, Purdue was held under 70 points.
Purdue is typically playing 10 guys and has four players averaging in double figures. Its top three scorers are among the most difficult matchups at their positions in the conference.
Sophomore wing Jaden Ivey is likely to hear his name called in the lottery in June's NBA draft. The 6-foot-4 South Bend product is shooting 43 percent on 3s and averages 16.4 points in 29.2 minutes per game. Ivey is a very good finisher at the rim – he's shooting 68.1 percent per Hoop-Math – and can turn live-ball turnovers to dunks on the other end in a flash with his speed and athleticism.
When Ivey gets to the basket, he typically either finishes or gets fouled. He ranks first in the Big Ten in free throw rate (FTA/FGA) at 63.6 percent. He's converting at a 73.8 percent clip from the line in conference play.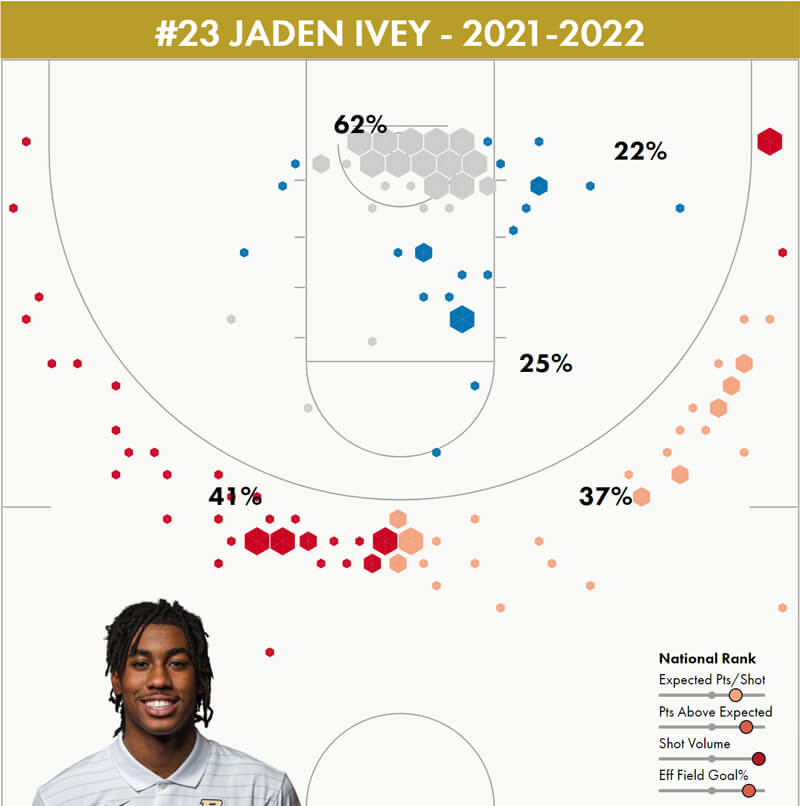 No Big Ten coach has been more successful in playing through the post over the last decade than Matt Painter. Painter's frontcourt duo this season includes 7-foot-4 center Zach Edey and 6-foot-10 center Trevion Williams.
Edey has started 13 of the team's 17 games and is averaging 15.6 points and 7.5 rebounds in just 17.8 minutes per game. He's shooting 70.7 percent from the field and 83.9 percent at the rim, per Hoop-Math. Percentages-wise, Edey is the best offensive rebounder in the Big Ten (19 OR%) and third-best defensive rebounder in the league (30.9 DR%).
It bears watching how Indiana decides to defend the post on Thursday night. Most teams have chosen to send help at Edey and Williams, which can open up driving lanes for Ivey or 3-point attempts for Purdue's various shooters. The difference with Edey and Williams, however, is that Edey catches the ball so deep in the post that he's essentially catching and finishing plays and sending help doesn't work for that. Limiting his minutes may depend more on Trayce Jackson-Davis being able to exploit him on the other end of the floor and forcing Painter to take him off the floor for defensive reasons.
Williams started for a four-game stretch in mid-December through the Wisconsin loss, but has come off the bench for the team's last three wins. He went for 22 points and nine rebounds in just 20 minutes in a 92-65 win against Nebraska on Jan. 14 and then had 20 points and eight rebounds in the double-overtime win at Illinois on Jan. 17.
The Chicago native is a great passer out of the post and averages 3.1 assists per game. Williams has the sixth-best assist rate in conference play and is second in both offensive and defensive rebounding percentage.
Sasha Stefanovic is making 41.7 percent of his 2s (108 attempts) and can shoot off the catch or the dribble. He's second on the team in minutes per game (28.5) and is also an excellent free throw shooter (83.3 percent).
Sophomore Mason Gillis has started the last five games at the four and averages 7.2 points and 3.5 rebounds in 20.8 minutes per game. The 6-foot-6 New Castle product is a perfect 20-for-20 from the free throw line. He's also making 53.3 percent of his 3s on the season and 62.5 percent in league play.
Freshman Caleb Furst has started 12 of the team's 16 games, but his role has diminished significantly in recent weeks. Over Purdue's last four games, the 6-foot-10 Furst is averaging just three points in 11.8 minutes per game.
Joining Ivey and Stefanovic in the backcourt is junior guard Isaiah Thompson, a Zionsville product. Thompson is making 41.1 percent of his 3s.
Guards Eric Hunter Jr., Brandon Newman and Ethan Morton all come off the bench for Painter. Newman is shooting close to 35 percent on 3s and 72 of his 89 field goal attempts have come from distance. Hunter has really struggled offensively this season and is shooting just 45.2 percent on 2s and 30.8 percent on 3s. Morton, a one-time Indiana recruiting target, only takes two shots per game but can knock in the occasional 3-pointer.
TEMPO-FREE PREVIEW
(Stats are now for conference games only. Numbers are through Tuesday's games.)
Unsurprisingly, Purdue's emphasis on getting the ball inside yields a lot of trips to the free throw line and second-chance opportunities.
The Boilermakers are first in the Big Ten in free throw rate (FTA/FGA) and are outscoring their opponents by more than eight points per game at the line. In Big Ten play, Purdue is generating 22.5 percent of its points from the foul line, which ranks first in the conference per KenPom.
On the glass, Purdue is the best defensive rebounding team in the league and second-best offensive rebounding team.
WHAT IT COMES DOWN TO
The KenPom projection is Purdue by three with a 39 percent chance of an Indiana victory. The Sagarin ratings also favor the Boilermakers by three.
Purdue has shown itself vulnerable now on several occasions away from home, but also just showed it is capable of beating a very good team on its home floor with the win at Illinois.
Indiana is going to have to keep turnovers under control and make perimeter shots to win on Thursday. The Hoosiers should have the best home atmosphere in Assembly Hall in several years and a win would be significant for Mike Woodson as he attempts to build an NCAA tournament resumé in his first season in Bloomington.
Woodson, who has continuously harped on the importance of winning home games, reiterated his stance on Wednesday morning.
"The rivalry is what it is. Protecting home is more important," Woodson said. "Again, they just happen to be the next one on the schedule. It's all about the game to me. Everything else takes care of itself if you come out and commit yourself for 40 minutes and walk out of our building with a W."
Filed to: Purdue Boilermakers