The Minute After: Iowa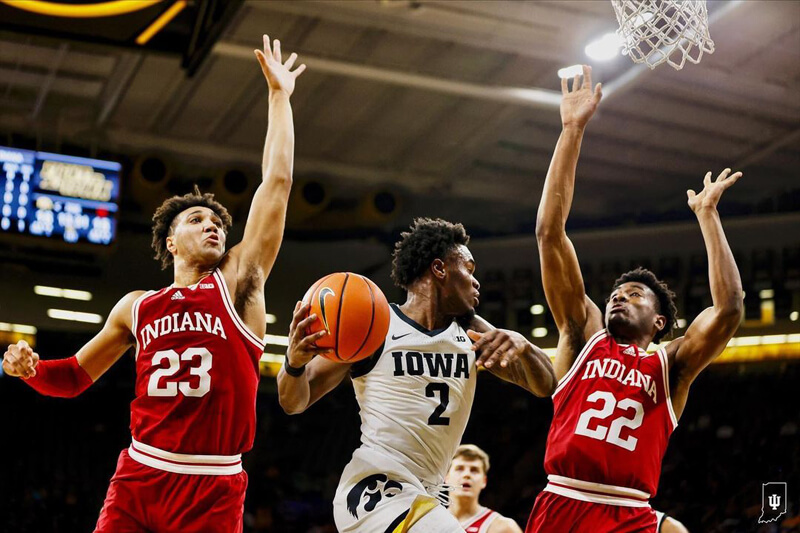 Thoughts on an 83-74 loss to the Hawkeyes:
This game was there for the taking, offering a road win Indiana really could have used. One, to start building some confidence away from Assembly Hall. Two, to continue to build an NCAA tournament resumé.
But the Hoosiers, after a strong offensive first half gave them a seven-point advantage (48-41), absolutely crumbled in the second half. It wasn't as soul-crushing as the Wisconsin loss to start Big Ten play last month, but it was a game Indiana fumbled away all the same.
The Hoosiers had their turnover issues under control over the last several contests but regressed this evening. The numbers are downright brutal. Indiana turned it over on 32 percent of their possessions, its second-worst mark of the season in that statistic. It led to this reality: 40.9 percent (34) of Iowa's points came off Indiana's miscues. Iowa's half-court trap turned Indiana into mush, as bad decisions and head-scratching passes ran rampant. Even Race Thompson, ever the rock for these Hoosiers, struggled against Iowa's trap, turning the ball over a couple of times with some poor passes.
That really felt like the story of Indiana's turnovers tonight: Self-inflicted and avoidable. Thompson led the team with five. Xavier Johnson and Rob Phinisee had four each. Trey Galloway had three.
Indiana also shot itself in the foot from the charity stripe. In a game it got into the bonus and eventually the double bonus pretty early in the second half, the Hoosiers only mustered a 61.9 percent (13-of-21) performance.
Indiana gave up 11 second-half offensive rebounds to Iowa, which led to the Hawkeyes snagging 46 percent of their misses and 16 second-chance points for the game. And while Keegan Murray's foul trouble helped to keep him in check tonight (12 points), his brother, Kris, more than made up for it. Kris Murray scored a career-high 29 points (12-of-18), his length and movement a tough cover for the Hoosiers tonight. He also snagged a career-high 10 rebounds. Six of those rebounds came on the offensive end.
Indiana's defense has been its saving grace so far this season, but that wasn't the case tonight against the KenPom No. 3 offense in the country. Iowa's 1.15 points per possession were the second-most the Hoosiers have given up all season. Only Syracuse (1.19) has scored more efficiently against Indiana this season.
Indiana hit its 3-pointers early to help gain that first-half lead but hit just 7-of-22 (31.8 percent) for the contest. Trayce Jackson-Davis scored 18 points tonight but attempted just eight shots as Iowa worked to keep the ball out of his hands in the second half. Beyond their eight turnovers, Johnson and Phinisee combined to shoot only 3-of-12 from the floor.
"When you're throwing the ball away, you're not rebounding the ball, you're not making your free throws, that's a bad combination when you're trying to win on the road," Mike Woodson said after the contest.
Yup, that about sums it up.
The road still perplexes these Hoosiers and there's no rest from it just yet. Another away game, this time against Nebraska, is up next on the schedule. Indiana's the favorite, but trust in a victory feels foolish after a night like this.
(Photo credit: IU Athletics)
Filed to: Iowa Hawkeyes