The Minute After: Notre Dame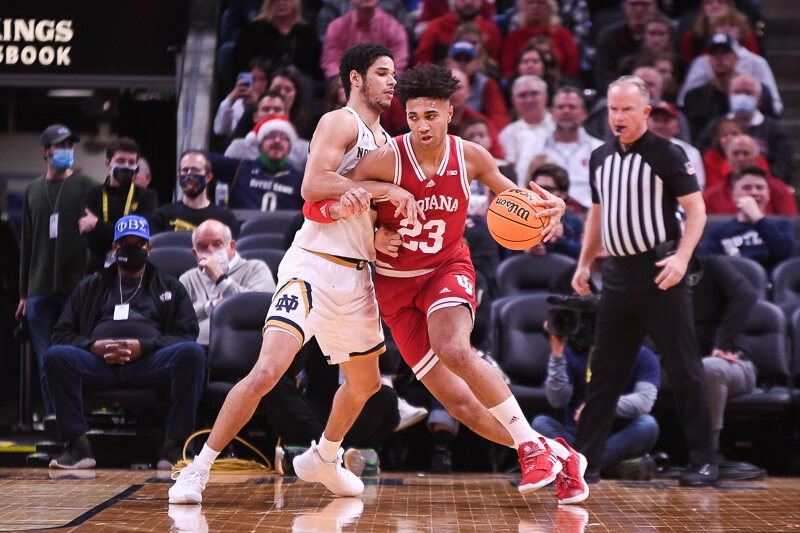 Thoughts on a 64-56 win against Notre Dame:
While it's a win, this one will not go down as one of Indiana's better performances of the season.
Were it not for a stout defensive effort against a strong Notre Dame offense, Indiana's ugly play may have resulted in a loss that wouldn't have served an NCAA tournament resumé well.
Too often today, Indiana's offense had remnants of the Archie Miller era. Trayce Jackson-Davis got all the attention and the Hoosiers kept force-feeding and telegraphing passes, too many resulting in turnovers. Mike Brey's game plan to leave Xavier Johnson on the perimeter and send his defender to Jackson-Davis had the Pitt transfer hoisting up a high volume of 3-pointers. It was a strategy that worked. He made just 2-of-9 from distance. His propensity to take the open look meant less ball movement and more standing around for Indiana's offense. (But when he did move the ball, Indiana had its most beautiful possession of the contest.) While Jackson-Davis still got his (17 points on 6-of-12 shooting, 12 rebounds), he often was trying to score against a number of Irish defenders. He also played with lower energy in this one, his slow and sluggish start part of the reason why Notre Dame seized an early lead.
Indiana wasn't great from the line (14-of-22, 63.6 percent) in this one. But 3-point shooters not named Johnson shot 6-of-11 (54.5 percent), as Parker Stewart (3-of-4) continues to fill it up from deep. Race Thompson's steady presence keeps trucking along (4-of-4, 11 points). And Indiana made some adjustments at halftime to try and free the post up more, helping to punch out their lead after the break. Still, the Hoosiers mustered under a point per possession (.94). And 64 points won't cut it night in and night out in the Big Ten.
While the offense had issues today, Indiana's defense came to play. It certainly helped the Irish hit just 4-of-22 (18.1 percent) from deep. Had they made their season average of 32 percent, the result in this one could have been different. But Indiana did a nice job of shutting down the Irish attack into prolonged scoring droughts, helping them keep just enough distance in a lower-scoring game. Blake Wesley had his moments but needed 16 shots to get to 14 points, an inefficient afternoon in Indianapolis.
Beyond Indiana's defense, credit is also due for simply grinding this one out and pulling out the victory. Simply put: This team is still learning how to close out games and win. Notre Dame tied the game up at 47-all with 6:50 to go and things looked shaky. But the Hoosiers were able to close out the game on a 17-9 run to help seal the deal.
That wraps the Crossroads Classic for the Hoosiers. While it was an oft-maligned event, it was also one Indiana had great success (8-3) and some epic finishes as it ping-ponged between Notre Dame and Butler over the last decade.
But with full Big Ten play around the corner, the competition is about to ramp up for good. And this team still has work to do.
Filed to: Notre Dame Fighting Irish