'He gave us a huge lift': Rob Phinisee steps up in win over Notre Dame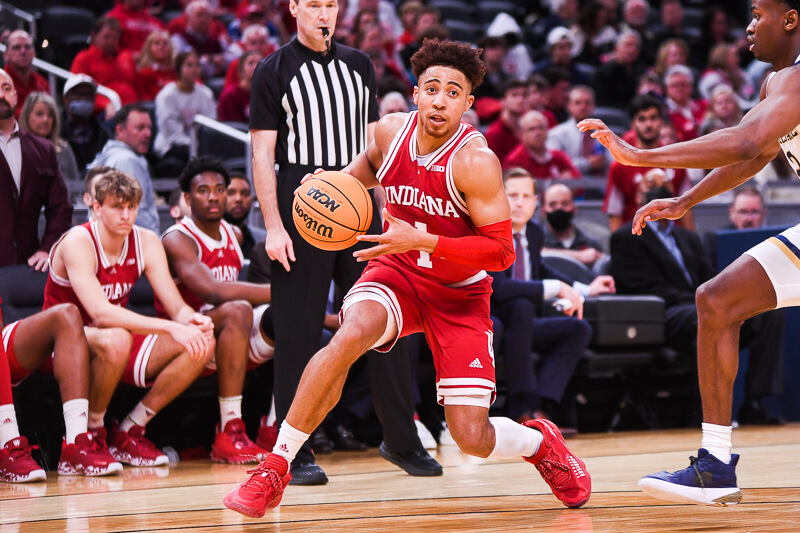 INDIANAPOLIS – Indiana didn't have any buzzer-beater heroics in its last-ever Crossroads Classic game. Instead, it took contributions from everyone to piece together a 64-56 win over Notre Dame.
One of those pieces was Rob Phinisee's play. He scored six points, grabbed five rebounds and dished out five assists in his 21 minutes off the bench.
His performance might not have jumped off the stat sheet, but it was what the Hoosiers needed to get over the hump and hang on at the end.
"He gave us a huge lift," Woodson said.
Phinisee hasn't played to his full potential yet this season. He has yet to score in double figures this season, but it's clear Woodson believes in him. And his performance against Notre Dame showed a glimpse of what Woodson sees in him.
"I need Rob in the worst way," Woodson said. "I think he knows how I feel about him in terms of what I think he can do. I just got to get Rob to believe more that he can do things like he did tonight."
That's why Woodson does what he can to make him more comfortable. He instills the confidence and love Phinisee needs to reach his potential.
It was on full display with just four minutes to go against Notre Dame.
Indiana had the ball and a two-point lead. Xavier Johnson passed to Anthony Leal who swung it to Phinisee on the left wing. When he got the ball, he planted his left foot and swung into the 3-point shot. There was no hesitation. He was confident, and it went in.
While it wasn't the same as the 3-point buzzer-beater he hit in the same building as a freshman to beat Butler, the shot still had meaning. It stretched Indiana's lead to two possessions to give them the confidence to play through the next four minutes.
Phinisee played unselfish basketball and set a calm tone for the Hoosiers even when the game got tight. He did what Woodson knew he could.
"He is a hell of a defender, and he can make shots. He can make plays for other people. That's what point guards do," Woodson said.
But he hasn't been able to do that consistently this season. Trayce Jackson-Davis said after the game that Phinisee isn't 100 percent yet and hasn't been all season.
"I think when he gets there, he is going to be really, really big for us," Jackson-Davis said. "He is trying to grind it out and practice. He just has to get healthy, and I think he is starting to get healthier and starting to get his confidence. Once Rob has his confidence, he can do a lot of good things for us."
Some of that confidence comes from getting healthier, but the other part comes from his team. Jackson-Davis said the team knows what each of them is capable of, so they push each other toward that.
"I've played with Rob for three years now. I know he has had games where he has been unbelievable," Jackson-Davis said. "We've just got to keep telling him, 'Even if you miss a shot, shoot the next one.'"
Phinisee missed six shots against Notre Dame. But instead of hesitating when Leal found him on the 3-point line with four minutes to go and the game on the line, he shot it.
It's those flashes of confidence that show why Woodson said Phinisee lifted them in their win Saturday and why Jackson-Davis praised what he is capable of doing.
Filed to: Robert Phinisee