Five takeaways from Indiana's win over Merrimack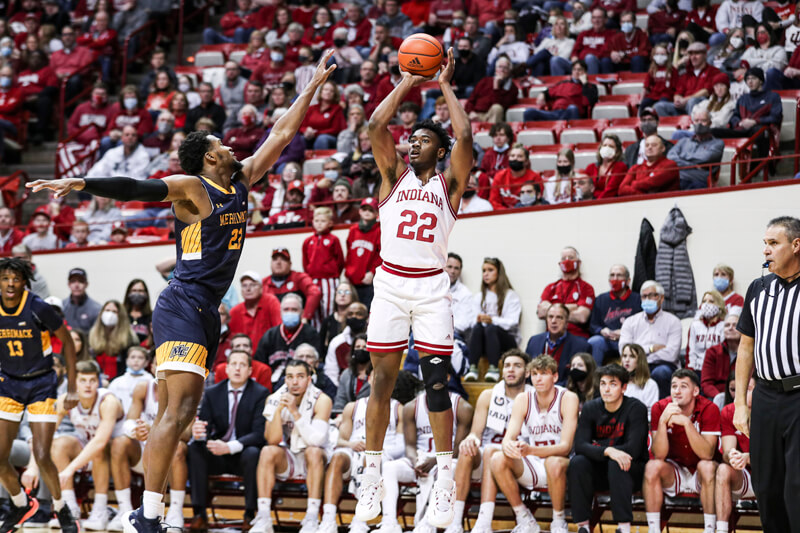 Indiana got a bounce-back win Sunday in its first-ever matchup against Merrimack. The 81-49 win brings the Hoosiers to 8-2 on the season.
They got off to a slower start and struggled to work through the zone at first, but got going in the second half. Three Hoosiers scored in double digits, including a career day from Jordan Geronimo.
Here are five takeaways from IU's win over the Warriors:
Jordan Geronimo's breakout game
Jordan Geronimo was the first off the bench for the Hoosiers. His career-high 21 minutes against Merrimack were packed full of plenty more career highs for the sophomore.
He recorded his first career double-double on a career-high 13 points and 13 rebounds. Geronimo has shown flashes of how he can use his athleticism and intangibles to better the team, but against Merrimack, he posted the numbers to show it as well.
A clear example was with seven minutes left in the game. Rob Phinisee shot a free throw that bounced off and around the rim. In an instant, Geronimo spun around the defender on the lower block to get around him before the ball had even hit the rim.
Then he jumped up for the rebound and laid it back in before touching the ground. He got the foul call, too.
"Rebounding is something that I'm gifted in. God gave me this body to get rebounds," Geronimo said after the win.
After the game, Woodson commented on just how much he's improved his play from a year ago.
"I can't help but think if he continues to work, he's going to continue to improve," Woodson said. "That's how you get better as a young player. And it's my job to push him and try to steer him in the right direction."
Geronimo said the key to a performance like that was the support from his teammates.
Weak perimeter defense
It was clear from the beginning of the game the only way the Warriors could compete was through their 3-point shooting. Merrimack's first three field goals all came from behind the arc to open an early 9-6 lead over Indiana.
While the Hoosiers struggled to break the zone at first, they couldn't run the Warriors off the 3-point line either. Merrimack spread out the floor and caught IU's defenders out of their rotation by swinging the ball around the outside quickly.
Poor play on both ends of the floor kept the game tight, giving Indiana just a six-point lead at the half.
Merrimack shot 38 percent from 3-point range, but had the volume of shots to make it a problem. Eleven of its 29 attempts went in, meaning 67 percent of the Warriors' total points came off 3-point shooting.
Rebounding wasn't an issue for Indiana as they outrebounded Merrimack 54-16. But allowing that many shots from outside could prove costly heading deeper into conference play.
Finding Trayce and Race down low in the zone
One of Woodson's many issues with his team's loss at Wisconsin was their inability to feed Trayce Jackson-Davis and Race Thompson down low. The difference Sunday against Merrimack was how they found holes in the zone.
Once the guards got the ball inside, it was the forwards one-on-one against their defenders.
"I just kept telling them, 'Hey, why kick it out? Just go try to score the basketball.' And they did that. They made plays at the rim," Woodson said.
Woodson said if a team is going to give them the opportunity to catch it in the zone, they have to take advantage of that. Thompson said seeing the zone so frequently lately has really helped them improve.
"We work on it every single day in practice," Thompson said. "The more we see it, the more we work on it, the better we get. And I think it's showing."
Indiana's 34 points in the paint are enough to show the practice is paying off. And 30 of those came from Jackson-Davis and Thompson.
Bouncing back after the loss at Wisconsin
Indiana still struggled to put two halves of basketball together, this time with a slower start in the first half. But at the final buzzer, the Hoosiers still won by 32 points.
It was a win they needed after blowing a 22-point lead on the road against Wisconsin. Thompson said it was a tough loss, but they had the time to reflect on it and find ways to get better.
"Games like today, just a little confidence boost, make you feel a little better coming to practice for six days before we play Notre Dame. Just feeling better about ourselves. I think it helps a lot," Thompson said.
But Woodson was adamant there are no easy games. He said the schedule is it what it is and they have to play it.
"The team tonight was a good team," Woodson said. "I go into every game thinking that, 'Hey, we've got to play hard for 40 minutes to win the game.' There's no gimmes. I don't look at it like that."
Figuring out Khristian Lander's role
Khristian Lander hadn't seen the floor since Indiana's overtime loss at Syracuse. Then, after Indiana had amassed a 21-point lead over Merrimack, Woodson sent him in to check with seven minutes to go in the game.
Lander stepped into the backup point guard role after Phinisee was out with an injury for a few games. But when Phinisee came back, Lander didn't get the same minutes.
His seven minutes Sunday didn't amount to much other than a rebound and two turnovers. When asked about Lander's role after the game, Woodson talked holistically about the team instead.
"He played seven minutes tonight. I thought he fit in just fine," Woodson said. "We won the ball game. This is not about Khristian, it's not about Rob or Xavier (Johnson), it's about every individual that wears that uniform."
Although the way in which Lander fits into Woodson's three-point guard system remains unclear at the moment, Woodson made it very clear that everyone should value playing time.
"Whatever minutes you get, you better cherish them and make them the most important minutes to help us win ball games," Woodson said.
(Photo credit: IU Athletics)
Filed to: Jordan Geronimo, Khristian Lander, Merrimack Warriors