Five takeaways from Indiana's win over Nebraska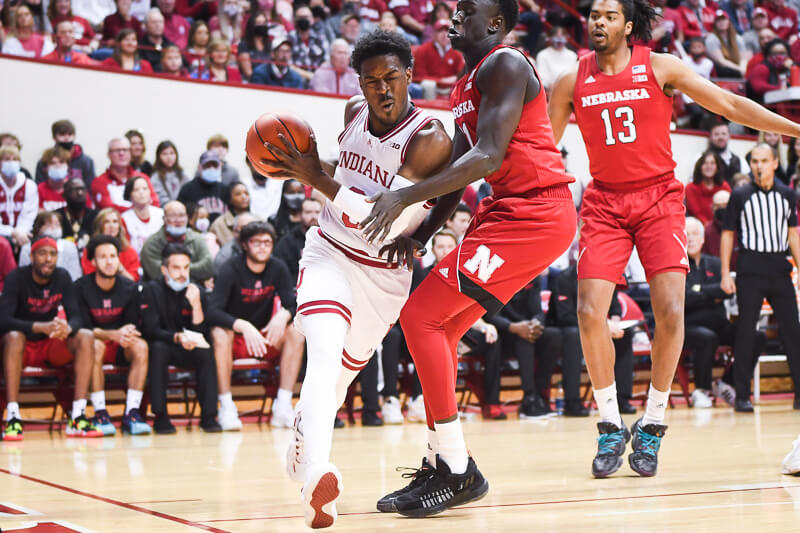 Indiana bounced back from its double-overtime loss at Syracuse with a comfortable 68-55 win over Nebraska at Simon Skjodt Assembly Hall. The victory was IU's fifth straight over the Cornhuskers.
Here are five takeaways from Indiana's seventh win of the season:
Points off of turnovers work in Indiana's favor
Points off of turnovers were the difference in Indiana's double-overtime loss at Syracuse on Tuesday night. The Orange turned 26 Indiana turnovers into 33 points. Conversely, Indiana scored just 11 points off of the 12 turnovers committed by Syracuse.
On Saturday, it was Indiana that took advantage when Nebraska turned the ball over.
Despite the fact that Nebraska turned it over one fewer time, the Hoosiers outscored the Cornhuskers 21-11 on points off of turnovers on Saturday afternoon. That's a significant margin in a 13-point game.
Indiana, after a rough first half in which it turned the ball over 11 times, only had four turnovers in the second half. The Hoosiers had a stretch of more than 10 minutes in the second half without a turnover.
Despite the improvement, turnovers continue to weigh down what has been an otherwise solid start offensively for Indiana in Mike Woodson's first season.
Indiana ranks 52nd in the country in 3-point shooting percentage, 30th in 2-point shooting percentage and 201st in free throw percentage. The Hoosiers, however, rank just 297th nationally in turnover percentage. Through the first month of the season, Illinois is the only Big Ten team turning it over more than Indiana.
3-point shooting remains a strength
Through eight games, Indiana's 3-point shooting is vastly improved.
On Saturday, Indiana connected on eight of its 22 attempts from distance for 36.4 percent. For the season, Indiana is now 61-of-163 on 3s and is making an average of 7.6 per game.
Last season, Indiana made an average of 5.9 3-pointers per game and shot only 32.4 percent.
Indiana has also made a slight jump in the percentage of its offense being derived from beyond the 3-point line. Last season, 25.2 percent of Indiana's offense came from 3-pointers. Through eight games this season, that percentage is 28.5
The clear difference-maker thus far has been Parker Stewart. The UT-Martin transfer, who arrived midseason last winter, is 21-of-44 from distance this season. He's shooting 47.7 percent. Stewart went 3-of-6 yesterday from behind the arc and all of the makes came in the second half.
Indiana shuts down Bryce McGowens
Nebraska freshman Bryce McGowens entered Saturday's game averaging 18.5 points per game.
The 6-foot-7 freshman was hounded for 33 minutes by Indiana's defense and managed just eight points on 3-of-14 shooting from the field.
McGowens had been getting to the line an average of seven times per game entering Saturday's contest, but he only attempted one free throw in IU's 68-55 win.
He was also just 1-of-5 on 3s as Nebraska as a team shot a dismal 5-of-22 from distance for just 22.7 percent.
Holding McGowens down was a major reason Indiana was able to limit Nebraska to just .76 points per possession in the win. Through eight games, Indiana's adjusted defensive efficiency, according to KenPom, ranks 15th nationally at .902 points per possession allowed.
Leal makes the case for more minutes
Bloomington South product Anthony Leal had only played in three of Indiana's first seven games and all of those contests were blowout victories.
In his Friday press conference, Woodson mentioned that he needed to figure out a way to get Leal into the game more often. On Saturday, with Indiana's starters struggling in the first half, Woodson went to Leal at the 11:26 mark.
In the first 3:12 he was on the floor, Leal recorded a steal, an assist and made a 3-point shot. He only played 12 minutes, but Indiana was +9 with Leal on the floor.
"He's been very competitive in practice," Woodson explained. "I came in tonight knowing I was going to play him, and he responded, which was kind of nice to see."
Race Thompson said he wasn't surprised by Leal's play given how he often performs in practice.
"You see Anthony every day in practice… he goes 125 percent every single day and he really deserves it," Thompson said. "I don't think any of us are surprised that he goes out there, gets a steal, makes a shot and that's what he does every single day in practice."
Fouls continue to limit Xavier Johnson's effectiveness
Xavier Johnson has established himself as Indiana's best point guard through the first eight games. But Johnson has struggled at times to keep himself on the floor in key situations.
In Tuesday's loss at Syracuse, Johnson dished out nine assists, but fouled out in only 26 minutes.
Fouls were once again a problem for the Pittsburgh transfer on Saturday. He picked up his third foul at the 19:02 mark of the second half and he played just 16 minutes.
Johnson has now committed three or more fouls in six of Indiana's games and he's averaging 5.7 fouls per 40 minutes. Johnson averaged 3.4 fouls per 40 minutes in his first two seasons at Pittsburgh and 4.4 last season.
Moving forward, Indiana is going to need Johnson to continue to defend aggressively while also cutting down on the fouls. He's the team leader in assist rate (33.3 percent) and steal percentage (3.1) and is clearly the program's most effective point guard.
Filed to: Anthony Leal, Nebraska Cornhuskers, Xavier Johnson