Five takeaways from Indiana's win over Marshall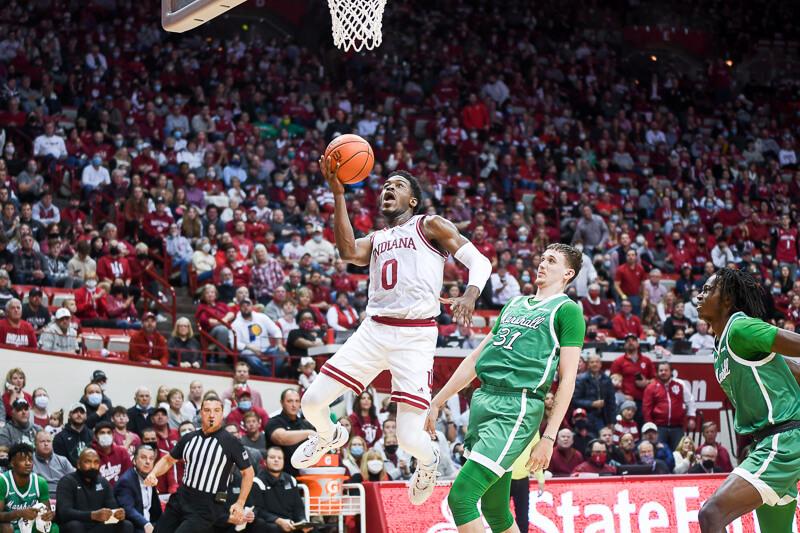 Indiana improved to 6-0 with a 90-79 win over Marshall on Saturday night at Simon Skjodt Assembly Hall. The Hoosiers trailed by as many as 12 in the first half, but a dominant second half led to a sixth straight victory to open the Mike Woodson era.
Here are five takeaways from the win over the Thundering Herd:
Jackson-Davis sets Assembly Hall single-game scoring record
Saturday's 43-point outburst from Trayce Jackson-Davis was record-setting.
The Indiana junior forward was an efficient 18-of-24 from the field and 7-of-9 from the free throw line on his way to an Assembly Hall single-game scoring record.
The previous record was 42 points by Steve Alford in 1987 against Michigan State. The 43 points by Jackson-Davis were the most for an IU player in a game since Mike Woodson scored 48 points against Illinois on March 3, 1979.
TJD's 43 points were also the highest by a player in college basketball thus far this season. With Saturday's performance, Jackson-Davis vaulted to No. 7 in Ken Pomeroy's national player of the year standings.
As impressive as the scoring was from Jackson-Davis, he rounded out the stat sheet in a variety of ways.
The Center Grove product added five rebounds, five blocked shots, four assists and two steals in 37 minutes. Jackson-Davis played the entire second half as the Hoosiers outscored the Thundering Herd 49-37.
Johnson turns in his best performance so far this season
Xavier Johnson had a rough start on Saturday evening.
In the first 104 seconds, Johnson committed two turnovers, one of which led to a bucket from Marshall's Taevion Kinsey.
But rather than allowing his early mistakes to compound, the Pittsburgh transfer turned things around and delivered his best performance thus far in an IU uniform.
Johnson scored 11 of his 20 points in the second half and the Hoosiers were +15 with him on the floor after halftime, the highest mark on the team.
Like Jackson-Davis, Johnson was efficient from the field. He shot 7-of-12, including a 2-of-3 mark from beyond the 3-point line. Johnson was also 4-of-4 from the free throw line and added seven rebounds, seven assists and five steals in 30 minutes. He didn't commit another turnover after the two early miscues.
It's early, but Indiana's perimeter shooting has improved
Through six games, Indiana is an improved 3-point shooting team.
Saturday's performance was the latest step in the right direction as the Hoosiers hit eight of their 15 3-point attempts for 53.3 percent.
Over Indiana's first six games, the Hoosiers are 42-of-114 on 3s, which is 36.8 percent. Indiana currently ranks 79th in the country in 3-point shooting percentage.
Several of IU's newcomers are a major reason for the improved 3-point shooting so far. Pittsburgh transfer Xavier Johnson is 5-of-9 (55.6 percent), Northwestern transfer Miller Kopp is 6-of-17 (35.3 percent), UT-Martin transfer Parker Stewart is 12-of-26 (46.2 percent) and freshman Tamar Bates is 6-of-14 (42.9 percent). All four made a 3-pointer in Saturday's win over Marshall.
"I think we space the floor a lot better than we did last year," Jackson-Davis said last night. "And we have shooters everywhere."
The shooting will get its biggest test of the young season on Tuesday when Indiana travels to Syracuse. The Orange play zone exclusively, which will force the Hoosiers to make perimeter shots in order to be successful.
Bench production drops in Saturday's win
Indiana's bench, a strength through its first five games, struggled in Saturday's win.
The Hoosiers were averaging 23.4 points from the bench over the season's first five games but only scored eight bench points against Marshall, a season-low.
Most concerning from Saturday was just how much of a dip Indiana took when it went to its reserves. Michael Durr was a -9 in just three minutes. Khristian Lander was a -16 in 10 minutes. Jordan Geronimo was a -11 in seven minutes.
Tamar Bates turned in a solid effort and scored six points in 24 minutes, but was the lone bright spot off the bench for the Hoosiers.
Saturday was the first time Indiana looked like it genuinely missed Trey Galloway, who is sidelined indefinitely with a broken wrist and Rob Phinisee, who has now missed three straight games with a leg injury.
The poor bench play in the first half meant Indiana's starters had to play heavy minutes in the second half against the Thundering Herd. Jackson-Davis played all 20 second half minutes, Parker Stewart played 19 minutes, Race Thompson played 16 and Johnson logged 15.
Turnovers continue to be problematic
Woodson's stated goal for his first Indiana team is 12 or fewer turnovers per game.
Indiana has only met the goal twice in its first six games.
On Saturday, Indiana committed nine turnovers in the first half, which led to 11 points for Marshall. Those mistakes were a big reason Indiana went into the locker room trailing 42-41.
The Hoosiers were demonstratively better at taking care of the ball for most of the second half. Through the first 16:37 of the second half, Indiana committed just three turnovers. Things got sloppy late as Indiana had three turnovers in the final 3:23 and finished with 15 turnovers for the game.
Through its first six games, Indiana's turnover percentage of 21 ranks just 257th in the country.
Filed to: Marshall Thundering Herd