Five takeaways from Indiana's win over Jackson State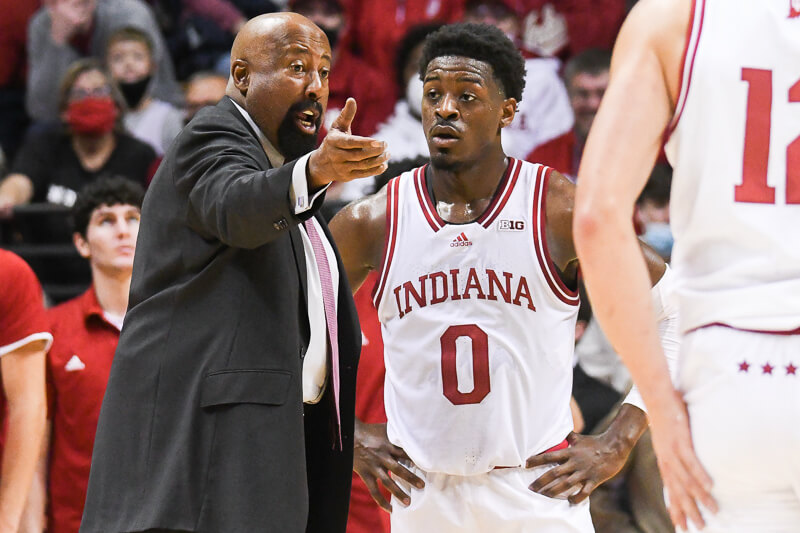 Indiana improved to 5-0 after a 70-35 victory over Jackson State on Tuesday night at Simon Skjodt Assembly Hall.
Here are five takeaways from the win over the Tigers:
Defense sets the tone
From the early days as Indiana's head coach this spring, Mike Woodson has wanted to build a foundation on defense. There was obvious excitement about Woodson's free-flowing offensive system, but the first-year head coach spent most of the summer making defense a priority.
It has shown in the first five games. The Hoosiers are holding their opponents to 28.4 percent shooting from the field and 25 percent from the 3-point line. Over the last two games, Indiana has held its opponents to 20 percent from the field and 13 percent from three.
"I like everything about how we're defending," Woodson said. "We're getting after it."
On Tuesday, Indiana's defense led the way again. Jackson State shot 21 percent from the field and 16 percent from three. The Hoosiers also had eight blocks, half of which came from Trayce Jackson-Davis.
The rate at which Indiana has grasped Woodson's defense schemes has been impressive. Some of that is due to the fact that the coaching staff has placed a major emphasis on communication. It has been evident in Indiana's defensive rotations and pick-and-roll defense.
"Coaches are always on us about talking in walk-throughs and stretching and whatever it is," Miller Kopp said." If we're doing anything, we need to be talking and over-talking pretty much."
Indiana has been efficient on the offensive end the last two games, but should they have an off-night shooting, boasting a reliable defense to fall back on will undoubtedly work in their favor.
Efficient 3-point shooting
For the second consecutive game, Indiana shot 40 percent or better from the 3-point line. Against Louisiana, the Hoosiers shot 53 percent. On Tuesday, Indiana knocked down three-pointers at a 40 percent clip.
Much of this is due to the production of UT-Martin transfer Parker Stewart. On Tuesday, Stewart knocked down 3-of-5 shots from deep in 18 minutes. After opening the season shooting just 3-of-11 from three, Stewart has made his 7 of his last 10 from long range. He's now shooting 10-of-21 on the season.
Miller Kopp, who was also brought to Indiana for his ability to shoot, went 2-of-7 from three. Anthony Leal added one 3-pointer off the bench.
Over the last few seasons, poor outside shooting has sunk Indiana's offense. Last season, the Hoosiers shot just 32 percent from deep.
The fact that Indiana's shooters are getting in rhythm is an extremely promising sign. In Woodson's free-flowing system, making outside shots is absolutely necessary for the offense to work. Entering the season, there were concerns surrounding the fact that Woodson was attempting to take an inconsistent shooting team and turn it into something that could be relied upon.
From a small sample size, it is working out.
Xavier Johnson plays with poise
There have been many moments in this early season where point guard Xavier Johnson has shown both really good and really bad stretches. He has an elusiveness that can't be taught, but there are times where he tries to do too much with that speed.
On Tuesday, Johnson was very much the player that Indiana needs him to be: under control and poised, while still being a playmaker. Johnson led Indiana in scoring with 14 points on an efficient 5-of-6 from the field, along with seven rebounds, three assists and just one turnover.
"It's hard because you can't prepare against speed," Johnson said. "I just got to be composed and be available for my coaches and my teammates to be on the floor to help them out so we can win."
There were a few possessions at the start of the second half where Johnson commanded both ends of the floor. He hit a step-back jump shot and then took a charge on the other end. On the following offensive possession, Johnson dished out an assist to Kopp. Then, one possession later, he drew a foul and knocked down two free throws.
Woodson has been pressing his point guards to be able to run the team, which entails understanding the flow of the game on offense and being reliable on defense. Each of Indiana's point guards haven't proved the ability to do that consistently this season, although they've done it in flashes. Johnson's performance on Tuesday was a step in the right direction.
"There is a lot of things that come with being a point guard," Woodson said. "I'm hard on point guards because they got to run our team and still be able to do the things they're capable of doing, too. We're all in a learning stage right now."
Bench production
Balanced scoring has been an early theme this season for Indiana. It marks a change from last season, where the Hoosiers lacked consistent production off the bench. On Tuesday, though, Indiana had 20 points off the bench.
Tamar Bates and Jordan Geronimo had six points apiece. Khristian Lander and Anthony Leal each had three. Michael Durr had two. Geronimo and Durr also combined for 13 rebounds.
The second unit, though, got off to a slow start. In the first half, they had just two points. Woodson quickly went back to his starters because of the lack of production.
"I thought when they came in in the first half they were kind of somewhat going through the motions a little bit," Woodson said.
In the second half, the bench turned up its intensity. This is important for a variety of reasons. It takes pressure off of Trayce Jackson-Davis, who shouldered a brunt of the scoring last season. Once the Big Ten grind starts, having depth is necessary, especially when injuries can mount, which has already somewhat been the case this season with Rob Phinisee and Trey Galloway out, plus Logan Duncomb suspended.
"In the second half they settled down and was playing the way I know they're capable of playing," Woodson said.
Struggles from the free-throw line
Late in the second half, a frustrated fan exclaimed "make your free throws" after Jordan Geronimo missed two from the stripe. On Tuesday, the Hoosiers shot just 62 percent from the line.
Much of this was a result of Geronimo, who shot just 2-of-8 from the stripe. Xavier Johnson also only converted on 4-of-6 from the line. The bright spot was Kopp, who knocked down 4-of-4 from the line, including three at the end of the first half to extend Indiana's lead to 17 points.
Free throw shooting was an issue for last season's team, who shot just 67 percent from the line. This season, the Hoosiers are converting at just a 66 percent clip. Increasing that figure will be imperative, given the aggression that Indiana wants to play with on offense. Jackson-Davis and Johnson, who both often draw fouls near the basket, are the duo that arguably needs to improve their free throw shooting the most moving forward.
"We got to get him in the gym and we got to keep shooting them," Woodson said. "Because we're a better free throw shooting team than we're showing right now."
Filed to: Anthony Leal, Jordan Geronimo, Khristian Lander, Logan Duncomb, Michael Durr, Mike Woodson, Rob Phinisee, Trayce Jackson-Davis, Trey Galloway, Xavier Johnson