The Minute After: Jackson State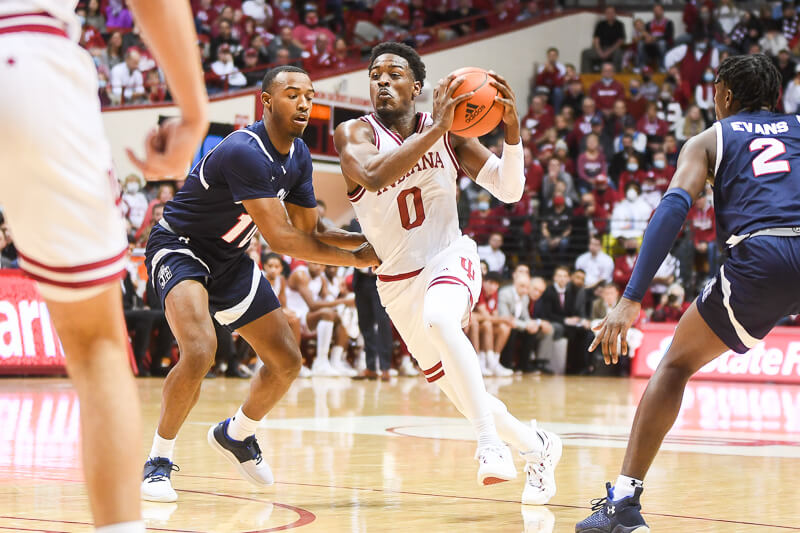 Thoughts on a 70-35 win against the Tigers:
It's that time of the year.
With a holiday approaching, fewer students in the stands and another inferior opponent to play, the energy inside Assembly Hall this evening was low. And at times, so too was Indiana's on the court.
Still, the Hoosiers continue to do what they've done through five games so far this season: defend with vigor. The Tigers leave Assembly Hall with their tail between their legs, shooting a paltry 20.7 percent from the floor. They made just 12 shots all evening and scored a wee .54 points per possession. Jackson State's 35 points were the lowest Indiana has held an opponent to since Montana State scored 35 on November 9, 2018.
Indiana was able to jump out early in this one thanks to that stout defense mixed with scores in transition and a controlled offensive performance from Xavier Johnson. The Pitt transfer's ability to change pace and burst befuddled Jackson State. Johnson scored eight points on 4-of-5 shooting in the first half and ended the contest with a team-high 14 points. He also turned the ball over just once in 25 minutes of action. After 27 miscues on Sunday and some running to be had for both the players and coaches, Indiana was better in the turnover department tonight (11 total for a turnover percentage of 17). Indiana did struggle against Jackson State's matchup zone in the first half, but a timeout by Mike Woodson to settle things led to better ball movement and a 3-pointer from Parker Stewart. The Tigers went back to man-to-man defense to close the half.
Indiana's free-throw shooting remains inconsistent. The Hoosiers hit just 16-of-26 (61.5 percent) from the charity stripe for the contest. That type of performance works against Jackson State, but it could be the difference between a win and a loss in conference play. Jordan Geronimo made just 2-of-8 on the evening, accounting for six of Indiana's 10 misses. From distance, Indiana has now been hot in back-to-back performances. The volume wasn't that high tonight, but the Hoosiers made 6-of-15 (40 percent). Stewart (3-of-5) continues to connect, as does Anthony Leal (1-of-2). Miller Kopp made the other two this evening but needed seven attempts to get there.
With four blocks in this one, Trayce Jackson-Davis continues to be a high-level rim protector. He again saw limited minutes (24) due to the blowout nature of the contest. Michael Durr got 13 minutes of action tonight, but is still struggling to find footing as a scorer. The South Florida transfer moves well, but is having trouble finishing (0-of-3). Durr did have a pretty assist to Geronimo in the second half for a dunk, one of four on the night. He also added five rebounds and a block.
Indiana moves to 5-0 and its adjusted defensive efficiency is now 8th best in the country, per KenPom.
"I like everything about how we're defending," Mike Woodson said after the contest. "We're getting after it."
Even on a flat night before Thanksgiving, indeed the Hoosiers are.
Filed to: Jackson State Tigers