The Minute After: Louisiana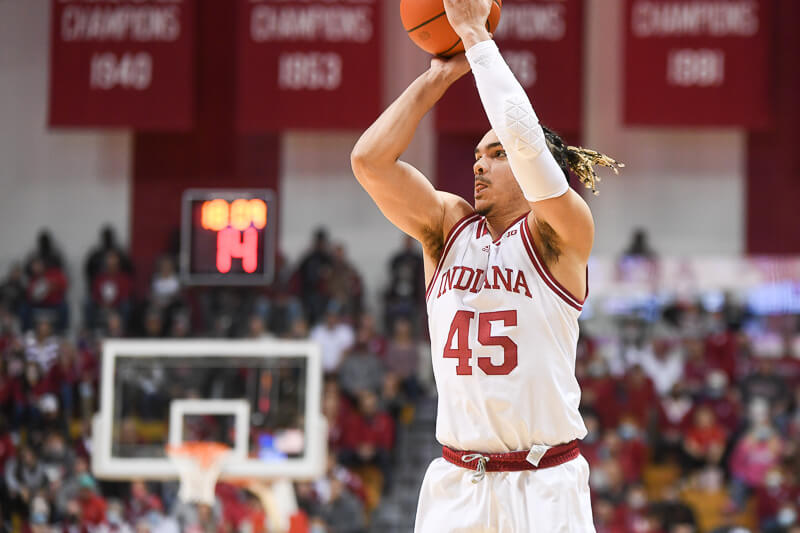 Thoughts on a 76-44 win against the Ragin' Cajuns:
Another game, another win, another dominant defensive first half from the Indiana Hoosiers.
Lousiana isn't a great 2-point shooting team so far, as it made just 31 percent of its 2s in a win at Southern Miss on Nov. 12, but the Ragin' Cajuns' shooting performance against Indiana's defense was a rare sight. They missed 25 straight shots in the first half, finishing a woeful 4-of-34 over the first 20 minutes of the contest. Indiana racked up five blocks and four steals in that time period (and a whole heck of a lot of guys diving on the floor) on its way to holding the Ragin' Cajuns to just .39 points per possession. Their 14 first-half points were the lowest the Hoosiers had allowed since Indiana held Iowa to the same amount in 2013.
Despite extending its 23-point first-half lead (37-14) to 32 by game's end, this was a seriously sloppy performance from Indiana. The Hoosiers turned it over on 36 percent (27 turnovers) of their possessions for the contest. After an important second-half scoring performance against St. John's last time out, Jordan Geronimo was reckless in this one with a team-high five turnovers on just 1-of-7 shooting. Xavier Johnson turned it over four times. Khristian Lander, getting extended run due to Rob Phinisee's leg injury, had a career-high six assists and scored nine points on 50 percent shooting (3-of-6) from the floor. But he also turned it over four times himself. Tamat Bates coughed it up three times. In total, 10 different Hoosiers committed a turnover this evening.
"A lot of running gotta take place," Mike Woodson said of Indiana's turnovers. "Tomorrow."
The Hoosiers were able to balance out all the turnovers thanks to a strong shooting night from 3-point range (10-of-19, 52.6 percent) and from the line (10-of-13, 76.9 percent). Indiana's 3-point looks came in a variety of ways with six different Hoosiers splashing at least one home. Parker Stewart led the way, hitting 4-of-5 from distance, his fifth almost dropping as well. Stewart also drove off the perimeter and knocked down two mid-range jumpers in the first half, showing he can do more than just catch and shoot. After scoring a total of nine points in Indiana's first three games, Stewart scored a team-high 16 tonight. Even walk-on Nathan Childress knocked home a 3-pointer late in the contest.
Indiana's dominance meant starters Johnson (16 minutes), Trayce Jackson-Davis (19 minutes) and Race Thompson (19 minutes) got to rest more in this one. Jackson-Davis and Thompson even sat for over 5:30 together during a stretch in the first half as Michael Durr got some extended run. It's still a work in progress for the South Florida transfer, who scored just two points and failed to grab a rebound in 16 minutes of action, but it's important for him to continue to work back from his injury in these early-season contests.
After holding the Ragin' Cajuns to just .58 points per possession tonight, the Hoosiers moved up from 21st to 11th in KenPom's adjusted defensive efficiency metric. They're holding opponents to a 34.9 eFG%, third-best in the country. Their block percentage of 17.5 is 18th best nationally.
It's still early, but Indiana's defense is so far proving to be one of the best in the country. It's a strong foundation to build upon as the program looks to make its first NCAA tournament appearance since 2016.
Filed to: Louisiana Ragin' Cajuns