What to expect: Louisiana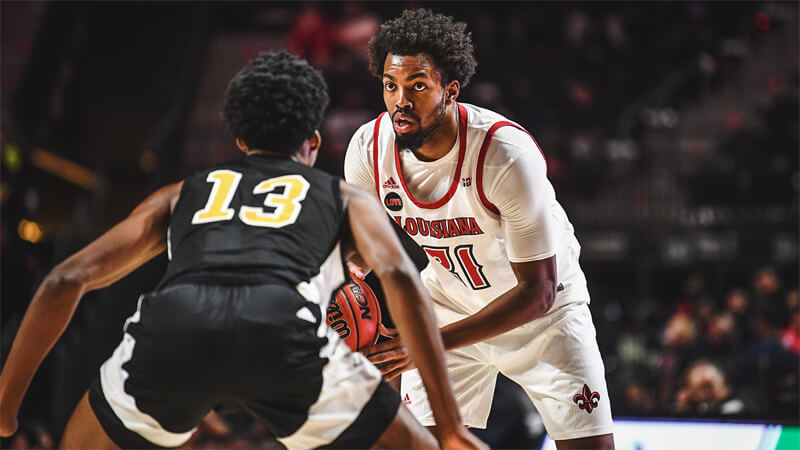 Indiana returns to action Sunday night in the first game of the Hoosier Classic. The three-game, multi-team event will feature contests against Louisiana, Jackson State and Marshall.
Up first is Louisiana, which is 3-0 but has played two games against non-Division I competition. The Ragin' Cajuns are ranked No. 160 in KenPom and won 66-45 at Southern Miss on Nov. 12.
Sunday's game will tip at 7:30 p.m. ET on BTN:
Indiana passed its first significant test of the season on Wednesday when it knocked off St. John's 76-74 in the Gavitt Tipoff Games.
Now the Hoosiers will need to avoid a letdown as Louisiana comes to Bloomington. The Ragin' Cajuns have transfers from Arizona and St. John's playing significant roles and like to play up-tempo.
The Louisiana game is the first of three in seven days for Indiana at Simon Skjodt Assembly Hall before the Hoosiers go on the road for the first time at Syracuse in the Big Ten-ACC Challenge.
MEET THE RAGIN' CAJUNS
Bob Marlin is in his 12th season at Louisiana and has won more than 430 games at the Division I level between his stints in Louisiana and Sam Houston State.
The Rajin' Cajuns were picked to finish 2nd in the preseason Sun Belt poll behind Georgia State. There are legitimate NCAA tournament aspirations despite the fact that Marlin lost his best player from last season, guard Cedric Russell, to the transfer portal (Ohio State).
The top returnee for Louisiana is 6-foot-11 center Theo Akwuba, who was named to the preseason first team All-Sun Belt. An elite shot blocker and rebounder, Akwuba had the second-best block percentage in the Sun Belt last season and ranked in the top 10 in offensive and defensive rebounding percentage. Through two games, Akwuba is averaging 10.3 points and eight rebounds in 21.7 minutes per game.
Arizona transfer Jordan Brown was the Pac-12 sixth man of the year and transferred to Louisiana after Sean Miller was fired last spring. Louisiana's tie-in to Brown, who also considered Texas and Tennessee, was that his father Dion played at the school from 1980-84.
At 6-foot-11 and 225 pounds, Brown made 56.4 percent of his 2s last season at Arizona and ranked eighth in the Pac-12 in block percentage. Through three games with the Rajin' Cajuns, he's averaging a team-high 14.3 points, 7.3 rebounds, three assists and three blocked shots per game.
Additional frontcourt depth comes from Dou Gueye, a 6-foot-9 forward, and Isaiah Richards, a 6-foot-10 center. Gueye isn't afraid to take 3-point shots, but is just 1-of-6 from distance over the first three games. He's also athletic enough to defend on the perimeter. Richards is averaging 3.7 points and 5.3 rebounds in 14.7 minutes per game off the bench.
The backcourt rotation is led by Greg Williams Jr., Kobe Julien and Kentrell Garnett.
Williams Jr. transferred from St. John's, but is a Lafayette native. Over 24 games last season for the Red Storm, he made 24 starts and averaged 9.5 points, 2.1 assists and 1.3 steals per game. He led the Big East in 3-point shooting percentage last season (47.6) and is off to a 7-of-12 start from distance this season. Williams has a team-high 11 assists over Louisiana's first three games.
Julien is a 6-foot-6 wing who battled injuries last season but is healthy this season and is averaging 10 points over the team's first four games.
Garnett is a 6-foot-1 guard who didn't play a ton last season as a freshman, but has started the first three games. He's 6-of-14 from behind the 3-point line.
Rounding out the rotation are Jalen Dalcourt, a transfer from San Jose State, Michael Thomas and Trajan Wesley.
Dalcourt is another Lafayette native and he averaged 9.6 points, 2.4 rebounds and shot better than 35 percent on 3s last season for the Spartans. Through the team's first three games, he's playing 17 minutes off the bench.
Thomas and Wesley are backup guards who will see the few backup minutes available behind Williams Jr. Garnett and Julien. As the competition level picks up in the next few weeks, that might not be many as Louisiana has distributed a lot of minutes to its bench early due to playing a pair of games against non-D1 competition.
KEYS TO THE MATCHUP
• Handling Brown and Akwuba: Both players were preseason All-Sun Belt selections and both have legitimate size in the post. Brown is 6-foot-11, but has already knocked in a pair of 3-pointers this season. Akwuba made more than 62 percent of his 2s last season. In the past, Trayce Jackson-Davis has struggled in the past with taller defenders at the rim and Akwuba could present problems with his shot blocking ability.
• Capitalize off of turnovers: Even though Louisiana won easily at Southern Miss, some of its numbers from that game suggest this group has a long way to go when playing Division I competition. Louisiana turned it over 19 times in the win for a turnover percentage of 24.7. Over its first three games, Louisiana is turning it over close to 15 times per game. The Ragin' Cajuns are going to try to play an up-and-down game and Indiana should be able to generate a lot of easy fastbreak looks if it takes care of the ball.
• Get to the line and convert: Indiana ranks in the top 75 nationally in free throw rate (FTA/FGA) through three games, but the Hoosiers continue to struggle to make shots from the stripe. Indiana is shooting 65.2 percent from the line through three games which is slightly down from where it ended up last season at 66.5 percent.
WHAT IT COMES DOWN TO
The KenPom numbers like Indiana by 15 and the Sagaring ratings favor the Hoosiers by close to 16. (Inside the Hall readers in Indiana are eligible for a deposit match of up to $1,000 from PointsBet.)
Louisiana should be one of Indiana's more competitive non-conference home opponents and there's enough talent on their roster to provide the Hoosiers a test. Brown, Akwuba and Williams Jr. are all legitimate Division I players and two of them have bonafide high-major experience.
Indiana has plenty to work on despite beating St. John's on Wednesday. Atop the list is taking better care of the ball, not having a lull when building a big lead (which has now happened twice) and shooting better from the free throw line. Even in a game where it's expected to win handily, Indiana can exhibit progress by showing improvement in each of those areas.
(Photo credit: Louisiana Athletics)
Filed to: Louisiana Ragin' Cajuns