The Minute After: St. John's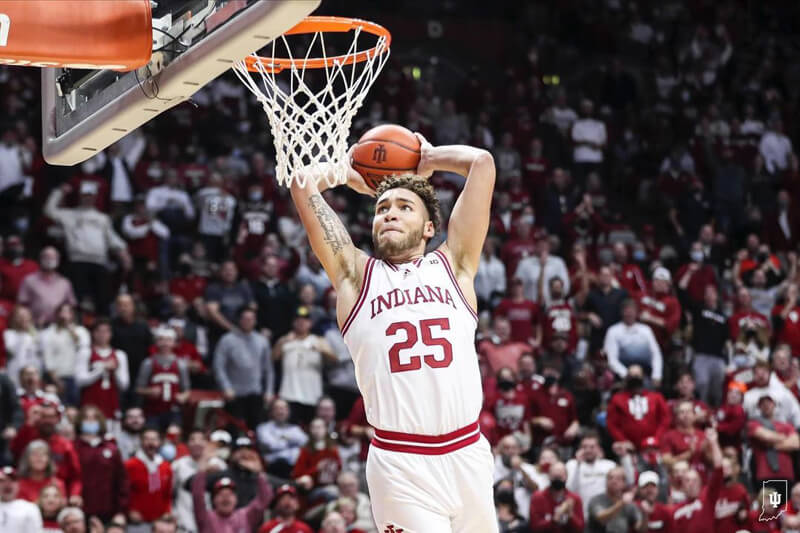 Thoughts on a 76-74 win against St. John's:
Trayce Jackson-Davis and Joel Soriano jawed early as Assembly Hall rocked and roared. From the jump this was a spirited, up-tempo affair between two teams believing it could impose its will on the other, neither interested in backing down.
Indiana got the better of St. John's in the first half. The Hoosiers' defense swarmed their way to seven steals, three blocks and just .75 points per possession allowed. The Red Storm made as many field goals (nine) as times they coughed up the ball for turnovers. After a hot start from deep to start the season, they made just 3-of-12 from distance. Tamar Bates came off the bench for Indiana and got buckets (11 points on 5-of-7 shooting). Race Thompson, as he does, did a bit of everything. It was a dominant first half from the Hoosiers, but their 12-point lead at half felt like it should have been more.
And so on cue, the Red Storm wasted no time getting right back into the contest to start the second half. As Indiana's defense started giving up drives for scores at the rim, it meant St. John's had the opportunity to set up its press more than it had in the first half. And the Hoosiers turned the ball over too often against it. Their free throw shooting in this one (10-of-19, 52.6 percent) did them no favors. Julian Champagnie (game-high 32 points) was a tough cover.
As Xavier Johnson exited the contest with his fourth foul at the 11:27 mark, Indiana clung to a five-point lead. Less than two minutes later, a pair of Posh Alexander free throws tied the game at 56-56 with 8:49 to go. As the game hung in the balance, Mike Woodson decided to go with Khristian Lander at point guard. Lander did pick up three fouls. But he steadied the team against the press, not turning the ball over in just over six minutes of action. On the next Indiana possession after Alexander's free throws, Lander assisted on a Jordan Geronimo 3-pointer to put Indiana back on top.
Geronimo kept scoring during this stretch, hitting a jumper on the right side of the paint and faking a corner 3 and driving to the other side of the hoop for another bucket. His seven points were absolutely huge. Indiana did just enough down the stretch when Johnson returned at the 5:21 mark to emerge with the two-point win. Big buckets from Jackson-Davis, Thompson and Johnson made the difference.
"This is kind of carbon copy of the Eastern Michigan game," Mike Woodson said after the contest. "But the beauty of it is that we didn't crack. We made winning plays."
Indeed. It was another second half where Indiana failed to throat step and allowed its opponent to make things more interesting than necessary down the stretch. But just like against Eastern Michigan, Johnson got a late bucket to make sure the scales didn't tip in the opponent's favor. It's a bit of a tight-rope walk with Johnson at the helm, but his ability to get to the basket with ease is absolutely essential and singular on this team right now. It's proved oh so valuable through three games.
Indiana has plenty to clean up after this one. But it's got plenty to build upon as well. This team continues to be a fun watch with defensive stretches that inspire. They play with confidence and swagger. It's not perfect. It's not always pretty. There's work to do. But the effort and energy are apparent. And so far, it's been enough for a 3-0 start.
(Photo credit: IU Athletics)
Filed to: St. John's Red Storm