What to expect: St. John's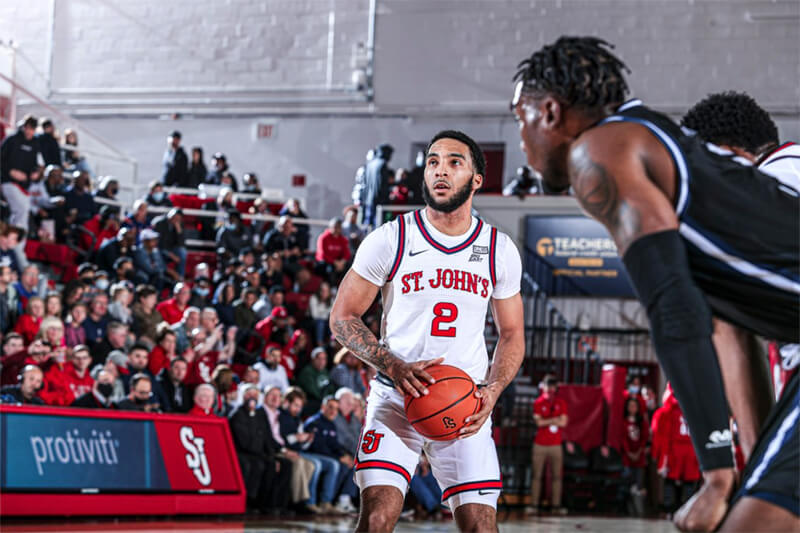 Indiana will get its first major test of the season Wednesday night when it hosts St. John's at Simon Skjodt Assembly Hall. The Red Storm are 2-0, ranked No. 47 in KenPom and are coming off of a 91-70 win over Saint Peter's.
Wednesday's game, which is a part of the Gavitt Tipoff Games, will tip at approximately 9 p.m. ET on FS1:
The Gavitt Tipoff Games are back after a one-year hiatus. The event, which features four days of games between the Big Ten and the Big East, was not played last season due to a condensed non-conference schedule as a result of the COVID-19 pandemic. The Big Ten is off to a rough start in this year's Gavitt Games with Wisconsin, Illinois, Michigan and Nebraska all suffering losses over the first two days of action.
Indiana is 2-1 all-time in the event, with home wins over Creighton (2015) and Marquette (2018) and a loss at Seton Hall (2017). Wednesday's game will be just one of three of IU's 11 non-conference contests against a power-five opponent this season.
MEET THE RED STORM
Mike Anderson's teams at UAB, Missouri and Arkansas played some of the fastest tempos in the country with full court pressure and the same is the case thus far in Queens.
In Anderson's first season at the helm in 2019-20, the Red Storm played the 21st fastest tempo in the country. Last season, St. John's ranked 10th nationally in KenPom's adjusted tempo metric and through two games, the Red Storm are ranked sixth nationally in the metric this season.
"I'm telling our guys, hell, you get pressed, you know, you've got to make them pay on the other end for pressing," Mike Woodson said Tuesday. "It might cause us to speed up and play a little more up-tempo, but that's okay. I don't want to break the press and just play half court. If we've got an opportunity to go score the ball, that's what I want us to do."
This St. John's team is led by two key returnees in All-American candidate Julian Champagnie, a 6-foot-8 forward, and sophomore Posh Alexander, a 6-foot guard.
Champagnie tested the NBA draft waters last spring before opting to return for his junior season. As a sophomore, he averaged 19.8 points, 7.4 rebounds, 1.4 steals, 1.3 assists and one blocked shot in 32.9 minutes per game. Champagnie made 38 percent of his 3s last season and is off to a hot start this season as well (7-of-15).
He's the perfect four-man in modern college basketball because he can stretch the floor but is also strong enough to finish at the rim. Last season, Champagnie got to the free throw line 115 times and knocked down 88.7 percent of his attempts.
Alexander, a Brooklyn native, averaged 10.9 points, 4.3 assists, 3.4 rebounds and 2.6 steals as a freshman last season. He was a poor 3-point shooter last season (29.9 percent), but is off to a white-hot start this season at 6-of-9 from distance over the team's first two games. Alexander has 16 assists and just four turnovers in a pair of wins over Mississippi Valley State and Saint Peter's.
Joining Alexander in the starting backcourt are Vermont transfer Stef Smith and Rutgers transfer Montez Mathis.
The 6-foot-2 Smith is a career 38.4 percent 3-point shooter who was named All-America East twice and helped lead the Catamounts to an NCAA tournament appearance back in 2019. Indiana fans are familiar with Mathis, who was a starter on last season's Rutgers team that beat the Hoosiers three times. Mathis, who is 6-foot-4 and 210 pounds, is a rugged defender who plays aggressively. He's not much of an offensive threat, but will be intimately familiar with Indiana's returning guards from last season's matchups.
Tareq Coburn began his career at St. Bonaventure, sat out the 2017-18 season and then played three seasons at Hofstra before transferring to St. John's. He's come off the bench to score 30 points over the first two games and is 6-of-10 on 3s. The 6-foot-5 guard is another guard that must be accounted for on the perimeter at all times as he's a 40.3 percent 3-point shooter.
Other cogs in the guard-wing rotation include freshman Rafael Pinzon and sophomore Dylan Addae-Wusu. Pinzon is Alexander's backup and has legitimate size for a guard at 6-foot-6. Addae-Wusu was St. John's sixth man last season and is 6-foot-4 and 235 pounds. He averaged 6.5 points, 2.7 rebounds and 2.4 assists in 20.3 minutes per game last season, but has only played 12 minutes per game through two contests.
Joel Soriano is a 6-foot-11 junior who has started the first two games at the five after transferring from Fordham. Soriano was the best offensive rebounder and third-best defensive rebounder in the Atlantic 10 last season. He gives Anderson legitimate size to throw at Trayce Jackson-Davis.
Purdue transfer Aaron Wheeler and freshman O'Mar Stanely will see reserve minutes in the frontcourt. Wheeler never broke out after three seasons in West Lafayette, but is off to a strong start for St. John's. The 6-foot-9 senior is 5-of-7 from the field and has scored 17 points and grabbed 13 rebounds over 35 minutes. Stanley is 6-foot-8 and 230 pounds and is 10-of-10 on 2s through two games.
KEYS TO THE MATCHUP
• Handle the pressure: Indiana's point guards – Xavier Johnson and Rob Phinisee – will be tested on Wednesday night. St. John's is relentless with its pressure as Anderson demands that his teams pick up full court with the goal of wearing opponents down and forcing turnovers. Indiana has only turned it over on 15.4 percent of its possessions through two games, but hasn't faced a full court press in either of those contests. Through its first two games, St. John's is playing the fifth highest percentage of bench minutes in the country and it won't be afraid to go 10 deep to keep fresh bodies on the floor at all times.
• Challenge shots on the perimeter: Through its first two games, St. John's is generating 37 percent of its offense from behind the 3-point line. Three players have already made at least six 3-pointers total. The Red Storm are shooting a sizzling 48 percent on 3s. St. John's has already taken 54 shots from behind the arc and won't be afraid to let it fly from distance on Branch McCracken Court.
• Feed Trayce Jackson-Davis and let him go to work: A lot of Indiana's offensive opportunities are likely to come off the press break, but when the Hoosiers do run their halfcourt offense, getting Trayce Jackson-Davis the ball as deep into the post as possible will be a key. While Soriano has legit size in the post, he's been foul-prone through the team's first two games. And when St. John's goes to its bench, it's not going to be able to guard Jackson-Davis straight up in the post. It'll be key for Jackson-Davis to make good reads when he does have the ball and when there's not a clear path for a bucket, spread the ball around to teammates for open looks on the perimeter.
WHAT IT COMES DOWN TO
The KenPom prediction is Indiana by five while the Vegas odds like the Hoosiers by 6.5. Sagarin likes Indiana by four. (Inside the Hall readers in Indiana are eligible for a deposit match of up to $1,000 from PointsBet.)
It's been a rough start for the Big Ten in the Gavitt Games and one more win by the Big East will clinch a win in the eight-game event. This game will ultimately come down to how well Indiana can handle the pressure St. John's applies for a full 40 minutes. The Red Storm are relentless on both sides of the ball and it's easy to fall into the trap of playing at their pace, which can lead to quick shots and turnovers.
As Woodson mentioned on Wednesday, Indiana has to make solid reads when attempting to break the pressure and navigating its way out of double teams. Much of that will fall on Johnson, who has been turnover prone at times, and Phinisee, Indiana's most experienced guard.
"It's going to be an interesting game to see where we are," Woodson said. "I'm kind of anxious just to get to the game to see how we're going to fare against their traps and getting the ball up the floor and doing what we do."
(Photo credit: St. John's Athletics)
Filed to: St. John's Red Storm