Q & A: Class of 2023 guard Gabe Cupps talks Indiana commitment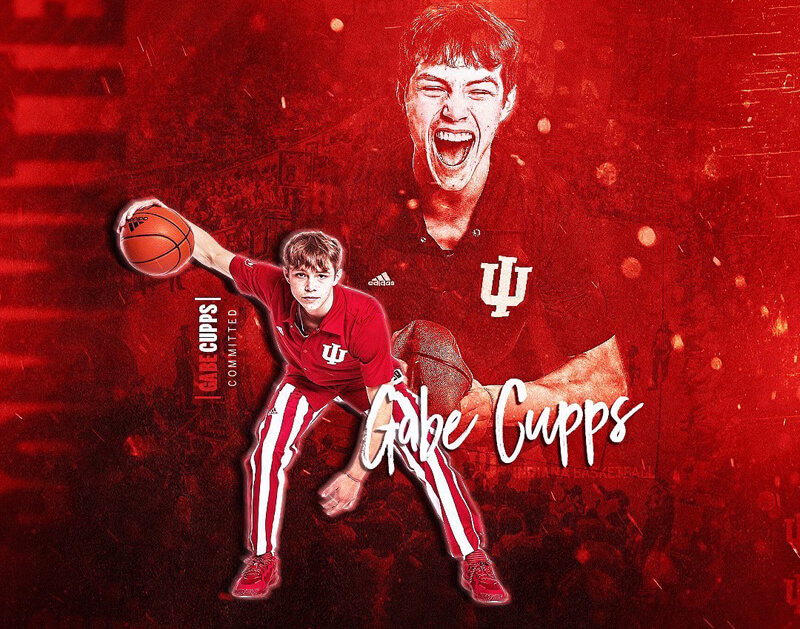 Centerville (Ohio) guard Gabe Cupps became the second member of Indiana's 2023 recruiting class when he announced for the Hoosiers on Tuesday evening.
Inside the Hall spoke with Cupps on Wednesday about his decision to commit to Indiana, his huge Instagram following, goals for his junior season and more.
Our full Q & A is available below:
When we spoke in late October, you mentioned that you didn't have a specific timeline for a decision, but that you would commit when you were sure you found the right fit. What made you ready to commit yesterday?
"I was kind of leaning towards Indiana for a while. Every time I kind of went back (to campus), it kind of made the feeling a little bit stronger that it was the place for me. After that game on Friday (against Northern Illinois), I was dead set that I was meant to be there."
Was there anything specific in the game that you saw that offered validation of the choice for you? What did you learn from the game and was there anything specific that stood out?
"I think the thing that stood out was just the interaction between the coaches and the players and all of the stuff behind the scenes that goes into making them a successful team right now. Really, it was just confirmation of seeing that in a real game. I had seen some practice and seen how coach (Mike) Woodson had handled it in practice, but just kind of wanted that confirmation of the real thing."
What's it feel like to have the decision made and being able to just focus on basketball?
"It's relieving. Every since I got my first offer in June, it's just been kind of crazy for me and my family running around and going on all of these visits. But I'm glad we did it and I'm glad we took the time to get thoroughly into making the decision so I could feel confident about it."
What do you like most about the coaching staff in general and coach Woodson?
"I think the thing about coach Woodson that stands out the most to me is just his loyalty and his humility to be able to have people tell him when he's wrong. I think that really says something about his character and his humility. His loyalty to IU is something that has shown up for me just because of him coming back to IU. I think that just shows that he thinks he owes it to the school and to coach (Bob) Knight to come back and bring Indiana basketball back.
"The whole coaching staff, they're all super good people. I think they're all really good at what they do. And they fit really well together."
What's been the reaction the last day from people around your community and your friends?
"Everybody is just telling me that they're happy for me and congratulating me and stuff like that. And all of the IU fans are going crazy on Twitter which is kind of cool to see. It's been good."
You have a huge following on Instagram. What's that like for you and having that platform?
"I think it's cool. You can't really get too attached to it. Those things can come and go. And I think if you get too caught up in that, you'll really lose sight of what's really important. That's just an opportunity that I've had to learn and get better at dealing with pressure and dealing with a big following. It's just helped me become a better player and a better person."
It had to feel good to see LeBron James congratulate you on his Instagram story. Obviously, you have some history with him. What was it like to see him congratulate you on your decision?
"It was cool just because he was a big part of my childhood with playing with the Blue Chips. I think he really helped me and I think that Blue Chips team really helped me take my game from just being a normal player to really being at the top of the spectrum. I'm really grateful for all of those opportunities that I've had with him and Bronny and his whole family."
What are your goals for this high school season both individually and as a team?
"Individually, just working and making sure I'm improving every day on my game. And I think just as a team, trying to maximize our potential. It's a different team from last year so it's a new challenge to get this team to play at the highest level it can possibly play at."
Filed to: Gabe Cupps