The extraordinary beginnings of Jakai Newton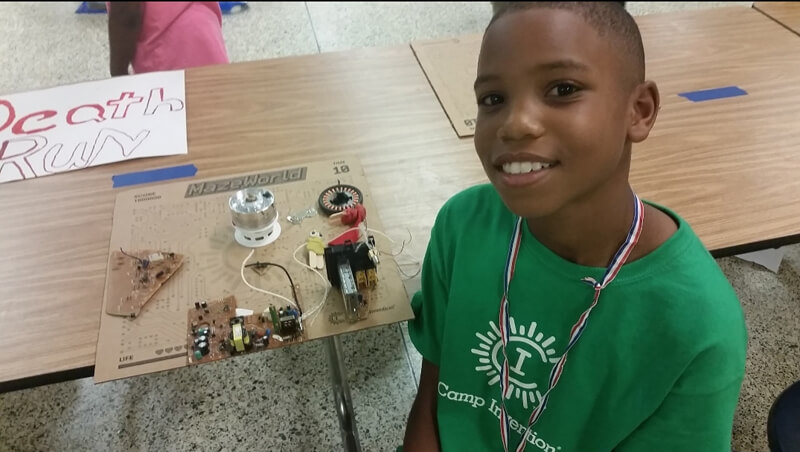 What happened on his first Halloween wasn't expected.
Jakai Newton was five months old when his father Brandon Newton took him and his cousins trick or treating. Brandon held young Jakai in his arms as they went from house to house.
Sometime during that evening, they arrived at a moment Brandon won't forget. After knocking on the door and yelling "trick or treat," a man emerged from the doorway with a container of candy.
Out of nowhere, Jakai, who was still being held by his father, snatched two handfuls of sweets, gripping them between his tiny fingers.
"How old is he?" the man asked.
"Five months about to be six months old," Brandon recalls telling him.
The man looked at Brandon wide-eyed, unable to contain his bewilderment that someone so young already had such advanced coordination.
"That's unbelievable," the man started to repeat almost hysterically. "That's unreal."
"You need to start looking for an agent for him," the man advised Brandon.
This was just one of the many times where Jakai, now 16 years old, left those around him impressed yet mystified, inspired yet perplexed — from his ability to spin a basketball on top of Hot Wheels cars to his short film productions. On Friday, 15 years after that first Halloween, Jakai, a four-star guard in the 2023 class from Covington, Georgia, committed to play basketball at Indiana, the next step of a journey that has seemingly always been guided by destiny.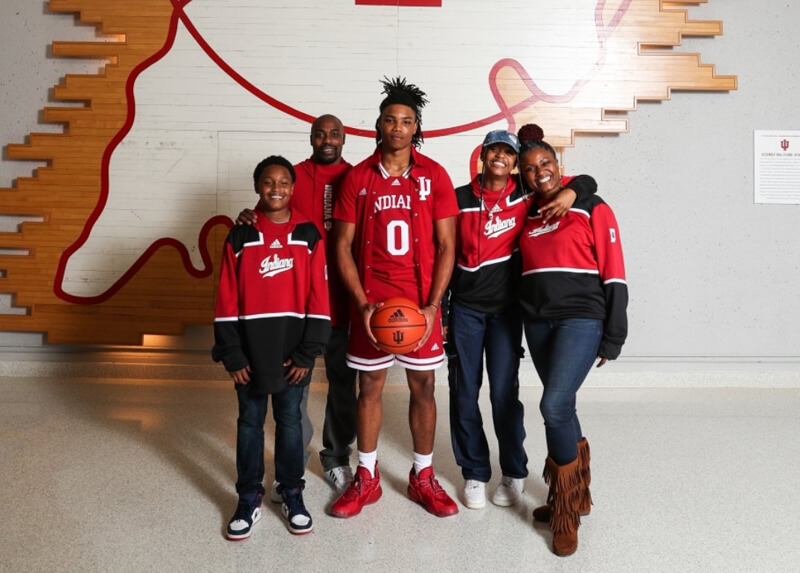 "He's just," his mother Bettina Newton starts before pausing, unable to find the exact words to describe her son.
"A very unique kid," she continues. "I haven't met too many kids his age that are like him."
It was evident even before that first Halloween. When Jakai was about three weeks old, he was sitting on Brandon's lap when he displayed the strength of his legs, kicking so hard that he nearly knocked himself onto the floor. When he was nine months old, he started walking.
Then sports began. Jakai made his first shot on a 10-foot hoop when he was two years old, hoisting up the ball with all his might, according to Brandon, who still isn't sure how Jakai mustered the power. At four years old, Jakai was at basketball practice when his coach told him to shoot a mid-range jumper on the 10-foot hoop. "Coach, that's too far," Brandon said. But it didn't matter, Jakai made it anyway. Around that same time, the Newton family had a miniature basketball hoop on a door and Jakai exploded for 360, windmill and double-clutch dunks.
"That's not normal," people would tell the family.
"Yeah," Brandon would respond. "It is kind of weird."
When Jakai was six, he started handling the ball like a "little Harlem Globe Trotter." He was doing crossovers and shooting step-backs. He watched videos of Michael Jordan's baseline hesitation and did it himself. Eventually, the parents of other teams started complaining that Jakai was too old. "No," they had to remind them. "He's actually the youngest on the team." In a way, it gave Jakai's teammates comfort. One time, during Pee Wee football, Jakai was running late to the game and two of his teammates declared they weren't comfortable playing without him there.
"He's never been concerned about what other people think," Bettina says. "He kind of does his own thing and it gives other people a confidence."
Another time, when Jakai was around six years old, he saw his coach spinning the ball on his finger and wanted to do it himself. Two days later, he was walking around the house balancing the spinning ball on anything he could find. One time, Jakai pinched a Hot Wheels Car between his fingers and spun the ball on top. "This is off a damn Hotwheel Car," Brandon said in awe as he watched. "Don't ask me how he's doing it." Then Bettina said "ruler," prompting Jakai to put down the car. He picked up a ruler and started spinning the ball on it.
It wasn't just his physical abilities, but also the way in which his mind worked. He scored a high mark on his test to become a gifted student and is "brilliantly creative," Bettina says. Jakai once made a replica pair of Nike shoes out of clay. He got hooked on the comic book series "Invincible" and would sneak some reading in during breaks at practice or games. He drew sketches of Jordan, Kobe Bryant and superheroes like the Hulk and Spiderman so well that Brandon thought they were traced. "Nah, Dad," Jakai would say.
In late elementary school or early middle school, Jakai started producing short films, which almost always included his favorite character, Batman. The family bought various lego landscapes and Jakai created his own storylines. He spent hours in his room, moving the characters by one millimeter and capturing it on a camera before editing — just to create 30 seconds or a minute of film. He'd have an informal viewing party with Bettina and then do it all over again.
Jakai also had a certain level of maturity. In elementary school, Jakai would come home and do his chores — taking out the trash, cleaning the dishes and bathroom — without anyone asking him. He's been doing his own laundry since third grade. "A neat freak," Brandon says. When Jakai was eight or nine, while in a sling, he decided to clean all of Brandon's shoes with a toothbrush. One time, after a football game, Jakai stuck around to help the team moms clean up the trash on the field. Now a junior in high school, the entire floor in which his room resides is "spotless."
As he got older, Jakai got interested in entrepreneurship. He studied stocks, trading and real estate. Eventually, he started his own company reselling shoes. Jakai reached out to local business owners to learn more about how to be successful in the field.
"Once he finds what he loves, he's very dedicated to it," Bettina says.
As much natural talent as Jakai had, the same applied on the court. When he hit his growth spurt, there was a brief period where he became a bit clumsy. So he worked on his ball-handling. There's a single square of hardwood in the Newton house near the door and Jakai would be there day and night, pounding the ball up and down. After having surgery on his foot as a freshman in high school, Jakai would frequently be out in the culdesac shooting in a boot. When he was healthy again, he'd wake up at 5 a.m. to work with his trainer.
In the spring of his freshman year, Jakai and Brandon went to a local park. Brandon sat in the trunk of his car and watched Jakai play pickup basketball with a group that included a few college players. Jakai started doing all the moves that he did on the miniature hoops as a kid. He did crossovers and stepbacks. He dunked on grown men.
"He was destroying everybody up there," Brandon said.
When Jakai returned to the car, he turned his dad.
"When AAU starts, watch what I'm about to do," Brandon recalls Jakai saying.
"Yeah, right," Brandon responded.
Jakai proceeded to do exactly that. As a sophomore, he broke out on a Newton High School team that featured multiple players with Division I offers. Over the summer, Jakai's first offer came from Auburn, then Georgia, Vanderbilt, Indiana, Cincinnati and Georgia Tech all got involved. His name became known nationally. During the recruiting process, Brandon said, coaches kept saying how responsible Jakai was because he always responded to their calls in a timely manner. While juggling basketball and recruiting, Jakai has a 3.5 GPA, volunteers for a nonprofit for families with disabled children and serves food at the food bank for the homeless in Atlanta.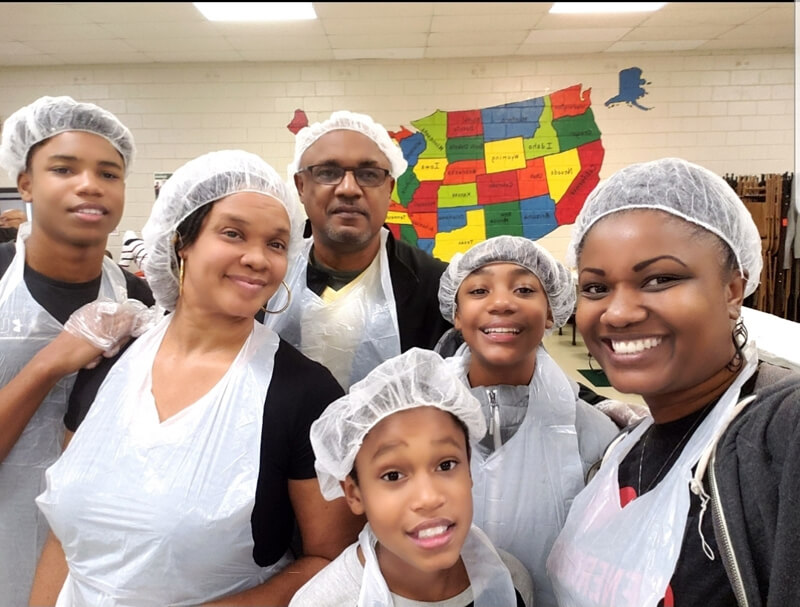 "Everybody in the school likes him," Newton High School coach Charlemagne Gibbons said. "All his teachers love him. He's a much better kid than he is a basketball player. And that's saying a lot."
Back in Jakai's early days, when he was making shots as a two-year-old and spinning basketballs on TV remotes, Brandon told Bettina he wanted to post videos of their son on YouTube. But Bettina had already made up her mind. No, she assured Brandon, not right now.
"The world is going to know who my son is one day," Brandon recalls Bettina saying. "When the time is right."
(All photos and videos courtesy of the Newton family.)
Filed to: Jakai Newton