6-Banner Sunday: The Big Ten's top 25 players and recruiting news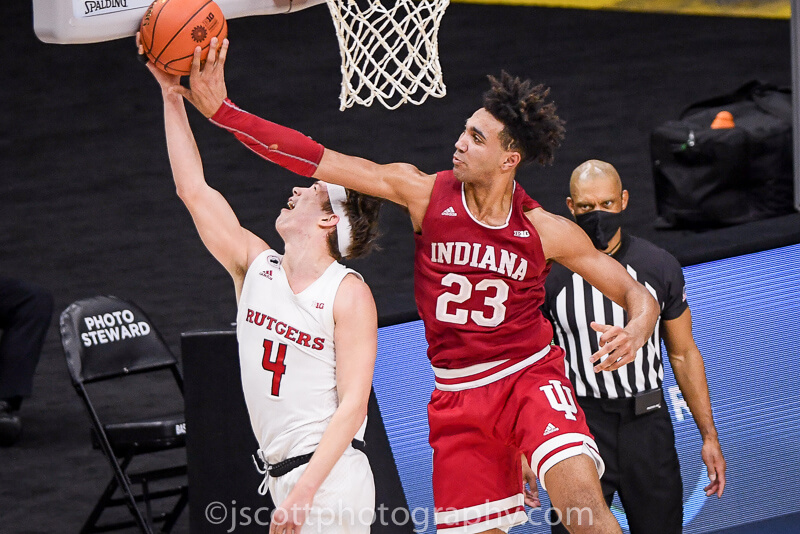 6-Banner Sunday is Inside the Hall's weekly newsletter in partnership with The Assembly Call. More than 8,000 Indiana fans receive the newsletter each week. In addition to appearing each week on the site, you can also opt to receive 6-Banner Sunday by email. A form to subscribe via email is available at the bottom of this week's 6-Banner Sunday.
Welcome to another edition of 6-Banner Sunday, a joint production between The Assembly Call and Inside the Hall where we highlight the five most essential IU basketball stories of the past week, plus take a look at how the other IU sports programs are doing.
The offseason rolls on as several new pieces of information came to light this week. Inside The Hall did a series on the top 25 players in the Big Ten conference that was the focus of the site this week.
Also, several recruiting stories were released with updated rankings by 247Sports and some new info on several Hoosier targets. Lastly, the NCAA put out a few rule changes and IU football had a disappointing weekend. We will conclude our 6-Banner as always with a look at how other IU sports are doing.
This week's Assembly Call radio can be heard here.
• Inside The Hall's top 25 series
• New recruiting rankings released by 247Sports
• Other recruiting news
• NCAA announces rule changes
• Football falls in showdown with Cincinnati
• Hoosier Roundup
Banner #1 – Inside The Hall's top 25 series
Inside The Hall and UMHoops did a five day series looking at the top 25 players in the Big Ten for this coming year. It began on Monday with players 21-25 and continued each subsequent day with 16-20, 11-15, 6-10 and 1-5.
The only IU player to crack the top 25 was Trayce Jackson-Davis at number 4, while Illinois' Kofi Cockburn was named the top player overall per these rankings.
Similar to this, Jon Rothstein put out a ranking of his top 25 freshmen and Indiana newcomer Tamar Bates made the list.
Banner #2 – New recruiting rankings released by 247Sports
This week 247Sports put out their updated recruiting rankings for the 2022 class.
Off the three IU commits Jalen Hood-Schifino checks in at number 24, Kaleb Banks at 94 and CJ Gunn at 129. Top remaining target Noah Clowney comes in at 101.
Banner #3 – Other recruiting news
Besides the updated rankings, several other recruiting tidbits became known this week.
Hoosier 2023 target JaQualon Roberts from right down the street at Bloomington North took an unofficial visit to IU this weekend per his twitter account. Another top 2023 prospect in Jeremy Fears Jr. took a visit this weekend as well per his twitter account.
Also this week IU offered 2024 prospect Paul McNeil Jr. and Inside The Hall's Tyler Tachman found some highlights of Hood-Schifino.
Banner #4 – NCAA Announces Rule Changes
This week the NCAA announced several new rules about Modernization Track. The NCAA claims the "New process allows quicker changes for outdated, unnecessary rules".
The most noteworthy information to come out of this is the extension of allowing men's and women's basketball programs up to two non coaching staff members to engage in coaching duties during on-court activities through the 2021-2022 athletic season due to COVID. However, the positions must have existed as of August 1 of last month.
Banner #5 – Football falls in showdown with Cincinnati
IU had their most anticipated football game in many years against the Bearcats. However, despite a sold out crowd and a strong start, the Hoosiers ended up with several crucial turnovers in the red zone and fell 38-24. Starting QB Michael Penix continues to struggle and was taken for X-rays after the game, but no other information was given on a potential injury.
IU is now 1-2 on the year and a full recap of the game can be read here.
Banner #6 – Hoosier Roundup
It has been a struggle so far for every IU sport this semester save for Men's Golf and Women's Soccer as several disappointing results occurred this week.
• Women's Soccer has been the bright spot of IU sports this fall and beat Kansas State 3-0 this week to finish non-conference play a strong 6-1-1. They also had a couple players awarded by the Big Ten.
• Men's Golf is fourth in their tournament with a day left, after finishing a strong third in their opening tournament.
• Daniel Munie was tabbed defensive player of the week for Men's Soccer. However, the team fell in their Big Ten opener to Rutgers. They are a disappointing 3-2-1 to start the season despite coming into it with National Championship aspirations after returning nearly the entire squad from last year's College Cup team.
• Volleyball beat Alabama A+M but then fell to Chicago State and Ole Miss to complete a disappointing non-conference season at 6-6.
• Women's Golf finished 14th of 16 teams at their season opening tournament.
• Field Hockey fell to Iowa to open Big Ten play.
• Cross Country finished second behind arch-rival Purdue at their meet.
• Baseball beat John A Logan Community College in an exhibition game that featured a mostly brand new roster from last year for the Hoosiers.
• Women's Basketball released the rest of their schedule.
• Wrestling released their schedule.
• Indiana's Pfau Golf Course once again received recognition.
Thanks for your continued support for The Assembly Call and Inside the Hall. We'll be back next weekend with a new roundup.
Now go enjoy yourself a 6-banner Sunday.
Aaron (Ari) Shifron
Assembly Call Contributor
Filed to: