6-Banner Sunday: Kaleb Banks commits and Indiana holds reunion in French Lick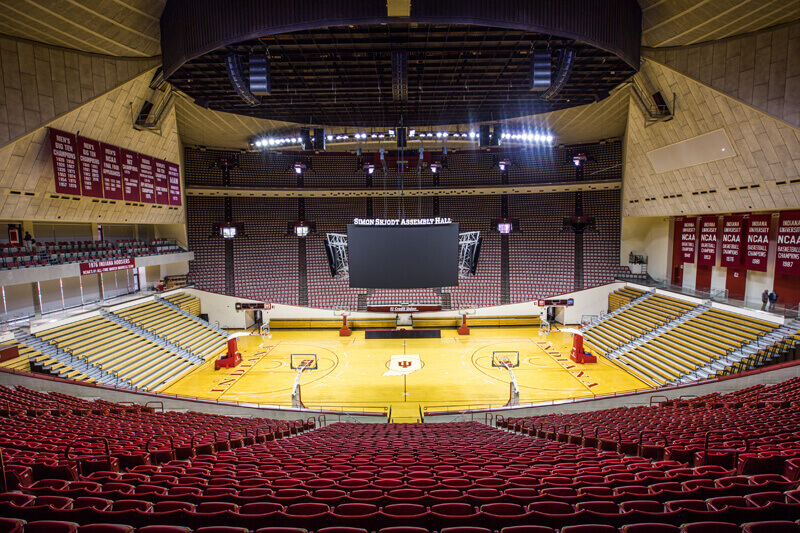 6-Banner Sunday is Inside the Hall's weekly newsletter in partnership with The Assembly Call. Nearly 8,000 Indiana fans receive the newsletter each week. In addition to appearing each week on the site, you can also opt to receive 6-Banner Sunday by email. A form to subscribe via email is available at the bottom of this week's 6-Banner Sunday.
Welcome to another edition of 6-Banner Sunday, a joint production between The Assembly Call and Inside the Hall where we highlight the five most essential IU basketball stories of the past week, plus take a look at how the other IU sports programs are doing.
This week was filled with lots of Hoosier news items. Whether it be a new commitment, a reunion or even conference realignment, this edition of 6-Banner Sunday has no shortage of topics.
• Class of 2022 forward Kaleb Banks commits to Indiana
• Indiana Men's Basketball hosts reunion
• Nike EYBL highlights: Class of 2022 guard Jalen Hood-Schifino
• Will conference realignment affect the Big Ten?
• Big Ten Football Media Day's held in Indy
• Hoosier Roundup
Banner #1 – Class of 2022 forward Kaleb Banks commits to Indiana
Coach Woodson and staff got good news on Friday when class of 2022 forward, Kaleb Banks, committed to play his college basketball at Indiana. Banks is a versatile 6-8 forward with an incredible 7-2 wingspan. 247Sports Composite has Banks ranked as the No. 123 player in the country.
From the sound of things, Indiana assistant coach Yasir Rosemond deserves a lot of the credit for landing Banks. Kaleb credits his close relationship with Rosemond, and the trust he has in him, as being a big factor in his decision to come to Bloomington. The facilities, Banks said, were another huge selling point for the Hoosiers. For more insights on Kaleb's decision, check out this great article from Inside the Hall: Kaleb Banks finds his home with Indiana Basketball
Banner #2 – Indiana Men's Basketball hosts reunion
Last Sunday Indiana men's basketball coach Mike Woodson and Indiana Athletics hosted a reunion for former Indiana players, coaches, and managers at the West Baden Springs Hotel. Among the attendees was legendary coach, Bob Knight.
At least one great picture from the festivities made its way to Facebook. A touching picture of Coach Woodson and Coach Knight sitting in plush red armchairs talking, with Coach Knight's hand on Coach Woodson's. For us lifelong Indiana fans, who remember Mike Woodson as a star player under Coach Knight at Indiana, seeing the bond that remains between the two of them was special.
Banner #3 – Nike EYBL highlights: Jalen Hood-Schifino
Alex Bozich at Inside the Hall compiled and shared a great highlight real of one of Indiana's top recruits from the class of 2022, Jalen Hood-Schifino, this week. Hood-Schifino, a 6-5 210lb guard, is the No. 26 player in the 2022 class according to the 247Composite. Hood-Schifino has as many as 15 scholarship offers on the table according to 247Sports.
Getting Hood-Schifino seems like a tall order for Coach Woodson and staff, but landing him would raise Indiana recruiting class ranking dramatically.
Banner #4 – Will conference realignment affect the Big Ten?
This week the sports world was abuzz with talks of conference realignment, upon the revelation that powerhouse programs Texas and Oklahoma are finalizing a move from the Big 12 Conference to the SEC. The shakeup would have far-reaching effects, as schools scramble to put themselves in the most lucrative position possible.
Will the Big Ten be caught up in the melee if this move goes down? No one knows for sure, but it's hard to imagine a scenario where the Big Ten would not at least have to consider its options. The guys at Assembly Call had a great discussion on this week's podcast, and here is a link to that conversation: AC Radio: Will Conference Realignment Affect the Big Ten?
Banner #5 – Big Ten Football Media Days held in Indy
The annual 2021 Big Ten Football Media Days, normally held in Chicago, took place in Indianapolis instead this past week. All 14 head coaches and three players from each program were on hand to address the media about the upcoming season.
Indiana Head Coach Tom Allen was not shy in talking about the high expectations he has from his Hoosier squad.
Also of note, Indiana's star quarterback, Michael Penix Jr., assured the media that he will be 100% healthy and ready to go for the season opener against Iowa on September 4. That is certainly good news for Indiana.
Banner #6 – Hoosier Roundup
• Football was honored with several players on preseason watch lists.
• Also, the Big Ten named a fellowship after former IU great George Taliaferro.
• Several Hoosiers are in the Olympics in Tokyo.
• Track and Field announced its recruiting class. Also, many Hoosiers were honored for academic excellence.
• With the departure of Justin Parker and Dan Held from the IU Baseball coaching staff, the team began to put replacements in place, promoting volunteer assistant Derek Simmons.
Thanks for your continued support for The Assembly Call. We'll be back next weekend with a new roundup.
Now go enjoy yourself a 6-banner Sunday.
Filed to: