Kaleb Banks finds his home with Indiana basketball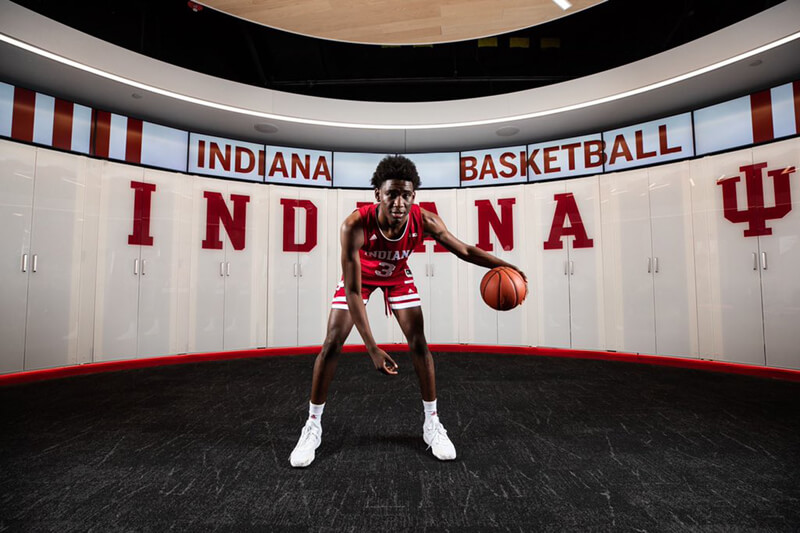 Kaleb Banks grew up in a family of athletes, so the recruiting process wasn't anything new to him. His mother played basketball at Alabama, his father played basketball at LaGrange and his older sister, Kiana, runs track at Texas Christian University.
But what was the difference for Kaleb? He decided not to stay in the south.
The class of 2022 forward from Fayetteville, Georgia, committed to Indiana on Friday after paying a visit to Bloomington and head coach Mike Woodson in June.
Kaleb's mom, Kendra Banks, said he was originally looking to stay closer to home and thought about choosing a school in Georgia or a bordering state. In fact, Kaleb narrowed his final three schools down to Alabama, Georgia Tech and Indiana.
Kaleb was used to SEC and ACC schools growing up in Georgia. But in the end, he decided on a Big Ten school eight hours from home.
So how did Indiana end up on Kaleb's radar?
It all started with Indiana's new assistant coach Yasir Rosemond, who was hired by Mike Woodson in April. He used to train Kaleb back when he was in Georgia. So, when Rosemond got the job in Bloomington, Kaleb started to become interested in Indiana.
"I guess this sparked his interest in Indiana," Kendra said. "The day we went to visit, it was a great visit and everything that we were looking for in the school. It was right there."
Kaleb got a chance to meet his future teammates, watch them practice and then grab dinner at the end of the day. When he went on the visit, he found a place that felt like home — even if it was 500 miles away from home.
Kendra said it was the people that made it feel that way. She described it as a family atmosphere with everyone, from the training staff to the coaches and even the academic advisor.
"Everybody we came in contact with, everybody just felt genuine," Kendra said. "And for him, I guess he felt like it was a place where he was at home and a place that he would want to learn and grow."
The people were a determining factor for Kaleb, especially the new coaching staff.
Although he's too young to know the tradition of Indiana basketball under former head coach Bob Knight, Kendra said it's something she remembers well from when she played basketball and she's shared that with Kaleb.
"He can read about it and people told him about it. So, he wants to be a part of Indiana being successful again," Kendra said.
As for choosing to commit to Indiana on Friday, Kendra said he just wanted to get it out there so he could enjoy it and concentrate on his senior year of high school, which starts in just two weeks.
Along with bettering his game over the next year, Kaleb's goal for his final year of high school is to win the state championship after falling short last season.
Kendra said he's a team player. Kaleb is the kind of person that's more worried about the people around him than his own stats. He's humble.
But that doesn't mean he's not there to win — and that's exactly what he wants to do at Indiana.
"It's been a rollercoaster ride, but we're proud of him," Kendra said.
Filed to: Kaleb Banks