2023 Louisville Male wing Kaleb Glenn impressed by unofficial visit to Bloomington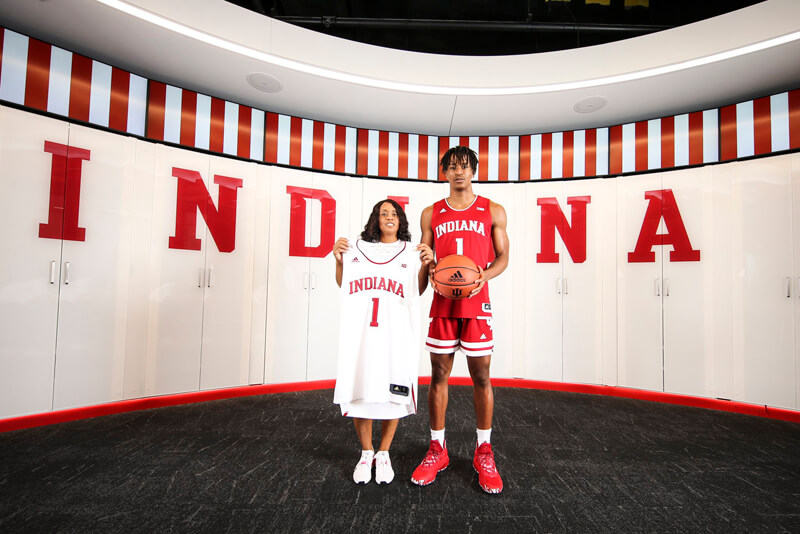 Class of 2023 Louisville Male wing Kaleb Glenn took the next step in learning more about Indiana University on Thursday.
The 6-foot-6 forward, rated the No. 44 player nationally in his class according to 247Sports, was on campus for the first time in Bloomington with his family and high school coach.
Glenn, who was contacted by more than 20 schools on the first day schools were permitted to reach out directly to class of 2023 prospects, already holds a scholarship offer from the coaching staff.
The visit, however, gave him the opportunity to get more familiar with the campus and the IU program.
"It was a really good unofficial visit," Louisville Male coach Tim Haworth told Inside the Hall. "Super impressed with the coaching staff and their vision for the future of Indiana basketball. You can tell they are just real personable guys and it is about the family. It resonated well with Kaleb."
As a freshman at Male, Glenn averaged 13.4 points and 10.1 rebounds as Male finished 32-4. And last season, which was shortened due to the COVID-19 pandemic, saw Glenn average 20.5 points and 12.6 rebounds as Male finished 8-3.
His strong play as a sophomore led to scholarship offers from schools like Arizona State, Louisville, South Carolina and Wake Forest in recent weeks.
The Indiana offer came on June 15 and Glenn quickly set up a trip to see the campus for the first time.
Haworth said the new coaching staff is clearly one of the strong suits for the Hoosier program.
"With all of the high major schools, pretty much all of the facilities, they're all really, really good," Haworth explained. "You can't really differentiate Indiana from Louisville, Kentucky.
"But I think the thing that resonated with him the most is that coach (Mike) Woodson has a big-time NBA background. His staff along with Brian Walsh, Thad Matta, it's just an excellent staff. And he's a personable guy. You can tell he really, really cares about his players. It's not just basketball. Kaleb mentioned that he sees that."
While there has been some discussion that Glenn choosing Louisville is a foregone conclusion – his father Vic played football for the Cardinals – Haworth said that his star player is open to going through the recruiting process.
"He's 100 percent open. I get people all of the time asking me if he's locked in on Louisville and I say absolutely not," Haworth explained. "It's not a knock on Louisville, it's just that this kid thinks differently.
"He's open to everybody. He's not going to go because it's in his backyard, he's not going to go because it's Louisville. He's going to the place that best fits him and the coaches that he feels are going to give him more of a family atmosphere."
Filed to: Kaleb Glenn