Class of 2022 wing Justin Taylor will announce college decision on Saturday, June 26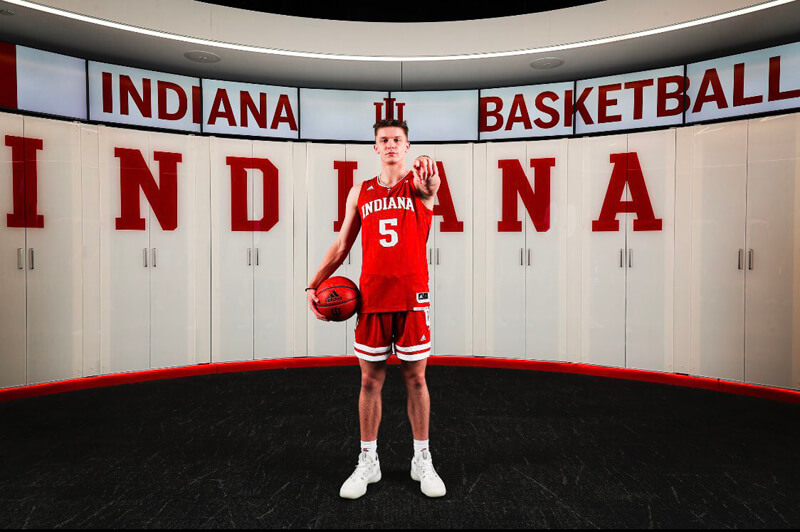 Class of 2022 St. Anne's-Belfield (Va.) wing Justin Taylor is ready to conclude the recruiting process.
Taylor, who recently completed official visits to Indiana, North Carolina and Syracuse and an unofficial visit to Virginia Tech, will announce his college decision on Saturday, June 26.
His five finalists are Indiana, North Carolina, Syracuse, Virginia and Virginia Tech. Taylor is from Charlottesville, Virginia.
The 6-foot-6 Taylor is rated the No. 84 player nationally according to the 247Composite.
The Indiana coaching staff kept close tabs on Taylor last weekend, traveling to DeMatha in Washington D.C. to watch him play in the first June evaluation period.
Indiana currently has one commitment in the class of 2022 in Lawrence North guard CJ Gunn, who announced his decision in February before the coaching change from Archie Miller to Mike Woodson.
In an interview last week with Inside the Hall, Taylor's mom, Kerri, hinted that a decision could be coming sooner rather than later.
"I think he's getting to the point where he's trying to decide what he wants to do," Kerri Taylor said. "There's a couple of schools that had been contacting him that he doesn't have offers from and I don't know if they were to come in and offer, if that wouldn't change his perspective on things. So I don't know that.

"There's a part of him that would like to get the process over a little bit before the July session starts. He definitely wants to have it done by this summer whether that's July or August. I think he wants to have it done before school starts."
In addition, Kerri Taylor also offered a strong endorsement following the family's official visit to Bloomington:
"I think we both were impressed with the campus and the facilities. They are certainly first rate. They're probably some of the nicest and prettiest that we've seen. He liked the campus and the buildings, the limestone. Everything is limestone but the buildings are all different, which was kind of neat.

"The facilities are obviously pretty spectacular. It's clear that it is a basketball school. Although they've had success in the football area, too. We did actually meet at lunch the head football coach (Tom Allen). They obviously had a really good year. It's clear that they've put money into the program and that's not going to change anytime soon.

"I think it was exciting to see everything and just from walking around you can tell that the fans are certainly ready to have a team they can root for and support. I think they've been looking for that for a while. They're definitely ready. But I think he left impressed with that. I think he certainly left impressed with the coaching staff that coach Woodson has put together.

"Coach Woodson has unique attributes in and of himself just by virtue of the fact that he graduated from Indiana. He has that going for him, but he went on to have a really successful NBA career playing and coaching. That perspective is a little different than what most college coaches have had. You have a good amount of college coaches who have had NBA careers, but most have not had the NBA coaching experience that he's had. And the success. That, I think, was appealing just to know that he has those connections. I think that will help him in recruiting and it's certainly impressive to talk to him about it."
Filed to: Justin Taylor