What we know: Indiana's 2021-2022 basketball schedule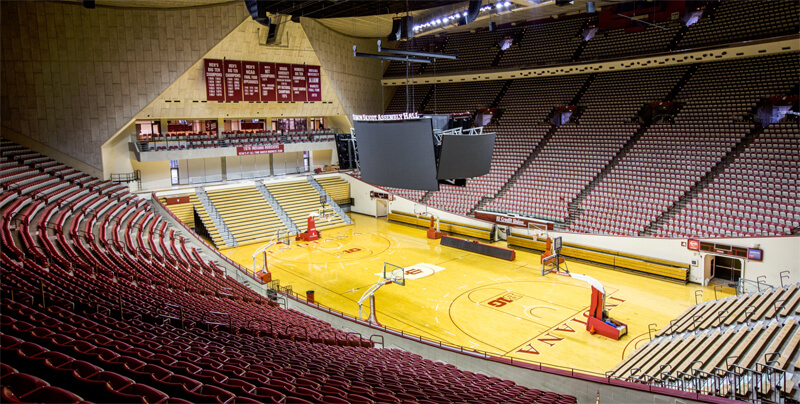 Indiana's full 2021-22 basketball schedule won't be released until later this summer, but we've already learned plenty about the slate Mike Woodson will navigate in his first season in Bloomington.
Last week, Woodson was asked about his scheduling philosophy for the non-conference during his offseason press conference. Woodson admitted that IU was still in the planning stage for next season.
"I got to meet with the AD and sit down with those guys and actually see exactly where we are," he said. "That's going to happen probably next day or two, if not early part of next week, and just look at it."
So far, only two non-conference games out of a presumable 11 total have been revealed for next season. But the Big Ten has already released conference opponents for next season, so 22 of Indiana's 31 games for the 2021-22 are already known.
Given that many college football programs have already announced plans to play games next season in full stadiums, it stands to reason the goal will be the same for college hoops next winter.
Here's a look at what we know thus far about Indiana's 2021-22 basketball schedule:
Indiana will face Notre Dame in the Crossroads Classic
Indiana will play Notre Dame in next season's Crossroads Classic at Bankers Life Fieldhouse in December.
The Hoosiers have the best record of all four teams in the event at 7-3 overall and have won four straight in the event. Last season, Indiana beat Butler in the event with no fans in attendance due to the COVID-19 pandemic.
There has been talk that the Crossroads Classic could be winding down soon as many of the power conferences expand to 20 games and programs like Indiana and Purdue have other obligations like the Big Ten-ACC Challenge and the Gavitt Games.
This December's event will be the 11th iteration of the Crossroads Classic.
Merrimack scheduled to come to Simon Skjodt Assembly Hall
One of Indiana's early-season "guarantee" games will be Merrimack, a Division I transition program.
The Warriors, members of the Northeast Conference, finished last season 9-9 and played conference games only due to the COVID-19 pandemic. Merrimack finished last season 287th in the KenPom ratings.
Back in the 2019-20 season, Merrimack beat Northwestern 71-61 at Welsh-Ryan Arena for its first Division I win.
After playing just two "guarantee" games last season due to the pandemic, the expectation is that Indiana will return to its regular allotment of five or six of these types of contests next season.
Indiana will likely host its own multi-team event
Most of the fields for next season's premier early-season tournaments in college basketball have already been revealed.
Indiana isn't in any of those fields, so the expectation is the Hoosiers will host its own multi-team event in Bloomington.
Although Woodson said last week that he's eager to play programs like Kentucky and Kansas in the future, he did say that he would like to build the program up before taking on those challenges.
Hosting a multi-team event in Bloomington would allow the Hoosiers to get valuable experience for a team that will be integrating several new players and a new system.
"My thing is I like to get a team in position first before we start chasing the big boys," Woodson said.
If Indiana does end up hosting its own MTE as expected, look for the headlining opponent to be a mid-major.
The Gavitt Games are expected to return and the Big Ten-ACC Challenge will continue
After a year hiatus last season, the Gavitt Tipoff Games are expected to return this season.
The Gavitt Games have been played five times and Indiana is 2-1 all-time in the event with wins over Creighton and Marquette and a loss to Seton Hall.
Given that Indiana is due for a home game in this year's Big Ten-ACC Challenge, it would make sense for Indiana to get a road game in the Gavitt Games if the Hoosiers are selected to participate.
Conference slate is already known… and Indiana's draw seems favorable
Indiana's 2021-22 Big Ten opponents were revealed in May and the Hoosiers seem to have a favorable draw on paper.
Home and Away: Purdue, Maryland, Minnesota, Nebraska, Ohio State, Penn State, Wisconsin
Home Only: Illinois, Michigan, Rutgers
Away Only: Iowa, Michigan State, Northwestern
Looking at Bart Torvik's preseason ratings, here's where he has each Big Ten team currently ranked going into next season:
2. Michigan
10. Purdue
11. Ohio State
12. Maryland
15. Michigan State
24. Indiana
36. Illinois
40. Northwestern
58. Nebraska
59. Wisconsin
79. Iowa
86. Penn State
108. Rutgers
135. Minnesota
Four of Indiana's seven double plays are projected to be in the bottom six of the league, according to Torvik's ratings.
Torvik's current pick to own the league's top spot, Michigan, will be a single play in Bloomington.
Filed to: 2021-22 schedule