Hoosiers in the NBA: Victor Oladipo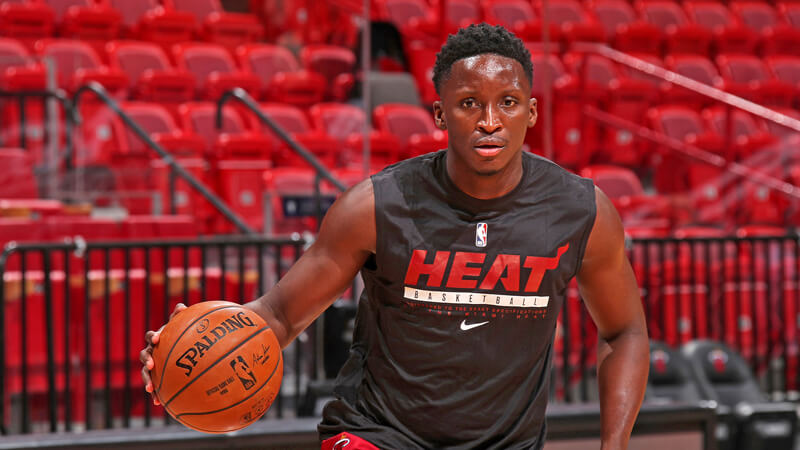 Welcome to "Hoosiers in the NBA," a player-by-player look at how IU basketball alums fared during the 2020-21 NBA regular season. Today, the series concludes with Victor Oladipo.
Oladipo (33 games): 19.8 points, 4.8 rebounds, 4.6 assists, 40.8 FG%, 32.6 3PFG%, 75.4 FT% in 32.7 minutes per game
The 2020-21 NBA season was one of change for former Indiana star Victor Oladipo.
The 29-year old two-time All-Star began the season with the Pacers, but it was clear his time in Indianapolis was ticking when Oladipo and the franchise failed to reach an extension entering the final season of his contract.
Oladipo played in nine games for the Pacers this season and averaged 20 points, 5.7 rebounds, 4.2 assists and 1.7 steals in 33.3 minutes per game. In mid-January, Oladipo was traded to Houston as part of the blockbuster James Harden trade. The deal also included Brooklyn and Cleveland and ultimately netted the Pacers a second-round draft pick and Caris LeVert in exchange for Oladipo.
In Houston, Oladipo logged a total of 20 games and averaged 21.2 points, five assists, 4.8 rebounds and 1.2 steals in 33.5 minutes per game for the rebuilding Rockets.
In late February, ESPN's Adrian Wojnarowski reported that Houston had offered Oladipo a two-year contract extension worth $45.2 million, which he ultimately turned down with the hopes of landing a more lucrative deal in free agency this summer.
With no assurance that Oladipo had plans to remain in Houston beyond this team and the team's performance on the court bottoming out, the Rockets dealt him to Miami in late March prior to the trade deadline. In exchange, Houston received a pick swap, Kelly Olynyk and Avery Bradley, a package that seemed like pennies on the dollar for Oladipo despite his injury woes in recent seasons.
Upon his arrival in Houston, Oladipo appeared in just four games before suffering his second major injury in 28 months. Oladipo tore his right quadriceps during the 2018-19 season and didn't play again until January of 2020. This injury, which occurred in a win over the Lakers on April 8, once again affected his right quadriceps and again required surgery.
In the aftermath of the procedure, Oladipo's surgeon, Dr. Jonathan Glashow, told Wojnarowski that he expects Oladipo to be available to play early next season.
"I repaired the quad tendon and did it a little differently than [he had] it done before," Glashow said. "The quad wasn't really hooked up. It was torn, and I reattached it. I was amazed he was playing with what he had. I'm very optimistic that I could clear him in six months, by November. I think he's going to play really well again. [The surgery] went extremely well, and it's healing beautifully. I'm confident he'll play next year."
The question for Oladipo now, however, is where he'll play next year. He's an unrestricted free agent this summer, but recently purchased a home in Miami and has always spent time there in the offseason, it stands to reason that he'll first be looking for a deal with the Heat.
If that doesn't materialize, it'll be interesting to see what the free agent market is for a player who has suffered two major leg injuries in a span of 28 months.
Bottom Line: It's unfortunate for Oladipo that injuries have derailed his career in recent seasons. He had established himself as one of the NBA's best guards in back-to-back all-star seasons with the Pacers, but hasn't played in more than 36 games in a season since the 2017-18 campaign. He will now enter unrestricted free agency for the first time in his career with an uncertain market for his services.
Quotable: "Should the Heat bypass utilizing salary-cap space this summer, they then could re-sign Oladipo for a small amount for 2021-22, while retaining his Bird Rights for a larger contract going forward, if the former All-Star is able to make a full recovery." – Heat reporter Ira Winderman of the Sun-Sentinel on May 14 regarding the prospect of Oladipo returning to Miami next season.
(Photo credit: Miami Heat)
Filed to: Victor Oladipo