Hoosiers in the NBA: Romeo Langford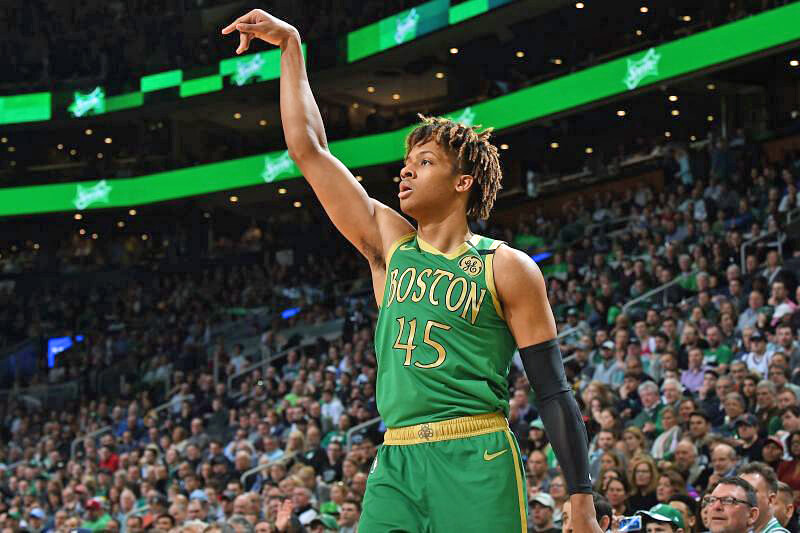 Welcome to "Hoosiers in the NBA," a player-by-player look at how IU basketball alums fared during the 2020-21 NBA regular season. Today, the series continues with Romeo Langford.
Langford (18 games): 3.1 points, 1.9 rebounds. .7 assists, 35.3 FG%, 75 FT% in 15.7 minutes per game
The start of former New Albany and Indiana star Romeo Langford's NBA career has been marred by injuries.
As a rookie, Langford played in just 32 games and averaged 2.5 points, 1.3 rebounds and .4 assists in 11.6 minutes per game. A wrist injury in the NBA bubble at Disney World last fall shut Langford down for the season, which required surgery.
At the time of the injury, the Celtics noted that Langford's injury would "probably bleed into next season," which ended up being correct.
This abbreviated NBA season, which was shortened to 72 regular-season games, saw Langford miss the first three months as he continued to recover from the wrist surgery. In addition to the wrist recovery, Langford also dealt with a hip issue.
The Celtics initially announced that Langford would likely be available to play following the All-Star break in February, but he had to enter the league's health and safety protocols, which pushed back his return even further.
Langford was eventually cleared for full training in late March and he made his season debut in a 116-86 win over Charlotte on April 4. In just his third game of the season, Brad Stevens inserted Langford into the starting lineup against the Knicks on April 7. Langford finished with six points and six rebounds in 25 minutes.
But even after Langford returned, another setback occurred. In early May, he bumped heads in practice and was forced to miss a May 5 game against Orlando after being placed in the NBA's concussion protocol.
Langford ended up starting four of the 18 regular-season games he appeared in and he scored a season-high 14 points in a 96-92 loss to the Knicks to conclude the regular season. That game saw Langford log a career-high 34 minutes and he shot 5-of-11 from the field and also grabbed four rebounds.
In Boston's most recent game, a 118-110 win over Washington in the NBA's play-in tournament, Langford came off the bench and scored three points and grabbed four rebounds in 14 minutes. In that win, he was one of just three Celtics players to log double-figure minutes off the bench, which suggests he could have a role in the team's upcoming Eastern Conference playoff series against Brooklyn that begins tonight. With Jaylen Brown sidelined for the rest of the season, Boston needs backcourt and wing depth, which could put Langford in line for minutes against the Nets.
At this point, it's hard to pinpoint the direction Langford's NBA career is heading. He's still just 21 years old and the Celtics picked up the third season on his rookie contract, which will pay him $3.8 million next season. Availability is a big part of the job in the NBA and unfortunately for Langford, he's been unable to stay consistently healthy as a professional.
While he's definitely shown his value defensively, Langford's struggles offensively will be something he needs to figure out in the coming seasons. So far as a pro, he's shooting just 22.2 percent on 3s and 41.5 percent on 2s.
Bottom Line: The Celtics have been one of the NBA's biggest disappointments this season and are a major underdog in the playoffs against the Nets. Fortunately for Langford, he got experience in the playoffs last season in the bubble in Orlando, which could help him earn an opportunity for minutes beginning tonight. Long term, Langford's talent and pedigree as a scorer will give the opportunity to stick in the NBA, even if things don't end up working out with the Celtics.
Quotable: "I think Romeo is going to be an NBA player for a long time. I don't think there's any question about that. He's got a great feel. He's got a great athleticism. He knows the game, he works at the game, he's a very good worker. So, I think about it more in terms of he's just missing half of his second season, or whatever it is, and I think that that's hard when you already went through injuries as a rookie." – Stevens on Langford back in early December prior to the start of the regular season.
Filed to: Romeo Langford