Bracketology: NCAA tournament projection as of March 13, 2021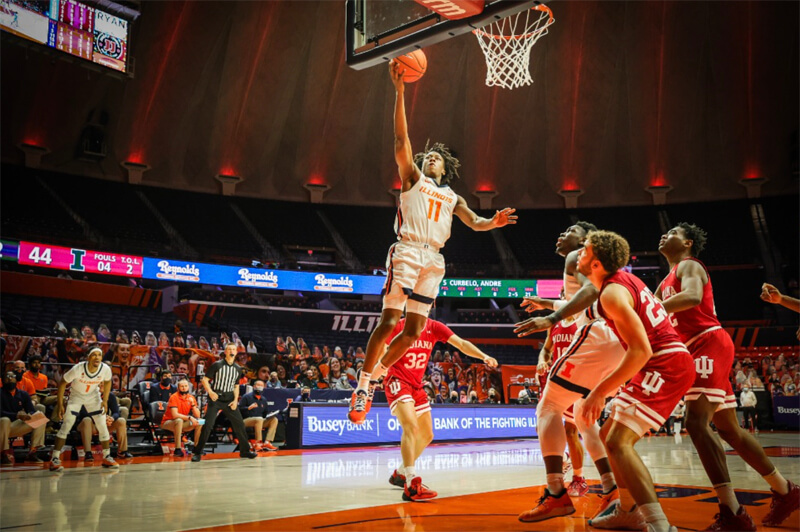 Saturday features 15 conference championship games, but there are a few tournaments that bubble teams will be tracking closely due to the presence of remaining bid thieves.
• Big East – Georgetown has been the Cinderella story of the tournament, but bubble teams need for Creighton to emerge victoriously.
• Pac-12 – Oregon State is in the finals after knocking off UCLA and Oregon on consecutive nights, but they will need to seal the deal by taking out third-seeded Colorado in the championship game on Saturday night. Bubble teams will be rooting on the Buffs.
•American – Everyone not named Houston is a threat to bubble teams, particularly Cincinnati and Memphis. Wichita State is in the at-large mix already, though a loss to Cincinnati would make their claim to a bid tenuous.
During the flurry of automatic bids, I plan to continue looking over the seed list to see if any minor tweaks are needed.
Before looking at the one seeds, here's a quick reminder about how the NCAA selection committee classifies wins based on the NET rating.
A breakdown of the four tiers:
· Quad 1: Home vs. teams ranked 1-30 / Neutral vs. teams ranked 1-50 / Road vs. teams ranked 1-75
· Quad 2: Home vs. teams ranked 31-75 / Neutral vs. teams ranked 51-100 / Road vs. teams ranked 76-135
· Quad 3: Home vs. teams ranked 76-160 / Neutral vs. teams ranked 101-200 / Road vs. teams ranked 136-240
· Quad 4: Home vs. teams ranked 161-351 / Neutral vs. teams ranked 201-351 / Road vs. teams ranked 241-351
One seeds
The one seeds remain unchanged with Gonzaga, Baylor, Michigan, and Illinois staying put on the top line. Gonzaga got a scare from BYU in the WCC Final but pulled away late to lock up the top overall seed. Baylor lost an entertaining game to Oklahoma State in the Big 12 semis, but I still have the Bears slotted at second overall.
In the Big Ten, both Michigan and Illinois blew out their quarterfinal opponents. Even if the Wolverines lose to Ohio State on Saturday, I don't see them falling off the top line. As for Illinois, losing to Iowa would make things interesting depending on whether Alabama rolls through the SEC and whether Iowa can win the Big Ten Tournament.
The Bracket
The projections below are based on all games played through March 12, 2021. Following the bracket, I included a few thoughts on the last four in and first five out.
| | | |
| --- | --- | --- |
| REGION 1 | | REGION 2 |
| Indianapolis | | Indianapolis |
| 1) Gonzaga | | 1) Baylor |
| 16) Norfolk St. / PV A&M | | 16) Hartford |
| 8) Loyola Chicago | | 8) Wisconsin |
| 9) Rutgers | | 9) North Carolina |
| | | |
| Indianapolis | | Indianapolis |
| 5) Villanova | | 5) Tennessee |
| 12) Utah St. / Saint Louis | | 12) Winthrop |
| 4) Virginia | | 4) Purdue |
| 13) UC Santa Barbara | | 13) Colgate |
| | | |
| Indianapolis | | Indianapolis |
| 6) BYU | | 6) USC |
| 11) Michigan St. | | 11) Louisville |
| 3) Oklahoma St. | | 3) Arkansas |
| 14) Eastern Washington | | 14) Morehead St. |
| | | |
| Indianapolis | | Indianapolis |
| 7) Oklahoma | | 7) LSU |
| 10) VCU | | 10) Georgia Tech |
| 2) Ohio St. | | 2) Iowa |
| 15) Grand Canyon | | 15) Drexel |
| | | |
| REGION 4 | | REGION 3 |
| Indianapolis | | Indianapolis |
| 1) Illinois | | 1) Michigan |
| 16) App. St. / Mount St. Mary's | | 16) Iona |
| 8) Clemson | | 8) San Diego St. |
| 9) St. Bonaventure | | 9) Connecticut |
| | | |
| Indianapolis | | Indianapolis |
| 5) Creighton | | 5) Texas Tech |
| 12) Drake / Syracuse | | 12) Western Kentucky |
| 4) West Virginia | | 4) Florida St. |
| 13) Buffalo | | 13) Liberty |
| | | |
| Indianapolis | | Indianapolis |
| 6) Colorado | | 6) Missouri |
| 11) Wichita St. | | 11) UCLA |
| 3) Kansas | | 3) Texas |
| 14) UNC Greensboro | | 14) Abilene Christian |
| | | |
| Indianapolis | | Indianapolis |
| 7) Oregon | | 7) Florida |
| 10) Virginia Tech | | 10) Maryland |
| 2) Alabama | | 2) Houston |
| 15) Oral Roberts | | 15) Cleveland St. |
Last Four In:
The last two byes right now are Louisville and UCLA, and to me, they have not separated from the last four in. One of the things I plan to do today is dig into their profiles to see if they belong in the first four in place of one of these teams.
Syracuse – It wouldn't be March if the Orange weren't on the bubble, and they gave Virginia all it could handle in the ACC quarterfinals, losing on a last-second shot. To the extent that the eye test comes into play, Syracuse passed it. If you look beyond that though, the Orange have just one quad 1 win (at NC State), while home victories over Clemson, UNC, and Virginia Tech all sit in quad 2 along with two more wins over NC State. Syracuse's only losses outside of the quad 1 both came to Pitt, and they finished the season just 2-7 in road games.
Utah St. – The Aggies enter today's projected field after picking up a huge win against fellow bubbler Colorado State. That victory pushed Utah State into the top 40 of the NET and gives them a 4-5 mark in the top two quadrants, which includes two wins apiece against Colorado State and San Diego State, who the Aggies will face in the MWC final. They do have a pair of quad 3 losses, so they aren't completely safe yet.
Drake – Playing without two of its best players, Drake fell in the finals of the Missouri Valley conference tournament last weekend. The Bulldogs only had to win one game to get there thanks to COVID issues for Northern Iowa, but Drake's lone tournament win over Missouri State did provide a fifth quad 2 victory. A one-point overtime win over Loyola Chicago accounts for the Bulldogs' lone victory over a team in the top 90 of the NET despite having those five quad 2 wins. A pair of quad 3 losses doesn't help matters, but losses by so many of their fellow bubble teams have likely helped their case. Given the injury situation, the first four seems a likely (and logical) destination.
Saint Louis – Thanks to a lengthy COVID pause, the Billikens played just 10 conference games, finishing at 6-4 in the Atlantic-10. Home victories over St. Bonaventure and LSU are among SLU's four wins against the top two quadrants, but the Billikens were swept by Dayton (one of which falls in quad 3) and suffered another quad 3 loss at La Salle. They took care of UMass in their first A-10 tournament game but lost by 18 to St. Bonaventure in the semis. Like Drake, Saint Louis has benefited while idle thanks to the series of losses from other bubble teams. Ultimately the argument here is based on both quad 3 losses coming right after that one-month COVID pause, so their inclusion is banking on the committee taking that into account and slotting them in the first four with a chance to prove they belong. Things are extremely close between the Billikens and the first two teams out, so I'll be picking those profiles apart over the next day or so.
First Five Out:
Colorado State – Following their semifinal loss to Utah State, the Rams are right on the cutline. They posted a 3-4 mark versus the other tournament-caliber squads in the Mountain West, and those three wins all fall in the top two quadrants. CSU has no losses outside of the top two quadrants, but a whopping 10 of the Rams' 17 D-I victories fall in quad 4. To be fair, only one of those came against a non-conference foe. A closer look at their four quad 1 losses shows that CSU lost them all by at least 12 points. It's going to be a nervous 36 hours for the Rams.
Ole Miss – The Rebels missed out on a huge opportunity on Friday, falling to LSU in the SEC quarterfinals. Ole Miss has three quad 1 wins and an 7-9 mark against the top two quadrants, with a home win over Tennessee and a sweep of Missouri the only wins against at-large caliber teams. The Rebels have a pair of quad 3 losses and a total of five losses to teams not in the at-large picture. For what it's worth, they lost their two toughest non-conference games, which came at Dayton and home against Wichita State. This year is undoubtedly unique in terms of how non-con performance can be judged, but all five of their non-con wins fall in quad 4, leaving them at just 11-11 against the top three quadrants.
Boise State – The Broncos lost to Nevada for a third time this season and closed the season on a four-game losing skid. The committee says they don't put additional weight on recent play, but it's also hard to totally overlook. Boise State is 4-7 against the top two quadrants with road wins at BYU and Colorado State to go with a home sweep of Utah State. A late-season loss to Fresno State falls in quad 4 though, and as expected, they were passed up based onFriday's results.
Xavier – After blowing a double-digit lead against Butler in the Big East tournament, the Musketeers are on the wrong side of the cut line. They have a 1-3 mark in quad 1 and are 5-4 in quad 2, but all of their top 75 wins have come at home (Creighton, Oklahoma, Toledo, St. John's). The overtime loss to Butler gave Xavier its first loss outside of the top two quadrants and dropped them to nearly 60th in the NET, but they have dropped four other games to teams not in the at-large picture and a total of six games to teams not in today's projected field. I'll take one more close look at Xavier's profile, but for now, they are on the outside looking in.
Memphis – Less than a week after losing to Houston on a buzzer beater, the Tigers get another crack at the Cougars. They have no quad 1 victories and are just 4-3 in quad 2 with zero wins against teams in the top 50 of the NET. A home win over Wichita State helps for bubble purposes, but there just isn't much meat on Memphis' profile at this point, making the Houston game a must-win.
Conference Breakdown:
Big Ten (9): Illinois, Iowa, Maryland, Michigan, Michigan State, Ohio State, Purdue, Rutgers, Wisconsin
ACC (8): Clemson, Florida State, Georgia Tech, Louisville, North Carolina, Syracuse, Virginia, Virginia Tech
Big 12 (7): Baylor, Kansas, Oklahoma, Oklahoma State, Texas, Texas Tech, West Virginia
SEC (6): Alabama, Arkansas, Florida, LSU, Missouri, Tennessee
Pac-12 (4): Colorado, Oregon, UCLA, USC
Atlantic 10 (3): Saint Louis, St. Bonaventure, VCU
Big East (3): Connecticut, Creighton, Villanova
American (2): Houston, Wichita State
Missouri Valley (2): Drake, Loyola Chicago*
Mountain West (2): San Diego State, Utah State
West Coast (2): BYU, Gonzaga*
America East: Hartford
Atlantic Sun: Liberty*
Big Sky: Eastern Washington
Big South: Winthrop*
Big West: UC Santa Barbara
Colonial: Drexel*
Conference USA: Western Kentucky
Horizon: Cleveland State*
MAAC: Iona
MAC: Buffalo
MEAC: Norfolk State
Northeast: Mount St. Mary's*
Ohio Valley: Morehead State*
Patriot: Colgate
Southern: UNC Greensboro*
Southland: Abilene Christian
SWAC: Prairie View A&M
Summit: Oral Roberts*
Sun Belt: Appalachian State*
WAC: Grand Canyon
* Earned automatic bid
Follow Andy on Twitter (@andybottoms) for more thoughts on college hoops and to receive an update whenever new brackets are posted.
Filed to: 2020-2021 Bracketology