The Minute After: Rutgers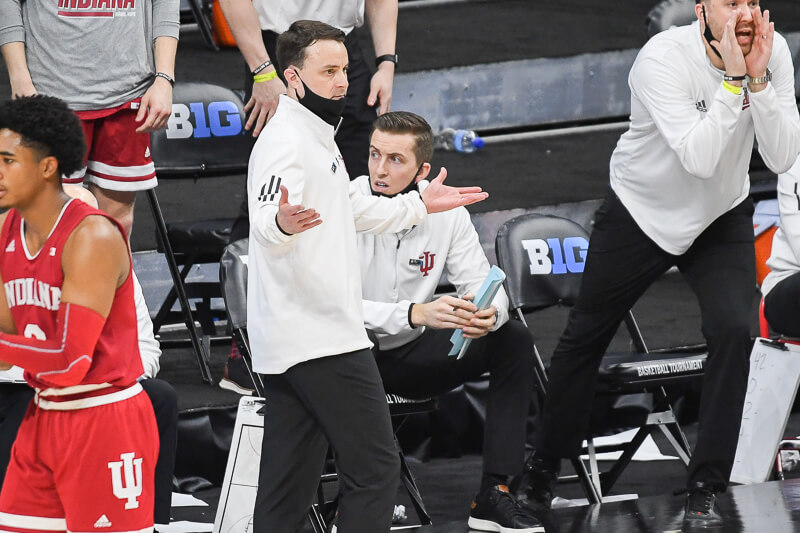 Thoughts on a 61-50 loss to the Scarlet Knights:
Here we were again.
The Hoosiers starting strong, instilling some hope, only to let it slip away once more. It wasn't as sudden or as drastic, the Hoosiers fans in attendance providing some energy, but the result was the same. It's another loss for the Hoosiers in this no-good, horrible season — their sixth straight to close out the 2020-2021 campaign.
Exactly a year ago today, Indiana beat Nebraska in the Big Ten tournament and was likely going to eek into the NCAA tournament, maybe even picking up another win or two to help solidify things. But the pandemic shut it all down from there. The pandemic's still affecting life and games 365 days later, as just a smattering of Indiana Faithful were allowed into Lucas Oil Stadium. Just as much as they gave Indiana life, especially during a back-and-forth stretch in the second half, Archie Miller and his team also had to face what a mostly empty Assembly Hall has shielded them from this season: fan frustration and disappointment.
As Indiana failed to make a field goal over the last 9:49 of the contest, missing layups and free throws and everything in between, the unrest started to grow in the crowd. Boos and "Fire Archie" chants reigned down. It was a sad, sorry way for things to end, but it's also the reality. There is discontent in Hoosier Nation and the coach and his players heard it loud and clear tonight. (Though postgame, Miller said he didn't hear his name being chanted. Hard to believe, in my opinion.)
The Hoosiers hit just 2-of-16 from deep tonight, part of a horrific shooting trend to close out the year. In its last four contests of the season, Indiana shot just 13-of-74 (17.5 percent). Simply dreadful and a major factor that's held this team back in the Miller era.
"You're not going to win very many games shooting the percentage we shot over the last three to four games," Miller said postgame.
Correct.
Khristian Lander and Anthony Leal didn't get off the bench tonight, a likely sign Miller decided that he'd ride his veterans as long as possible to try and break his team's losing streak. That included Armaan Franklin, who returned to the lineup this evening for the first time since Indiana last lost to Rutgers back on Feb. 24. Franklin still looked a little hobbled and gave it his best shot, but he finished just 3-of-10, including an 0-of-5 mark from distance.
Miller took some direct questions about both his future and the direction of the program after the game. It's about all that's on anyone's mind these days.
Some words on the direction of the program: "At the end of the day, we'll be fine. We've got good guys. Guys that battle. Like every program at this point in time, you've got to take inventory."
On his future: "I'm not entering any offseason wondering if I'm gonna be back. Those decisions are made higher up than me. My job is to coach the team."
We'll see what happens. A buyout of more than $10 million is a tall order, especially with an athletic department that's missing out on a ton of revenue due to COVID-19.
But this much seems clear: If Miller returns next season and the results don't change, there's likely to be many more fans in Assembly Hall next season. And just like those in Lucas Oil Stadium tonight, frustration will be voiced.
Filed to: 2021 Big Ten tournament, Rutgers Scarlet Knights